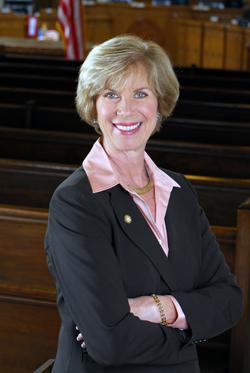 Have there been a lot of elections involving women this year, or is it just me? I don't know, maybe it's just that this year is the first time I've actively been following elections, let alone those involving women candidates, but there seem to be a lot of them. (Not that I'm complaining! It's awesome to get more representation in Congress.) In California's 36th district, Janice Hahn is running as part of a special election for the recently vacated US House of Representatives seat.
The seat was previously occupied by Jane Harman. Harman, whose father escaped Nazi Germany, got her JD from Harvard Law School. After being active in politics for several years, she served three terms in the US House from 1993-1999 and 2000-2011. (The gap is due to an unsuccessful run for governor.) She voted against the ban on partial-birth abortions and supports the pro-choice movement. She resigned from Congress in February to head the Woodrow Wilson International Center for Scholars. (I find it ironic that such a feminist is heading an organization that commemorates Woodrow Wilson, who did everything in his power to stop women from getting the right to vote.) Because of Hahn's resignation, a special election is being convened.
The Democratic nominee is Janice Hahn. Hahn is from a political family: her father was a Los Angeles councilperson and LA County Supervisor, her uncle was a member of the California Assembly and an LA councilperson, and her brother was the LA city attorney and mayor of LA. After working as a teacher and in the business sector for several years, she was elected to the Los Angeles Charter Reform Commission in 1997, helping create a neighborhood council program which gives community leaders the chance to have a voice in politics.
In 2001, she was elected to the Los Angeles City Council. As councilperson, Hahn has worked for labor rights by picketing with dockworkers for better pay, helping hotel workers get better wages, and working to provide healthcare for airport workers. She has also given assistance to truck drivers, grocery workers, court interpreters, and nurses, among others, to get better jobs.
She is also active in the environmental cause: she has reduced pollution as a result of port operations, advocates clean air, and supports the Clean Trucks Program, which will cut truck-made port pollution. Working to promote tourism in LA, she worked with her brother when he was mayor to build a waterfront promenade and was one of the first to support the modernizing renovation of the Los Angeles International Airport.
Hahn has also worked hard against gangs in LA, working with LAPD to reach children as part of early prevention programs. There was recently an extraordinarily offensive ad, depicting Hahn as a pole dancer with black gangsters calling her the b word and stuffing singles into her waistband, saying that Hahn really supported gangs in her effort to end them. Her opponent, Craig Huey, denounced the extremely sexist and racist ad.
In addition, Hahn supports Israel, stating on her Web site that "The safety and security of the State of Israel as a Jewish state - and a critical ally of the United States - will be a top priority of mine in Congress." While she advocates for a two-state solution, she also says that "Israel should have the absolute right to choose the location of its capital and Jerusalem should be recognized as the capital of Israel."
Huey also supports Israel, stating that "I will be Israel's number-one man." However, a staffer of his called Planned Parenthood a "murder mill," and Huey is pro-life.
The election will take place in less than a month from now, on July 12. I look forward to see the outcome of this election.
I dub Janice Hahn an inductee into the Shining Stars of Davida - strong women and men who make us feminists proud.