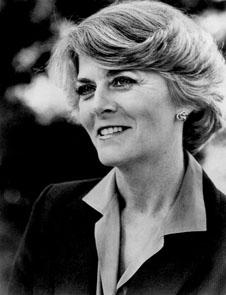 As most of you probably know, Geraldine Ferraro recently died on March 26, 2011. I was listening to my iPod and doing homework, not actually paying attention to the news, when I heard Ms. Ferraro's name mentioned. While it is unfortunate that she passed on and truly a blow to the feminist movement, it's imperative that we celebrate her life and accomplishments.
Geraldine Ferraro was born on August 26, 1935 in Newburgh, New York to a first-generation Italian-American mother and Italian immigrant father. Her family relocated to the South Bronx in 1944, after her father died of a heart attack. Ferraro's mother felt strongly that women should have an education, so she continued her education at Marymount Manhattan College; she was the first woman in her family to receive a college degree. She became a teacher. Unsatisfied, she pursued a law degree, going to school at night. She graduated in 1960, one of two women in her class of 179.
She married John Zaccaro in 1960, moving to his native Forest Hills, Queens, New York. While she went by his name on a private basis, she kept her maiden name in the professional setting, an unusual thing for women of that era to do. She made use of her JD and worked in her husband's real estate office as a civil lawyer, also doing pro bono work for women in family court. She became involved in local politics, and was elected president of Queens County Women's Bar Association in 1970.
In 1974, she was appointed the Assistant District Attorney for Queens County, New York, an atypical job for women at the time. She began working in the Special Victims Bureau the next year, which, like on Law and Order: SVU, investigates cases of rape, domestic violence, child abuse, and the like. She became head of the department in 1977. While she did the same work as her male colleagues and was even praised for her dedication, she discovered that she was being paid less than the men in her office.
Ferraro was elected to the US House of Representatives in 1978. She became the Secretary of the House Democratic Caucus from 1981-1985, and joined the House Budget Committee in 1983. She greatly helped women while she served in Congress, cosponsoring the 1981 Economic Equity Act, advocating elderly women's rights, and getting a pension bill benefiting people who pause working for several years (common among new mothers) passed into law. She was also pro-choice. Because she was so widely respected, she became the chairperson of the 1984 Democratic National Convention, the first woman to do so.
Walter Mondale, the Democratic nominee in the 1984 presidential election, considered running with a female vice president; he put Ferraro and Dianne Feinstein on his shortlist. In the end, he asked Ferraro to run with him, who accepted with glee. She was the first woman to run on a major party platform. People felt that Ferraro was inexperienced and that it was patronizing towards women for Mondale to have chosen, sentiments similar to those regarding Sarah Palin. There was a huge mess regarding Ferraro's personal financial information, one of the factors that led to their loss in the election.
She remained extremely active in politics after her vice presidential run. After unsuccessfully trying for a Senate seat on two occasions, she co-founded the National Organization of Italian American Women, and served on the boards of National Breast Cancer Research Fund, Planned Parenthood Federation of America, and the National Women's Health Resource Center, in addition to many more accomplishments. Ferraro supported Hillary Clinton in the 2008 election, but was glad to see Palin continuing her legacy.
Ferraro died just a few days ago of multiple myeloma, which she had suffered from for over a decade. She has truly helped women across America in their quest for equality. There has not yet been a woman in the White House as either a president or vice president; however, as Hillary Clinton put it in her concession speech, "Although we weren't able to shatter that highest, hardest glass ceiling this time, it's got about 18 million cracks in it." We're getting there. Eventually, that glass will shatter.
Yitgadal v'yitkadash shemai rabbah...