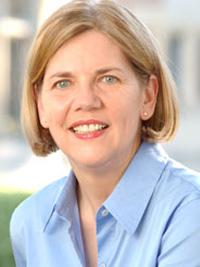 Based on the amount of emailsI've received about Elizabeth Warren from various feminist and women'sorganizations, I feel like she's the political poster child for women's rights.
I'm certainly impressed with Warren. She was born in1949, so she was raised in the "occupation: housewife" era. When her workingclass father had a heart attack, he was not able to support the family anymore,so she and her mother had to go to work. Despite her responsibilities at home,she was an extremely successful student: at age 16, she was awarded a fulldebate team scholarship at George Washington University.
A boy in her situation probablywould have graduated after four years, gone on to get a masters or law degree,and become a professional supporting a family. This was not the road Warren took. Although sheaspired to be a teacher, she dropped out after two years at GW to marry herhigh school sweetheart.
After teaching on and off for afew years, her friends encouraged her to go to law school. She listened totheir advice and got her degree from Rutgers, whereshe was an editor of the Law Review. After divorcing in 1978, Warren went on to teachlaw at several universities across the country while doing research on personalfinance and the economy.
Her work was so influential thatshe was asked to advise the National Bankruptcy Review Commission (NBRC), whereshe drafted the NBRC's report opposed laws that restricted people's right tofile for bankruptcy. She was also a member of the FDIC's Advisory Committee onEconomic Inclusion (which advises the FDIC regarding access to bankingservices) and the National Bankruptcy Conference (which advises Congress aboutbankruptcy law). While doing all this, she wrote dozens of articles and sixbooks (including The Two-Income Trap). All of these activities landedher on television to discuss the economy and bankruptcy several times.
She began hergovernmental/political career in 2008, when Majority Leader Harry Reidappointed her to chair the Congressional Oversight Panel (COP). The COP reviewsthe state of the markets, the regulatory system, and the Treasury Department'smanagement of the Troubled Asset Relief Program (TARP) and presents itsfindings to Congress every month. In 2010, because of her lobbying, the ConsumerFinancial Protection Bureau (CFPB) was established with Warren as its director.
Warrenis currently running for US Senate in Massachusetts.She obviously champions anything that can help fix the economy, especially ifit will benefit the middle class. Warrenis very much a feminist, as she is endorsed by NOW, EMILY's List, FMF, andother organizations. She supports women's right to have good health care,reproductive rights, and access to contraceptives. She also supports LGBTequality (Massachusettsis one of seven states that have legalized same-sex marriage), as she hopes toget rid of DOMA and prevent bullying based on sexual orientation.
I am also happy to say that sheis 100% behind Israel.She says on her website, "I unequivocally support the right of a Jewish,democratic state of Israelto exist, safe and secure. I believe that it is a moral imperative to supportand defend its existence."
The polls show that the electionbetween Warren and her opponent, incumbent Scott Brown, is pretty close. We'llhave to wait until November to find out the results. Until then, here's hopingfor Elizabeth Warren!