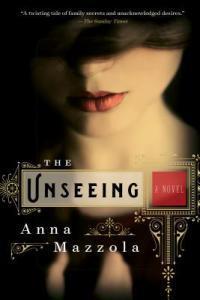 Book Cover Image: The Unseeing by Anna Mazzola
" data-orig-size="267,400" sizes="(max-width: 200px) 100vw, 200px" aperture="aperture" />
BOTTOM LINE: Tragic and compelling
Genre: Historical Fiction
Publication Date: 7 February 2017
Source: Publisher via Edelweiss
Synopsis from the Publisher:
"A thrilling debut based based on the real case of Sarah Gale, a seamstress and mother sentenced to hang for her alleged role in a shocking murder, bringing together the accused with an idealistic young lawyer assigned to investigate whether she is a guilty murderer or an unfortunate victim.

Something is keeping Sarah Gale silent despite the risk of a death sentence. Is it guilt? Fear? Love?

Sentenced to hang for her alleged role in a shocking murder, Sarah confronts the young lawyer asked to examine her guilty verdict. She says she is innocent, but she refuses to explain the evidence given in court — the evidence that convicted her. Battling his own demons, Edmund Fleetwood is determined to find the truth — and to uncover why Sarah won't talk.

Darkness hides in Sarah's past, Edmund is certain, but surviving on the streets of London often means that one has to make difficult choices. Does it matter what else she's done, if she's innocent of murder? As the day of execution draws closer, Edmund struggles to discover whether she is the victim of a terrible miscarriage of justice, or a dangerous and devious criminal.

Bringing 1837 London alive in the most visceral way, The Unseeing is a tense novel of human frailty and fear — and of the terrible consequences of jealousy and misunderstanding."
My Thoughts: If Charles Dickens taught us anything, it is that pre-Victorian London was rough. The divide between the haves and the have-nots was huge, and the opportunities for advancement rare. Women in particular suffered as they had no rights and even fewer opportunities. Sarah Gale is just one woman caught up in the hardships of the time. With no money, no husband, and no chance for a respectable job, there was not much she could do to keep a roof over her head and feed her child, yet her desire to do so condemns her in the eyes of society. Ms. Gale's trial also shows the rampant misogyny that existed back then (and still exists?). The Unseeing is a damning story in that it confirms everything Dickens ever covered in his novels with the addition of being about a true crime. Drawing on actual transcripts and newspaper articles from the time, Ms. Mazzola shows that the misogyny women all around the world still face has been around for a very long time.
The Unseeing is a dark novel; in fact, everything about the story is gloomy. London itself hides under a layer of smog and pollution so thick that it often obscures the sun. The poverty levels of most of the residents of the city are appalling. The graft and corruption among those sworn to uphold the law makes your stomach turn. Then there is Newgate prison, that infamous bastion of depravity, cruelty, and all that was wrong with London society. Much of the novel occurs within its walls, lending its own air of gloom to the proceedings. Edmund faces his own challenges, including the very real threat of debtors' prison, further compounding the misery. Yet all of this serves the purpose of underscoring just how bleak life was for people then. It is a reminder of how lucky we are in today's society and how far we have come.
Ms. Mazzola does an excellent job blurring the lines between fact and fiction in her debut novel. Sarah's story is not a happy one, and Ms. Mazzola does not fictitiously make it one. Instead, she uses her meticulous research to present a plausible scenario for Ms. Gale's silence and condemnation. The moral dilemmas Edmund faces in his investigation is also timely, in that we are all facing similar dilemmas between speaking out against current injustices and remaining silent for fear of retaliation. Peeling back the layers of history, as Ms. Mazzola does, provides readers with opportunity to learn from past mistakes. The Unseeing is a great opportunity to do so.











Related Stories
The Second Mrs. Hockaday is not who you think she is