New to little Indiana? Subscribe for free to my RSS feed. Thanks for stopping by!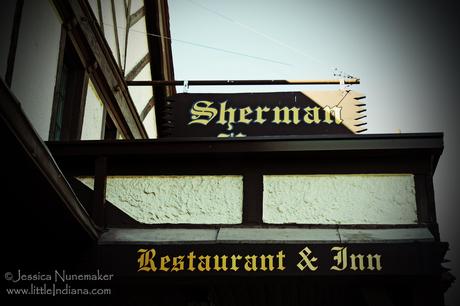 Batesville, Indiana: Sherman House Inn
Batesville, Indiana
Located right downtown, this Indiana inn has been in business since 1852.
Sherman House Inn in Batesville, Indiana
Originally known as The Brinkman House, the Inn changed hands a few times. At some point, it was renamed to honor General Sherman's accomplishments during the Civil War–and became The Sherman House Inn.
Once a coaching tavern, you can imagine what a busy stop this must have been!
Walking down the long, narrow hallway on the second level, you can almost hear the rustling of Victorian clothing.
Sherman House Inn Room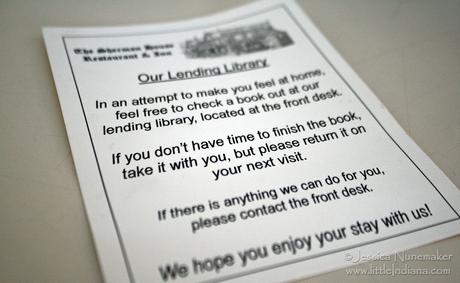 Batesville, Indiana: Sherman House Inn
Our room was great! With notes in our room like the one to the right, you can see why we prefer to stay "little." Only in a small Indiana town do they let you borrow a book and bring it back next time!
There were a lot of doorways–more like staying in a home than at an inn! The best part of all was the "secret" room on the second floor.
Down the long winding hallway lies a large room with sofas and tables. You'll find Foosball, pool tables, a large TV, and a workout room!
We were so grateful for a place where the kids could run around! Hubs and I took turns showing off how unskilled we are when it comes to playing pool while the kids entertained themselves with a deck of cards and poker chips.
Go There
Ripley County has such phenomenal places to eat, shop, and stay. You have got to see this historic inn for yourself!
See more Batesville, Indiana images and other pictures in Indiana on my Flickr photostream.
Sherman House Inn
35 South Main Street
Batesville, Indiana 47006
812.934.1000

View Larger Map
Special thank you to Katherina Taul of Ripley County Tourism for hosting our stay! My opinions remain mine and mine alone (as always).
little Indiana: Where to Stay, Play, and Eat in Small Towns in Indiana. Discovering Indiana's best small towns! Now get little Indiana on your Kindle.
Targeted. Relevant. Affordable! little Indiana advertising.