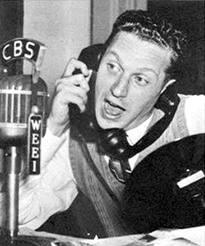 Today is the 18th anniversary of the passing of the great Sherm Feller, the legendary Red Sox gravelly-voiced PA announcer, best known for his opening line: "Attention please, ladies and gentlemen, boys and girls, welcome to Fenway Park."
Sherm was also a beloved radio talk show in Boston and a prolific songwriter, having written over 1,000 songs in his career.
But his career at Fenway is what people remember most about him, and he did it for 27 seasons, beginning in the Impossible Dream season of 1967. I'll never forget his delivery:

"Number 27. Carlton Fisk. Catcher. Fisk."


My friend and fellow Trivia Maven Gary Titus was a close friend of Sherm in the last 15 years of his life, and has made it his mission to get Sherm inducted into the Boston Red Sox Hall of Fame. And with this being the 100th anniversary of America's Most Beloved Ballpark, why not make this the year Sherm gets inducted?
Gary has my full support, and I hope the Red Sox vote him in. Gary has an online petition you can add your support to. There is also a website dedicated to Sherm and his career, and a Facebook page you can check out as well.
Let's hope this is the year Sherm is enshrined. It would be a fitting honor to a man many oldtimers like myself associate with being at Fenway. Good luck Gary!