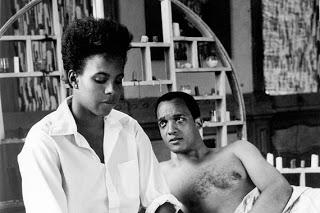 Spike Lee's She's Gotta Have It (1986) has the raw, unpolished feel of a great director's first movie. It's an energetic, engaging rough draft for Do the Right Thing, its problems couched in personal rather than sociological terms.
Twentysomething Brooklyn woman Nola (Tracy Camilla Johnson) carries on three relationships. Educated Jamie Overstreet (Tommy Redmond Hicks) flaunts his wealth and writes poetry; Greer Childs (John Canada Terrell) is a narcissistic model; Mars Blackmon (Spike Lee) is a laid-back, sports-obsessed working man. Nola refuses to commit to any of them, baffling each man and causing Nola self-doubt. She brings them altogether, exacerbating tension further, and forcing Nola to make a decision.
Much of She's Gotta Have It seems an homage to the French New Wave. Lee employs crisp black-and-white photography for a docudrama feel, then subverts the "realism" with Godardian touches. Characters address the audience, quick cuts jolt us in and out of scenes, still frames interrupt dialogue, dream sequences and fantasies disrupt the verite. There's even an extended musical number in color, with Nola and Greer rocking out before a graffiti backdrop in Ft. Greene Park.
She's Gotta Have It also shows Lee's concerns in embryonic form. He uses still photographs of Brooklyn poverty to emphasize the plight of black Brooklynites, while characters debate African-American cultural totems. "Ghetto Negroes" Greer and Mars clash with the polished Jamie, clashing over slang during a Scrabble game. Nola relishes her independence, but fears being labeled a slut; she dreams of women attacking her for "corrupting" their men (prefiguring Jungle Fever).
These cultural-political arguments became the cornerstone for Lee's oeuvre. But She's Gotta Have It is more interested in personal ramifications than broad statements. Nola wonders why male polyamory is encouraged while she's treated as promiscuous; the men can't grasp her lack of commitment. Eventually the situation becomes intolerable for everyone; Nola's forced to move on. Her situation doesn't allow for a happy resolution.
Tracy Camilla Johns makes a fresh, appealing heroine, forceful yet doubting, a self-assured woman unwilling to back down. Spike Lee's non-acting works; he's no Sidney Poitier, rather a natural, unforced screen presence. He revisited Mars in popular Nike commercials. Tommy Redmond Hicks and John Canada Terrell are similarly unpolished and forceful performers. Among the supporting cast are cinematographer Ernest Dickerson, Spike's sister Joie Lee and S. Epatha Merkerson.
She's Gotta Have It is such a charming, bracing film that it's easy to overlook the rougher edges. Even Lee's more polished works lack restraint, and few will begrudge his youthful ebullience.