So Thursday was Bastille Day and while I was too busy to blog yesterday, I thought that today I would write a little bit about a very stylish girl, someone who is likely a style inspiration for many, and someone I admire for just being out there and being herself.  Oh, did I mention she is French? (Just trying to keep with the whole French theme that I started with here.)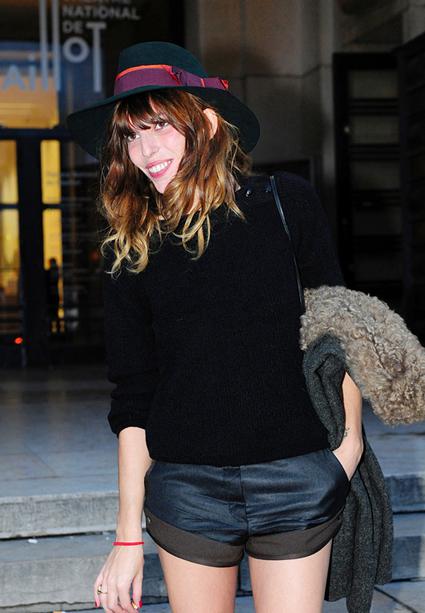 Lou Doillon 
is a mother, actress, model, muse and designer. 
 Her mother is Jane Birkin, her father is film director Jacques Doillon and one of her siblings is also Charlotte Gainsbourg,
(in case you've been living under a rock).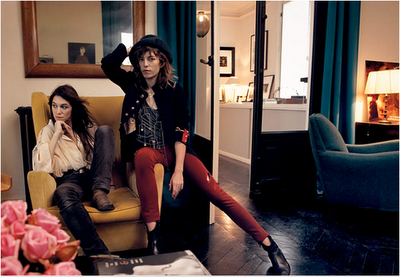 Lou and sister Charlotte.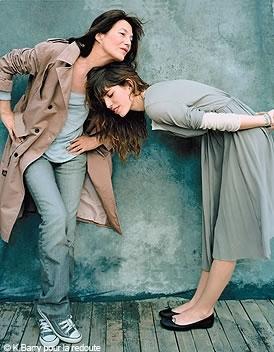 Lou with her Mother Jane.
Why do I like her style?  Lou is so French it's ridiculous.  She never brushes her hair and is remarkably  comfortable in her own skin.  She smokes constantly - like she has made a deal with the devil that it won't kill her (and no that is not part of why I like her - it was très difficult finding a photo I wanted to use of her without a ciggie in her hand or mouth) and she has that attitude de Bohème about her that I have always found very appealing.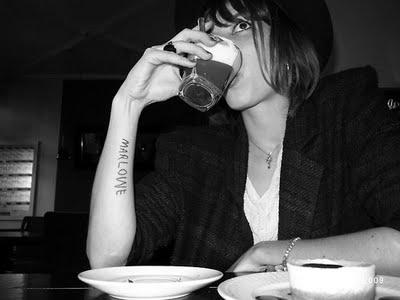 "What attracts me is something broken, something a bit off.  I never comb my hair or make anything pretty.  When people look too beautiful, it's too easy.  I know I'm dressed wrong if the businessman turns his head.  But I like to think that after an hour of sitting next to me on the train, he'd look.  I'd have grown on him." - Lou Doillon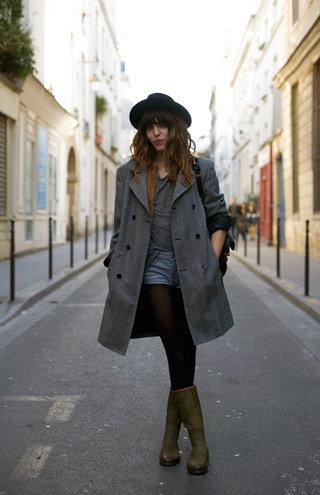 I also like that Lou loves to wear hats.  Hats can be such an affectation, but not with Lou, they seem so natural and give her a distinctive look, especially depending on her choice of hat.
"I come from a very mad, very classic family that all wore hats.  I have a vintage pop-up top hat that I wear a lot.  I'm like the Houdini of nightclubs, pulling an enormous hat out of a tiny bag.  My favourite hat was stolen.  It was a classic black moche hat, which means "ugly" in French. The people at Chanel told me I should go to Maison Michel, the house that makes all their hats, and have it replicated." - Lou Doillon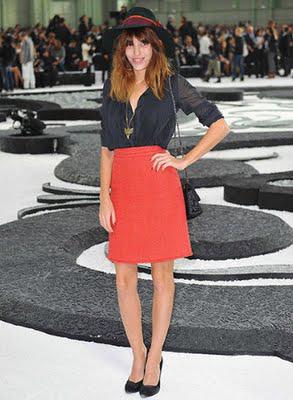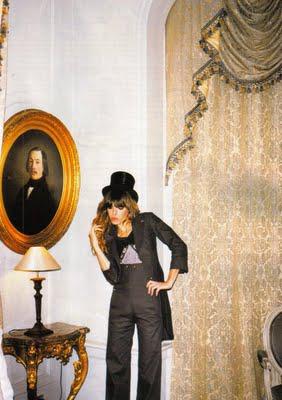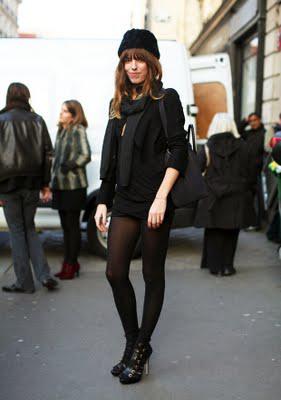 "My style has changed since I was younger. I was kind of ashamed of my bourgeois family as a teenager, I guess - I had dreadlocks, shopped in thrift stores and pretended I had no money. At that time, I would have spat on a girl who was buying Yves Saint Laurent. I always laugh today thinking if I ran into my younger self, she would slap me. Wearing designer clothes was like selling my soul to the devil." Lou Doillon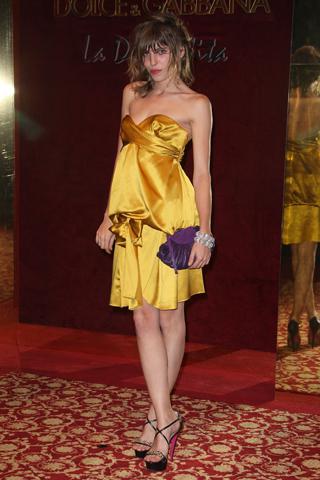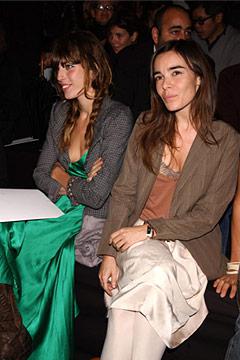 "French girls know themselves; they don't follow trends.  Girls like me who have no boobs have always dressed like boys, wearing open tuxedos with nothing underneath.  It's wonderfully classy and elegant but, at the same time, there's a lack of humour." Lou Doillon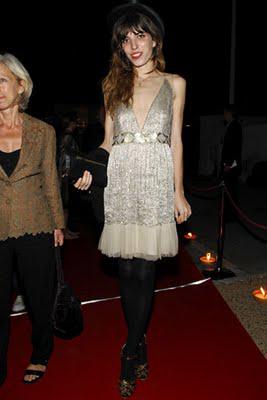 Wearing Alberta Ferretti
"My mother and I have a typical mother-daughter relationship about clothes. I used to dress up a lot to go against her easy-going look but recently I borrowed her Yves Saint Laurent blouse. Charlotte, my sister, is obsessed with fashion. She has a more conventionally chic style than me. The next generation of my family are stylish too. My son is my real style icon. He likes to have fun with fashion, especially wearing his dad's clothes." - Lou Doillon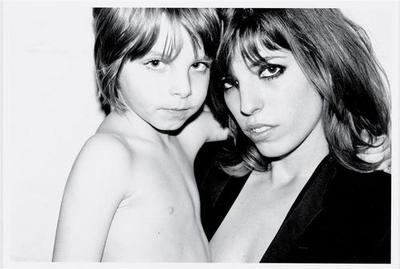 Lou and her son Marlowe in 2008, photographed by Terry Richardson.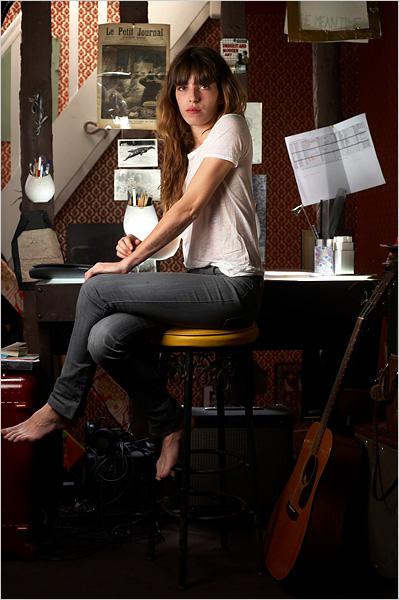 "I have many heroes when it comes to style. I love Jeanne Moreau in Jules et Jim, Audrey Hepburn wearing simple leggings and ballerina flats, young Brigitte Bardot on her Vespa, Kate Moss's iconic simplicity... Growing up, though, my hero was my grandmother. Her name was Judy Campbell. She was an actress and Noel Coward's muse. She always had an 'emergency kit' to hand: a handbag containing lipstick and a bottle of Chanel No 5."
- Lou Doillon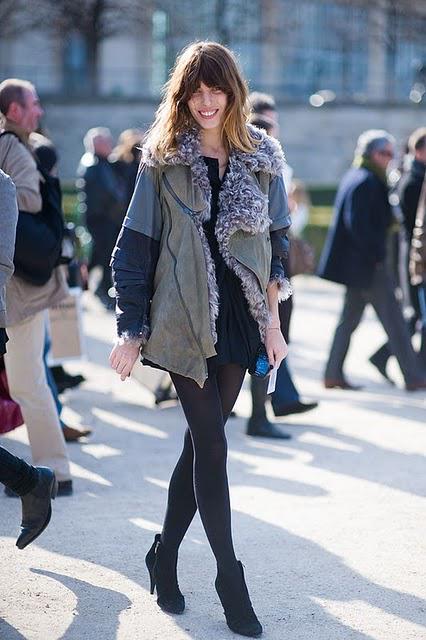 Streetstyle as photographed by Vanessa Jackman.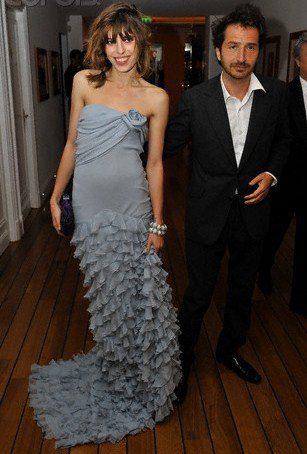 I'm in love with this dress!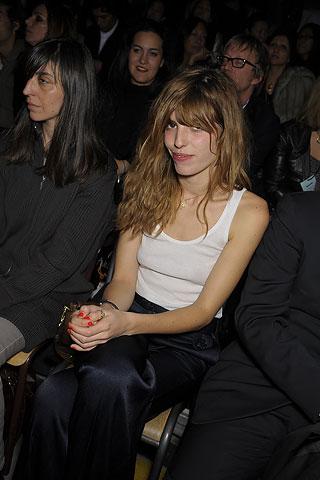 Front row.
She may not admit it, but I think Lou is rather girlie with her look and pretty too.  I think you can have it both ways - dress up or down, in masculine suits or frilly Alberta Ferretti, but keep your hair messy and your lips red! 
H
Sources:
NY Times
,
Guardian Newspaper
, Sunday Times,
Vanessa Jackman
,

Garance Dorè

.