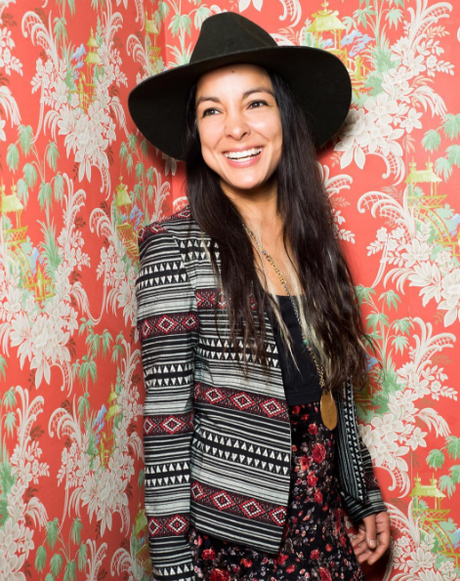 Miki Agrawal
You may have seen or heard about the subway ads for the period panties THINX, featuring a super-yonic-looking grapefruit — or maybe you just followed the ridiculous controversy about those ads. Perhaps you've been lucky enough to try the revolutionary underwear that keeps you leak-free and worry-free while you're on your period. Either way, it's clear the period revolution is here, and a woman is leading it. Her name is Miki Agrawal, and she's the badass She-E-O and co-founder of the aforementioned company that's disrupting the $15 billion feminine hygiene industry: THINX.
After Miki Agrawal graduated from Cornell, she went into the finance industry and worked for Deutsche Bank. On the morning of September 11, 2001, she slept through her alarm and didn't make it into the office — which was located across the street from Ground Zero. After that life shaking experience, Agrawal wrote down three things she wanted to do with her life and set out to make it happen. She hasn't stopped since.
A self-proclaimed "serial social entrepreneur," Miki Agrawal is also the force behind NYC restaurant concept Wild (making healthy, gluten-free pizza waaaaay before that was even a thing), author of the in-your-face, take-charge-of-your life book and movement, Do Cool Sh*t, founder of the easy-to-use bidet toilet attachment, Tushy, and mind behind Icon, pee-proof underwear for postnatal women.
If you're not totally fascinated and impressed by Agrawal yet, read on.
What was your "FBomb" moment? AKA: When did you feel your feminist rage kick in and get the motivation to act on it?
I didn't relate to the term "feminist" in the very beginning, but I've been a proponent of gender equality from day one. The term was already so packed with nuance, and I didn't want to wear the badge because I didn't relate to it in the way that other people tried to make me relate to it. Now, I wear the feminist badge loudly and proudly, realizing that I get to define the term for myself — what kind of feminist I am, what my brush stroke of feminism is. That's up to me, [it's] not up to anybody else.
My dad came to this country from India with five dollars in his pocket. My mom came from Japan without speaking very much English. "Feminism" wasn't a thing when I was growing up. Well, it was a thing, but not in my world.
I grew up in Canada, and the moment when my realization of women's inequality started was when I came to the United States. I started seeing the objectification, the pressure to worry about weight constantly — all these discrepancies between the way women and men were treated.
My other first encounter was dealing with my period. How is it possible that I'm still dealing with my period as a woman in this day and age? I'm still bleeding onto my bed, bleeding through my underwear, bleeding on my clothes. This is a huge category — why are we not addressing it?
So I started THINX. I wasn't thinking of a feminist business — I just wanted to make periods easier to experience. But as we launched the company, people would write to me and say, "You have no idea, but this has liberated me."
That is when I started to dive deeper into the feminist world. I was forced to look at it, and I discovered that — oh my god — only six percent of women are getting invested in. Only four percent of women sit on the top level of executive positions and funds. On an entrepreneurship level, women were just little tiny specs in comparison to what we deserve.
I started thinking, How can we use innovation to break taboos? To change culture?
What challenges have you experienced as a woman in the entrepreneurial world?
Dealing with old-school male suppliers — old-school male types who think they can pull one over you.
That's what's actually fun: seeing them try to screw you. They think, Oh, look at that little girl trying to wear big-man pants, and they try to give me crappy prices or crappy discounts because they think I'm this little girl. These things happen constantly; it's hilarious.
Even the MTA. The MTA was all old white guys who tried to ban our subway ads because they didn't want to use the word "period" in New York City subways. They said the grapefruit in our ad was offensive and suggestive. We responded, "Yeah, but you use the same grapefruit to advertise augmented breasts, and that's okay?" The public responded, too. People tweeted at them thousands of times until they approved our ads. We fought the patriarchy, and we won.
THINX got a lot of feedback from the public, criticizing the slogan "Underwear for Women With Periods," and recognizing that women aren't the only people who menstruate. So you launched an ad campaign with trans male model Sawyer DeVuyst. Can you speak a bit on that decision?

One of the core values of our company is active listening. Opening up our ears is the biggest way to learn how to adjust parts of our business and figure out what people's needs are. We kept hearing over and over again that girls aren't the only ones who get their periods. So, when we say "For Women With Periods," that's not quite accurate. There are trans men who also get their periods. If they have uteri and don't do hormone therapy, they menstruate.
We wanted to answer that, so we created a product specifically with trans men in mind. We developed the boyshort and changed our tagline for that pair to "THINX: Underwear For People With Periods."
People who transition are already so brave for making the decision to say, "This is who I am. I am going to be me, whether society allows it or not." Yet they are still so often seen as second-class citizens. What we should be doing is giving them a standing ovation for demanding that the world sees them for who they are — fully, loudly, proudly, with honor and gratitude.
Where do you see THINX in five years?
I see THINX in every girl's underwear drawer. I see THINX as the first present that a mother or father gets their daughter when she gets her period for the first time. I see THINX as the top player in the feminine hygiene market, having completely eliminated any shame surrounding a woman's period. I see us having impacted a billion girls around the world by teaching them about their bodies, about entrepreneurship, and giving them period products at a subsidized cost. And it can be done.
What advice can you give to young women who want to disrupt the world and create positive change through innovation?
In my book, Do Cool Sh*t, I wrote that I ask myself three questions before jumping into a business.
Question number one: What sucks in my world? Clearly, having period accidents sucked in my world.
Question number two: Does it suck for a lot of people? You've had period accidents. I've had period accidents. Everyone who menstruates has had a period accident in their lives.
The third question is the most important: Can I be passionate about this issue, cause, or community for a really long time? It takes ten years to be an overnight success. People think, Oh my god, THINX just popped up! Well, I've literally been thinking about it since 2005. It's 2016. You have to be willing to settle into the discomfort of starting a business for at least 10 years. If you're not willing to do that, this isn't the business for you.
For me, whether it's THINX or Icon or Tushy, [what helped me stay passionate was that] they all have giveback. For every THINX underwear sold, we fund a pack of usable menstrual pads for a girl in the developing world; for every Icon panty that we sell, we're funding fistula operations; for every Tushy bidet sold, we're helping clean latrine projects in India. We want to create products that solve our problems and solve the needs of others.
If you're ready to be part of THINX's movement, now is your chance: Starting in the upcoming 2016-17 school year, THINX is launching a Brand Ambassador program for college-aged people around the country. For more information on how to get involved, email [email protected].