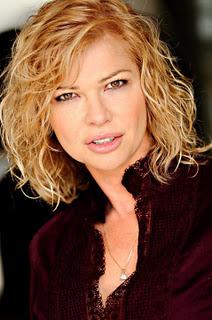 Sharon Wright is a multi-talented and multi-tasking woman who caught my attention as she blew past me like a whirlwind fueled by ambition. She writes, directs and produces films. As if these occupations aren't demanding or challenging enough, she also acts.
Those who are familiar with her work in front of the camera know she is in possession of a true gift. With her expressive face and body language, she can communicate a thousand words without opening her mouth. Even in the still photographs of her on her website, her sharp wit and sparkling sense of humor are inescapably obvious. 
She readily admits she was troubled in her youth. Sharon's life hasn't been a bed of roses or a cakewalk - she has worked hard for the undeniable success she now enjoys. Showing admirable strength of character, despite having dealt with difficulties, she never lost her sense of humor. She calls herself an open book who is unafraid of taking risks and she confesses to being chronically early and occasionally boring but always happy. 
When my path crossed Sharon's, I immediately asked her if she'd be willing to tell me a little more about herself and her projects. Without hesitation, she replied, "Let me know what you'd like to know and I'll do my best!" 
SE:
When did you decide you wanted to carve out a career for yourself in the film industry?
Sharon:
I actually just started almost 4 years ago, completely on accident! I never had any thought about doing it but a friend convinced me to go work background on a movie that was filming locally in Kansas City. I walked on set and was HOOKED!  I knew right then and there that I had to be a part of it. At the time, I had a very successful career and a very low-key, structured life… things sure are different now, and I love every minute of it! We now live in Los Angeles right in the heart of it all!
SE: "
Change for a Dollar", the first film you wrote and directed, was recently released on the internet after winning several awards. How did it feel to have your work validated by winning such prizes?
Sharon:
It feels fantastic! As a filmmaker, it becomes your baby, so you really are invested in it and want it to grow and walk on its own. CHANGE FOR A DOLLAR was a fantastic story that I had to tell and I am blessed that it has been featured all over the world now and continues to be shared. I literally get emails every day from complete strangers telling me how much the film touched them... it's a very rewarding experience!
SE:
You co-wrote, co-directed and played the lead in "Tell Me You Love Me". What inspired this story?
Sharon:
Honestly, it was based on a real event. I had an ex-boyfriend that attacked me, with the intent to kill me. The trauma was so great that I couldn't move beyond it. I suffered from PTSD and knew I needed to replace that tragedy with something in a safer environment. So I went to Gary Warren and told him I needed to film it - as a therapy project. If something came out of it then great. But if not, I knew I would be able to let out the emotions, and instead of seeing the event as a reality, it would allow me to see it as a film. We wrote the script, cast the bad guy, and filmed it almost exactly three months after the attack. It was absolutely the best therapy and has inspired others as a result.  We are on the festival circuit now and have had great responses from people about it.
SE:
"For Worse" is another one of your projects. I've gathered it's a web series about a couple that can't stand each other but are unable to move on thanks to the fact that neither of them wants to leave the rent controlled apartment they share. In the series, the couple then resorts to playing horrible pranks on each other in an attempt to force the other out. How is its audience reacting to it?
Sharon:
HA! It has been great! Gary Warren and I live together and as anybody in a relationship or roommate situation can attest, there are certain things we all do that drive the other nuts. This series takes those things and blows them up a bit.  It has been really fun. We shoot it ourselves and take help from others when we can get it. We have wrapped Season 1 and can't wait to come back for Season 2. The response has been really fantastic; we developed a pretty strong fan base and people love to choose sides. We have entire Team Sara and Team Tommy fanatics and they are the best!
SE:
Where do you see yourself ten years from now?
Sharon:
You know, it'd be great to win an Oscar or Emmy... but honestly, as long as I'm still acting and making movies, I'll be happy!
Sharon's enthusiasm and zest for life are infectious. Personally, I have no doubt she'll achieve anything she sets her mind to. 
Links to Sharon Wright: 
IMDb -
www.imdb.me/sharonwright


Personal -
www.shesalwayswright.com
Change For A Dollar - 

http://www.youtube.com/watch?v=9DXL9vIUbWg
Tell Me You Love Me Trailer - 

http://www.youtube.com/watch?v=Cn3LK3hF1kw
For Worse - 

http://www.youtube.com/watch?v=kIqZ2E-Te4E&feature=channel_video_title