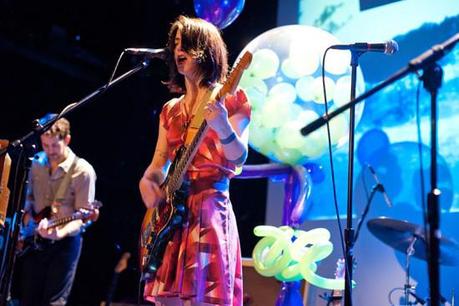 Photo credit: wagz2it
Bowery Ballroom was truly packed to the gills Sunday night for the Sharon Van Etten's (@sharonvanetten) second sold out show.
Glass Ghost and Carter Tanton, touring mates with Shearwater for the last three weeks, treated the early crowd to two wonderful sets. After 45 minutes of Moog driven pop, Carton Tanton took the stage at 10pm. Tanton mesmerized the completely packed crowd with his smooth, other-worldly voice and flawless transitions from acoustic guitar to heavy synths, sometimes even in the same song. His welcome opening set had a few looping hiccups, which he worked through gracefully, keeping the show moving despite being the only one on stage manipulating the various instruments.
Finally, after two hours of openers and feverish anticipation, Sharon Van Etten took the stage. With a spectacular backing band behind her, which at one point included The National's Aaron Dessner, she absolutely filled the room with sound. Her voice took on a wonderfully subtle level of power and vulnerability during the songs, adding an element to her music not heard on the albums. Playing a good mix of tunes from her new release, the fantastic Tramp, and Epic, she glided through almost everything that fans were hoping she would play.
Aside from her stunningly gorgeous music, of course, the main attraction she brings to the stage is captivating charisma and comfort. She and her band cheerfully bantered about being a Pisces (as it was the day after her birthday Sunday night) and read little notes given to them by Shearwater the day before. It created a light and friendly mood that made her sad, pretty songs all the more enjoyable.