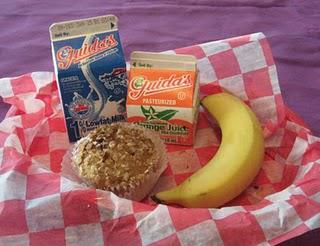 I'

ve

been thinking a lot about breakfast recently.
First of all, it is my favorite meal of day, especially when I travel. My top two international breakfast delights have been in Turkey (yogurt, nuts, dried fruit, multiple cheeses, breads, tomato, cucumber, and – best of all – olives) and Central America (mango, papaya, tortillas, and black beans).
Then last week was National School Breakfast Week. On School Meals That Rock, we celebrated by showcasing three beautiful breakfast baskets from Newport, RI, and a simple, but critical, breakfast in the classroom from PS 146 in the Harlem section of New York. Please check out the photos, as well as the link to Big Sky country school breakfast on the School Nutrition Foundation (SNF) Beyond Breakfast Blog. According to Solange Morrissette, Director in Newport, "The muffins are made from scratch right in our High School kitchen by our head cook Scott Gleason. Scott takes great pride in baking these muffins made from wheat flour, sweet potatoes, and local fruit such as strawberries when available. They can also be made with commodity apples, peaches, and blueberries. We served them warm and they have completely replaced any processed packaged products."
Finally, I spent Wednesday in a NYC studio doing a Satellite Media Tour to support Kellogg's new Share Your Breakfast campaign, a partnership with Action for Healthy Kids. In over 30 interviews, I was able to deliver key messages about the importance of breakfast for school children – and explain the charitable goals of Share Your Breakfast. For every breakfast photo or description uploaded to www.ShareYourBreakfast.com, or sent via text with the word "Share" to 21534, from now until July 31, 2011, Kellogg will help increase participation in school breakfast programs. Each time a photo or description is shared, Kellogg will donate the monetary equivalent of a school breakfast. Kellogg will donate up to $200,000 – the equivalent of one million breakfasts.

The goal is to help share one million breakfasts by the beginning of the 2011-2012 school year. You can help spread the word on Twitter by using the #

shareUrbreakfast

and changing your

Facebook

profile picture to what you had for breakfast and encouraging your friends to share as well. Share your breakfast today to help Action for Healthy Kids increase participation in school breakfast programs.
So, to keep the breakfast momentum going, I am going to spend this week on the ABCs of Breakfast, especially COLORFUL breakfasts to continue the celebration of National Nutrition Month 2011.