Welcome to the 16th "Share Your Story" post. Pilots from around the world write in featuring their flight experiences, promoting their blogs, websites, social media, novels, etc. More details + how to participate can be found via the following: Click Here and Get Involved
---------------------
Disclaimer: This is the story of my aviation career as seen through my eyes.  The opinions expressed here are my own and not those of my current or former employers.
….
My head was leaning against the cold glass of the backseat window.  It was warm in the car, but outside was a typical crisp late December evening in eastern Massachusetts.  I was home from my first semester of college and we were returning from an automobile show just south of Boston.
In the distance, I could see planes lined up for landing at Logan.  It was so impressive that all the bright white lights were evenly spaced for landing.  "I wonder how they get it so perfect?" I thought to myself.  That thought would become one of the most defining moments of my life.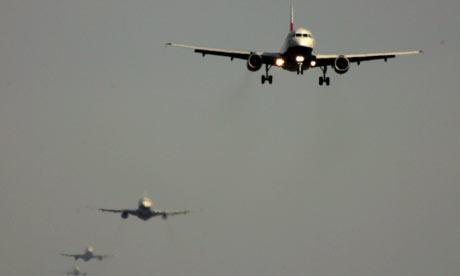 *Added by Swayne
It hit me like a ton of bricks.  A voice screamed in my head: "If you're that curious, why don't you follow your childhood dream and become a pilot?"  It wasn't a new thought... but, it was one that had laid dormant for about five years.
Growing up, I was obsessed with anything with wings.  I was positive I would become an astronaut or an airline pilot.  After the Challenger exploded, I was sure I would become an airline pilot.  That space stuff suddenly seemed too dangerous.By my freshman year of high school, I had completely dismissed the thought of being a pilot.  It seemed like a boring profession with all the sitting around during long flights.  I also attended a very good Catholic high school that stressed traditional academics and career paths.  My guidance counselor wouldn't have had a clue how to steer me into aviation.  I was good with a computer, but in the days before the internet, that also seemed like an unexciting career.After high school, I set out to the University of Miami to earn a degree in Business Administration.  After successfully balancing academics and social activities, I returned home for that first winter break with a very high GPA.  My high school had over-prepared me for college.  It was going very well... but, I felt a bit empty when I thought about my future in the business world.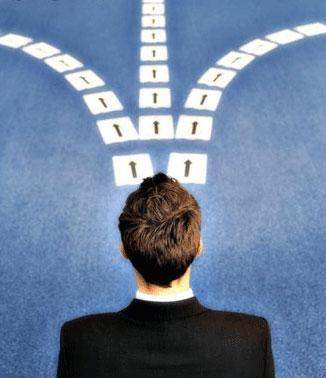 *Added by Swayne

That's why that moment in the car was so important.  I had all but forgotten about a career in aviation.  Sitting there in the back seat, I smiled and felt excited about my future for the first time as a young adult.  I was suddenly determined to learn everything I needed to know about becoming a professional airline pilot.
Two days later, some family friends put me in touch with an American Airlines captain who lived in our city.  I called him up and he graciously spent thirty minutes on the phone explaining the typical career path of a pilot.  All the terms were new to me... student pilot certificate, solo flight, private pilot, instrument pilot, commercial pilot, ATP.  He suggested I take a few flight lessons before I made any drastic life decisions.After returning to Miami for the second semester, I called one of the small FBOs at the Tamiami Airport.  I explained I was a local college student who wanted to take a few flight lessons to see if I enjoyed it.  They were very happy to help and setup a lesson for the next weekend.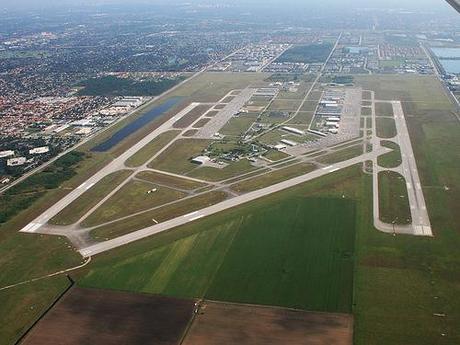 Tamiami Airport *Added by Swayne
That Saturday in South Florida was the first time I'd flown in anything other than an airliner.  I was hooked from the moment the Cessna 172 rotated off runway 9R.  I signed up for more lessons the next two weekends.  On the second flight, with the instructor talking me through it, I landed the plane myself.  By the third lesson, I'd made up my mind.
I was twelve years old again... positive that I was going to be an airline pilot.A friend from my dorm was dating a guy who was enrolled in the aviation program at the Florida Institute of Technology.  We became friends and he invited me up to Melbourne to tour the campus.  I drove three hours north of Coral Gables and was very impressed with what I saw.  The structured program, campus and facility at MLB appealed to me.Shortly thereafter, I applied and was accepted to the program.  Miraculously, all my Miami courses transferred for credit into Florida Tech's program.  My grades in those courses helped earn a little bit of a scholarship.  I was still on track to complete college in four years.That summer, I prepared for the private pilot course I was scheduled to take my first semester.  I bought the Jeppesen Private Pilot manual and memorized it.  I had no practical clue about some of the material I was memorizing. But, I figured it couldn't hurt to have the knowledge in my head as I started to correlate it with actual operations.  When I arrived in Melbourne, I was clearly much more prepared than many of my classmates.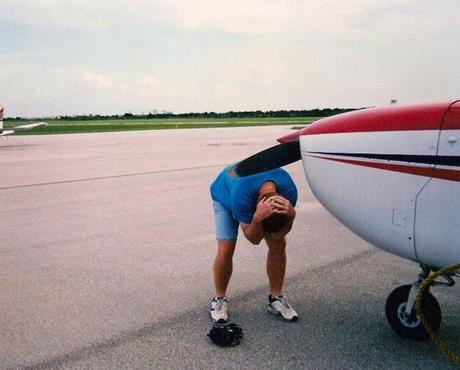 Unfortunately, all my college photos are in storage at the moment.  But, here's a pic that was taken just a few days after arriving in Melbourne.  I was still a student pilot about to start the private pilot course. (Never put your head under a propeller... I'm was actually standing in front of it.)
I took the same approach with all my flight training.  I made a goal to earn an A grade on all courses and complete them without any additional flight time.  By the end of my junior year, I completed those goals and carried a commercial certificate that granted single and multi-engine instrument privileges.
Between my junior and senior year, I earned an internship with United Airlines.  I packed my Honda and drove all the way from Melbourne to Denver.  That summer, I worked long hours in the New Hire Department of the United Training Center.  The internship didn't pay, but I had some great experiences... including the ability to jumpseat in the cockpit.  My career path goal was narrowed further... I was going to do anything it took to become a United Airlines pilot.


*Added by Swayne
When I returned to Florida, I earned my CFI and was hired by the school to teach during my final semester.  After the holidays, I began teaching a few primary students and earned my CFII and MEI.  Upon graduation, I had all the tools I needed to begin building flight time.  The school hired me as a full time instructor.  The salary was $1000 a month. 
Fortunately, my newlywed bride's modest income helped keep our head above water.  I worked long hours teaching many students each semester.  Although instructing wasn't my ultimate goal, I figured I may as well do it to the best of my ability.  My students deserved the same quality instruction I'd received.
In those days, my peers and I needed to log 1,200 total time and 200 multi-engine to interview with the regional airlines.  When I'd filled up enough pages in my logbook, I started rapidly firing off resumes.
During my days off, I started flying out to interviews.  The first was an absolute disaster but good learning experience.  Subsequent interviews were much more professional.
I received two job offers... one with a large regional airline that required that I pay for the training. (It was popular during the 90's... there were so many pilots looking for jobs that the regional carriers were charging pilots $10k for training.)  The other job was with a small regional airline flying Saab 340s in the Northeast.
After much deliberation, we loaded everything we owned in a small rental truck and headed up I-95.  My wife stayed with her parents in Virginia while I attended Saab 340 training at La Guardia airport in New York.  For weeks, four of us shared (and paid for!) a hotel room close to the airport.  My savings drained and debt started to build.  Although there was no up-front training fee, the job didn't start to pay until I passed the check-ride.  Even then, it was only $17 a flight hour.
I consider that part of my career the equivalent of earning a master's degree.  Many people graduate school and pay a ton of money to earn the higher degree.  My pay may have ranged from zero to meager, but I was having fun and building time in a turbine aircraft.  That turbine time was the ticket to where I wanted to spend the rest of my aviation career.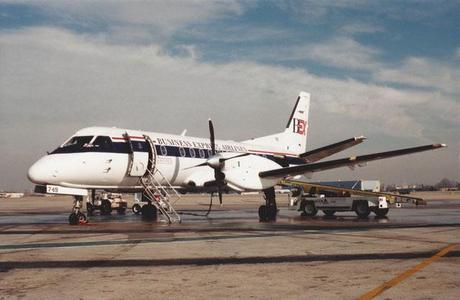 I built turbine time flying a Saab 340 out of Boston and New York.  Photo courtesy of Gregg Delea.
When the time was right, I submitted my application to United.
When I was granted an interview, I prepared with every last ounce of energy and financial resources I could muster.  I bought a new suit and flew to Denver for interview prep.  I studied and practiced mental math for hours each day.  I built a matrix of all stories and experiences that I would potentially share on the interview.  The matrix was broken down by categories.  I was determined to nail all the "tell us a time when..." questions.  The night before the interview, I bought a few hours of sim time from a company in Denver.  I flew the interview profile over and over until the sim operator told me my time was up.
By the time I put on the pressed suit, power tie and shined shoes, I was more prepared for that day than anything else in my life.
The following is an excerpt from my blog that captures that period of my journey:
===[Beginning of blog excerpt]===
It's hard to imagine life without cellphones.   That was reality for the average person back on September 3, 1999.   Now, it is hard to believe we could be inaccessible for any length of time.   That day, I had flown many commuter airline flights with minimal time in between.    By late evening, I checked my home voice-mail and received a message:  "This is United Airlines Flight Officer Employment, please call us back at your earliest convenience."   Two days prior, I had interviewed with United.  Was this the news I was waiting for?
I immediately hung up the phone and splurged on another long distance credit card call to the 303 number.   No answer.   UGH!!!   It was Friday night of  Labor Day Weekend.   I knew I would have to wait until Tuesday to find out why she called.  I finished my trip Monday, went home, and waited for Tuesday morning.
That Tuesday, with my nine month old son in my arms, I reached the employment representative at United.   "Congratulations," she said.   They offered me the job.   At that moment, I experienced a euphoria third only to my wedding and the births of my children.   Everything I worked for up until that point in my life had just paid off.   Pass a medical, pass training, and I was going to be a United Airlines pilot.
On October 25, 1999, my wife and I attended the first day of training at United Airlines.   I thought inviting the spouses was a really nice touch.   She was able to sit in on the benefits presentations and see where I would be spending the next six weeks of my life.   She also was there when I received my first assignment: 727 Flight Engineer in San Francisco.    Not ideal, but, at least it wasn't the DC-10 in Anchorage or Honolulu.
After the briefings, we went back to the hotel, turned on the television and learned that PGA Professional Payne Stewart's Learjet had crashed.   What a tragedy.   My emotions were suddenly reversed as I felt complete sorrow for his wife, children, family and friends.   I also hoped it wasn't a sign as to how the career at United was going to play out.
However, the images on the television faded quickly.   That night, United threw a big dinner for all the new pilots and their spouses.   The spread of food and drinks in the lavish hotel conference room was impressive.   We ate, we socialized, and not one of us could wipe the stupid grin off our faces.   I just could not stop smiling.   I was SO happy to be there.
===[End of blog excerpt]===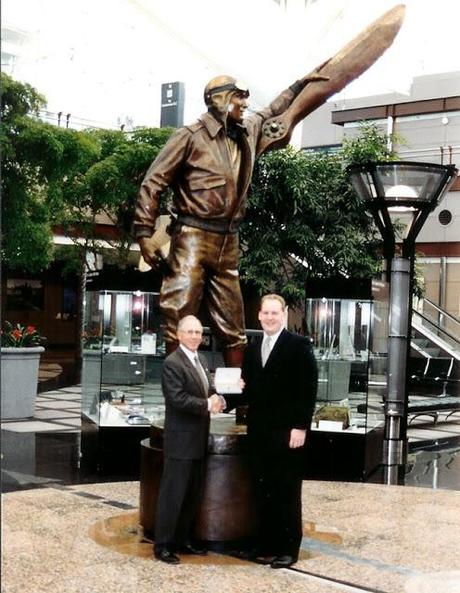 First day at United.
I only sat ten months in the engineer seat of the 727.  In the summer of 2000, I spent another six weeks in Denver training on the A320.  Soon thereafter, I was awarded DCA/IAD/BWI as a base.  I was driving to work, flying a modern airliner and being paid based on a newly ratified contract that was the highest in the industry. Life was SO good.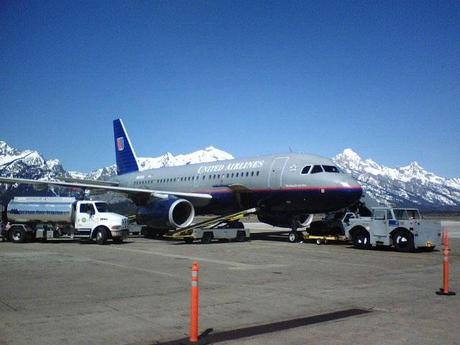 United A319 on the ramp in Jackson Hole, WY.  One of my favorite layovers.
*Added by Swayne
September 11, 2001 changed everything. (I wrote a blog post about this time in my life in more detail... you can read it at

http://renewedpilot.com/2010/08/28/where-were-you-when-it-happened/

) 
Soon after September 11, the downsizing began.  Senior pilots took my position on the A320.  I took a bid on the 737.  In early 2002, I spent six long weeks training on the 737 just to be rewarded with a cut in pay.
The downsizing continued.  Although we had a no-furlough clause in our contract, 2,172 pilots were laid off from the company.  My phone call came the day after the Superbowl in 2003 while driving home from lunch.  I was informed my furlough was effective April 1.  I was devastated.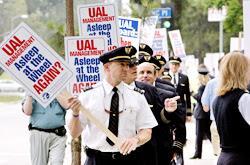 *Added by Swayne
With a young family to support and no flying jobs available, I was forced to take a job as an aviation consultant in Washington, D.C.  That job was an eye opener.  I quickly learned that commuting five days a week in rush hour to play office politics with consultants and government employees was not for me.  I was miserable.
Six months later, I drove my Honda to Connecticut to interview with a fractional jet company.  During the five hour drive, I mentally prepared for the interview.  After I met with several managers, they offered me a flying job.  I spent the five hour drive home contemplating how I was going to explain to my wife that I was going back to flying for half of what they were paying me as a consultant.  I was thankful for the opportunity and excited to try a different style of flying... but, I was still in a very dark and bitter place.
For the next few years, I flew Citations on a seven day on / seven day off rotation.  I quickly worked up to captain and then standard's captain.  I enjoyed the flying and earned about two thirds of what United was paying me when I got furloughed.  We moved the family to Nashville and enjoyed the southern lifestyle and low cost of living.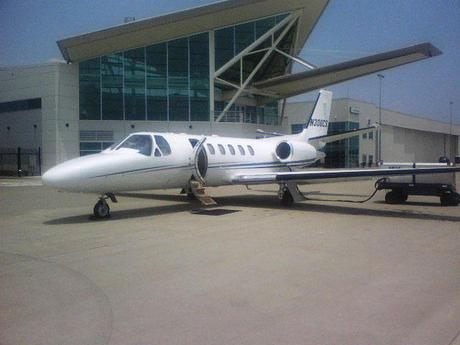 Cessna Citation Bravo
During those years, a curious thing happened: I completely changed my perspective regarding what happened to my career at United.  Yes, for lack of better terms, it completely sucked to be hired for a life-long dream job and then lose it.  But, I started to realize I had numerous things in my life that wouldn't have existed if I hadn't been furloughed.  My family would have missed out on all the wonderful experiences in Nashville.  I made some very close friends at home and at work.  I flew some very famous people.  (Being a golf fan, it was the thrill of a lifetime for me to spend a little time with both Jack Nicklaus and Arnold Palmer.)  The list goes on and on... but the point is simple: After April 2003, my life branched off on an alternate path.  I cringe to think of everything I would have missed if the path hadn't skewed.  The furlough suddenly became a good thing.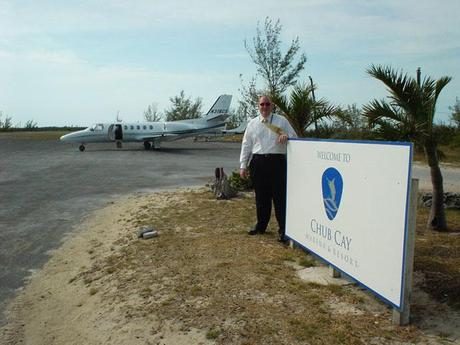 Waiting for passengers in Chub Cay.
In early 2006, a large envelope arrived in my mailbox that contained a letter inviting me back to United Airlines.  Rather than running into the house jumping up and down, I welcomed the news with complete indifference.  It was nice to have another career option if the one I had fell apart, but I wasn't going anywhere.
The recall rules were fairly simple.  The airline went all the way down the furlough list offering recalls in seniority order.  Pilots could either accept employment or bypass.  (When bypassing, the pilot retained relative seniority to the other furloughed pilots.)  When they reached the bottom of the list, they offered a second recall by going back up from junior to senior.  During that round, the pilot could either accept or resign the position forever.
About a year later, I was forced to make a very, very difficult decision.  It was my turn to return or give it up forever.  The fractional was a great job, but I had serious doubts the business model would keep me employed for the rest of my career.  Plus, I just wasn't ready to say goodbye to my dream... even if it had completely knocked me on my butt he first time.  So, I took the recall.
I returned to Denver for my second full course on the A320.  The mood around the place ranged from somber to angry.  The effects of the recent bankruptcy were still very evident.  I tried not to get caught up in all the negativity, but it was difficult to stay off that bandwagon.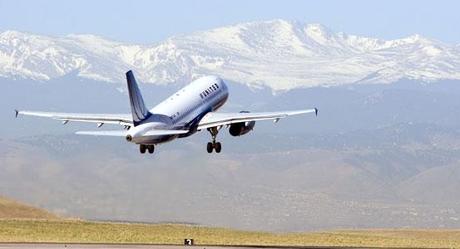 *Added by Swayne
I bid Denver as a base soon after returning.  I didn't want to leave Nashville, but we moved to Colorado so I could drive to work.  They were good years... it didn't feel like I was living my dream, but in some ways, we did settle back into our "old life."  Everything was looking good... United even started hiring some "new hires" off the street.
Then, the price of jet fuel skyrocketed.
In late 2008, the management made the decision to park a hundred jets in the desert.  While the true motivation behind the move can be debated, they blamed it on high fuel prices.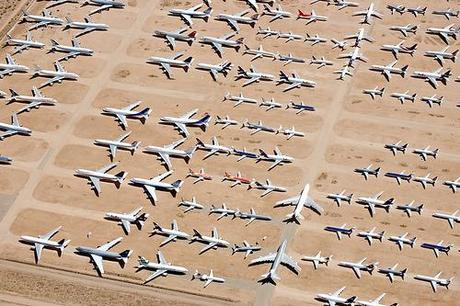 *Added by Swayne
The "new hires" were furloughed immediately.  Many of those men and women left good jobs to join our airline.  Within their first year, they found themselves applying for unemployment benefits.
In October 2009, after another fast and furious cycle of bumping and training, I was furloughed from United Airlines for the second time.  Unlike the first time, there were no tears.  Was I angry? Yes. Worried or sad? No.  I had complete confidence it would all work out.  I reminded myself that my life just took another unexpected turn.  Just like the first time, anything that happened from that point forward wouldn't have normally occurred.
My confidence started to wane about three months into the furlough.  The last severance check had arrived and I still had no leads on a full time job.  The "family time" was fantastic, but I didn't want to completely drain our savings.  I knew deep down it would work out like the first time, but I really started to feel some pressure.
In late April, I received an email from Virgin America asking for some follow-up information for the resume I sent.  After a few emails and an on-line assessment, I earned an interview.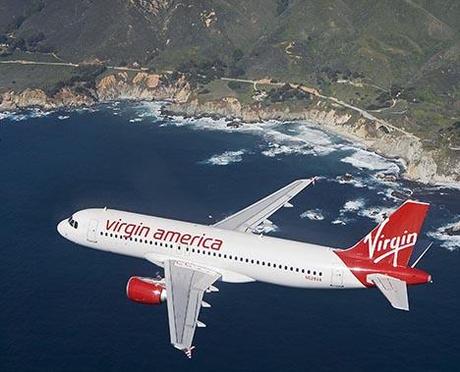 *Added by Swayne
Weeks later, after absolutely no preparation, I found myself in the middle of a group interview.  I'd flown to San Francisco the previous afternoon.  I was advised to dress business casual with no tie and "be myself" during the interview.  How does one prepare for that except get a good night's sleep?
Right from the very beginning, I was intrigued by the culture of the company.  I listened to their speeches, answered all their questions and even shared a few good laughs throughout the day.  The next morning, I received an email requesting I complete a pre-employment drug test.  It was followed up by the background check and finally an official job offer.
*Added by Swayne- Virgin America A320 Sunset Landing LAX

A few weeks before I attended training, I decided to start a blog.  I wanted to tell my story and document my experiences in training and first year at a new, innovative airline.  My goal was to bring family, friends and any up-and-coming pilots along for the ride.  After everything I'd been through, I felt my pilot career was about to be renewed.  Hence, www.renewedpilot.com was born.  If you want to see what's been happening since 2010, come visit me on my site.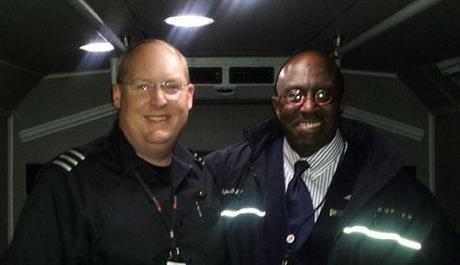 Legendary gate agent Rufus and I on a bus in Denver.  Running into him prompted the blog post "When worlds collide" back in 2011. (Link:
http://renewedpilot.com/2011/11/30/when-worlds-collide/
)
There are over a thousand men and women who were furloughed twice from United Airlines.  Tens of thousands more have been laid off or lost their jobs when their airline went out of business.  I am very aware that many have worked for airline after airline only to come up disappointed in the end.  So, if you've read this far, please do not leave with the impression that I see my experience as unique.
It is simply MY story and it has been a privilege to share it with you.
...
Please follow @RenewedPilot on Twitter or visit

www.renewedpilot.com

for other contact information.  Do not hesitate to get in touch with me if you ever have any questions about being a pilot.  I will jump through hoops to help anyone who has their sights set on this career.  As a group, I believe we've come over the hump and our best days are ahead of us.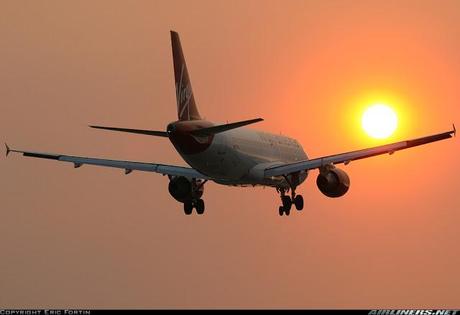 *Added by Swayne
---------------------
Thank you so much Brian for writing in and sharing your incredible story. It's really motivating for me to see a guy who's gone through so many hardships and furloughs, yet manages to keep his head up. Going into aviation certainly isn't the easiest or most stable of career paths, but like you said, "As a group, I believe we've come over the hump and our best days are ahead of us."
It's good to know that you'll be out there for me or any up and coming pilot that might need some advice. I really appreciate that! 


Thanks again for writing in and participating in the 

Share Your Story

 section of the blog, 




Swayne Martin 




Martins Aviation / From Private to Professional Pilot




Twitter: @MartinsAviation

Youtube: MartinsAviation1