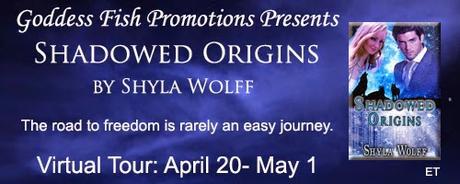 Shadowed Origins
by Shyla Wolff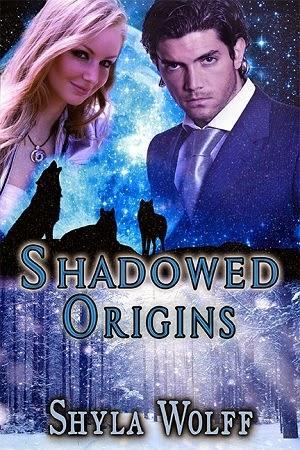 BLURB:
The road to freedom is rarely an easy journey.
Following a lifetime of captivity and torture, fate tosses Kyley into a world of freedom and opportunities, danger and espionage. During her inspirational journey, discovery of life's offerings shores up her determination to conquer the fears that keep her from exploring a world where romance is more than a fantasy. Her continued hard-won freedom hinges on the abilities of the paranormal group that rescued her. Always looking over her shoulder, she knows Roth must reacquire her to complete his plan for mass annihilation and anarchy.
Taylor's telekinesis and special-ops training granted him seamless passage to work with Kenner's paranormal unit. When he rescues a young waif from the clutches of her psychopathic guardian, he's unprepared for the emotional backlash created by their connection.
The knowledge that her emotional baggage includes years of abuse dictates he help her conquer her triggers and fears. Aware she's not encountered a kind touch, much less any expression of passion, he represses his own desires in order to teach her that not all physical contact includes pain. He longs to free her adventurous streak and inspire her to achieve emotional as well as physical confidence.
Since being adopted by her psychic warriors as a kid from the streets, Kiera's never doubted her place in life or the direction of her path. Her unusual upbringing included weapons training, unique fighting skills, and how to maximize her paranormal abilities. After pulling Carlin, a computer prodigy, from death's grasp, she learns you don't always get to choose whom you love. Her destiny is twofold. Protect Carlin from the monster who wants to destroy the USA and find her mate—a man who will save her life, more than once.
A chance meeting between Kiera and Kyley sets off a chain of events they couldn't prepare for and might not survive. Can the girls work together and prevent Roth from destroying the ones they love?
Buy:
  http://www.extasybooks.com/Shadowed-Origins/
EXCLUSIVE EXCERPT
The soft strains of Silent Night drifted to Kiera from the great room. In carefully controlled anxiety, she descended the stairs in measured steps. The low murmur of voices made it obvious everyone enjoyed themselves. What a wonderful opportunity to have both groups of men and their significant others together. Nothing compared to celebrating this first Christmas Eve with her sister and her man. Kenner wasted no expense in decorating for this occasion. The room looked like a fairy tale come true. All of her friends, old and new, were bound together through her sister's bond and their shared experience.
A hush settled over the room as she neared the middle of the stairway. All gazes turned to her. The sound of glass shattering on the floor and snorts of laughter brought her gaze to Carlin who stood near the back of the room.
"Way to go, Carlin! What's next? Carlin? Carlin? Anyone here know how to reach our resident computer nerd? He's mentally AWOL, lost on an electronic superhighway." Dacien's laughter, punctuated with backslapping and murmured comments obviously not meant for her ears, filled the room.
"I think someone just narrowed his bandwidth down to zero," Ouray added.
"Maybe he's got a cyber-squatter shutting down all non-pertinent functions." Lorne choked out.
AUTHOR Bio and Links: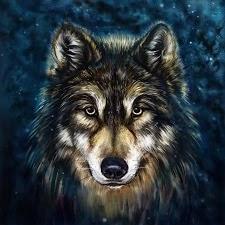 Life teaches us many lessons. One of the most important ones Shyla's learned is to take the time to enjoy family and friends. Our circumstances change on a daily basis. However small the differences may seem, they add up over time. Through a lifetime of various trials and tribulations, she's discovered the enjoyment of sharing her stories with those that would relish participating in the journey of extaordinary people through their everyday lives.




LINKS




http://www.shylawolff.com/




https://twitter.com/wolff_shyla




https://www.goodreads.com/author/show/10910304.Shyla_Wolff




Buy:

  http://www.extasybooks.com/Shadowed-Origins/




FOLLOW THE TOUR!




GIVEAWAY




Shyla will be awarding $25 Amazon or B/N GC to a randomly drawn winner via rafflecopter during the tour.


a Rafflecopter giveaway