I haven't written in over a month.  I suppose this is partly because of a touch of Seasonal Affective Disorder (okay, it's not cold in the sun, but the sun sets at 4:30 in January
)
an

d partly because I'm adapting to life here and having fewer household disasters and cultural surprises.  Also, I started a new teaching job (part time, but still...).  So, this post is about what life is like here when nothing happens.  It's a Seinfeld episode!
I have now settled into a weekly routine:   On Monday evenings I teach at a school called LINGVO from 6:00 to 8:00.  
This is my first experience teaching adults, so it was a bit challenging at first, 
but I've improved a lot in the last month. 
There are only two students in the class.  Gokhan is an elegant gentleman with multiple advanced degrees. If I'd seen him in New York I would have assumed he was Italian.  Turgay is college educated and works in agriculture. Both are primarily interested in improving their speaking for work situations.  So we have a lot of conversations, some of which can be very interesting (like Turgay's opinion that the U.S. is controlled by Jews) and educational for me as well (in explaining the U.S. school system I learned how it differs from the Turkish system).  
Originally I had another class as well, also meeting twice a week for two hours.  But that was more difficult because the students were less advanced, requiring grammar explanations using their level of English and my level of Turkish.  They were also slower learners, and as patience is not my strongest suit it could be quite frustrating.  So when they wanted to change class to Friday evening I said no, and the class was rescheduled with another teacher.  This was fine with me.  I'm committed  to finding work on my own terms.  Even with only one adult class twice a week and my children's class once a week I am earning a good portion of my expenses.  Eventually I expect to find enough work to be self-sustaining.  It took me a year to transition from my law career in Los Angeles to my singing career in New York, so I think it's reasonable to expect at least that long to make the change from opera singer to English teacher in Turkey.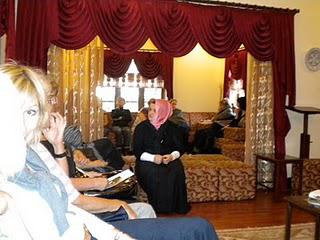 On Tuesdays there's tea and some sort of presentation at AKDIM, a cultural exchange center that offers various programs, excursions and classes. The presentations vary in quality, but the food served with the tea is always good.  There's always some kind of cookie, and usually some type of salad or vegetable.  It's not a good idea to have a big lunch before you go.
Most of the presentations are in Turkish and German.  This is why the Russians always sit in the alcove and ignore the show.  Sometimes there's an English translator.  Not surprisingly, most of the people I've met there are from German speaking countries.  Most of them are also over 65, which is also not surprising for an afternoon event.  So when Gaby saw me for the first time she ran right over.  She's a German widow in her fifties and was thrilled to find another non-senior citizen.  It turns out she lives in my neighborhood, but much closer to the beach.  Through Gaby I was included in the Christmas Eve dinner in Kaleici with her German friends, and she and I stayed local and had New Year's Eve at an Italian Restaurant.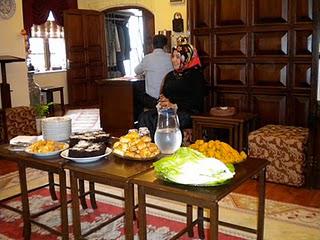 The impressive tea display, with home-made brownies and mercimek kofte
On Wednesday evenings I go downtown for English conversation, beer and meze buffet.   I've already written about meeting at Ayyas, so I'll just say it continues to be a great place to keep up with friends and to meet new people.   New English teachers show up fairly frequently, and there's almost always someone who's just passing through – a tourist, a relative of a regular, etc.  It's more fun when we can sit outside, but the inside is cozy and there's live music.
On Thursday morning I have belly dance class  from 10:30 to 12:00.   I've mentioned this class before, taught by the Russian woman who also teaches yoga and hired me to teach the Russian kids. Suffice it to say it's a crap shoot as to whether or not class will take place, but when it does it's very good exercise. In any case, it's a 20 minute walk to get there, so I get some exercise regardless.  (It's kind of sad that I'm teaching English and I just had to look up the spelling of "exercise".)  Thursday evening I teach at Lingvo, the same class I teach on Mondays.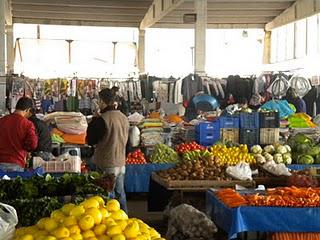 Friday is market day, when the local pazaar is held. The produce here is unbelievable.
There's every fruit and vegetable I've ever heard of, and some I haven't.  Many varieties of salad greens here are new to me.  One looks like baby spinach but has a citrus taste, another was so spicy it made my eyes water and the vendor had to give me a carrot to recover.
  I like that the lady who sold me cheese one week remembers which cheese it was when I return.  I also like running into people I know.  Last week the mother of one of my young students came up to me to say hello.  I also found myself next to the Kenyan woman who lives in my apartment complex and has a tall, thin two-year old who looks like a mini-Obama.   She's been here a while, so was able to identify more of the greens.  I guess kale isn't really exotic, but I'd never bought it before and didn't recognize it without bacon and onions.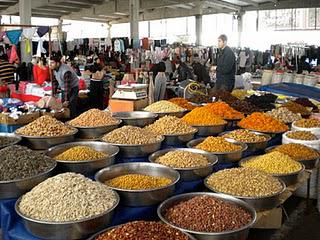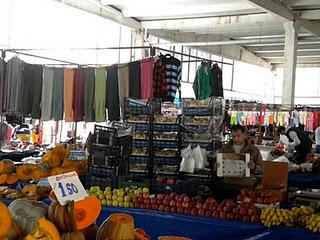 Of course the selection of spices, nuts and dried fruit is vast, but it's surprising how many other useful articles you'll find.  The clothes range from traditional shalvar type wear (including long skirts and dresses, and those crocheted vests we wore in the early 70s) to Calvin Klein warm-up suits.  Also available are sheets and blankets, kitchen utensils, and just about everything else.
Friday evenings I often go to the Symphony, which is one of the reasons I didn't want to teach Friday nights.  I go alone, but always run into people I know: Fritz, the pianist; Elif, the singer (if you use the term losely); American friends Carol and Bill; and one of my 8 year old Russian students (who plays piano)and her mom.
The quality of the performance varies greatly depending on the conductor, and there's a different conductor every time.  Last week they played the Beethoven Triple Concerto.  I don't remember the last time I heard that piece live, but I think I know why.  It's not one of Beethoven's best.  Of course, it's still Beethoven.  After intermission was Mozart Symphony 39, which is also on the obscure side of his symphonies.  It had a strong Haydn influence, and it was good to hear it. 
On Saturdays I teach my children's class at 10:30 AM.  I suppose this scheduling could theoretically impinge on a Friday night outing.  But since I'm at the Symphony Friday evenings, rather than a bar or a disco, I'm home at a reasonable hour so getting up early on Saturday is not a problem.  (I don't really have a choice anyway; the jack-hammering from the construction site usually wakes me by 8:00 AM.)  I've discovered I can walk to class in about half an hour, which is a nice change from the dolmus (mini-bus).  The class has been getting easier and more fun every week.  And the kids are so cute.  One of them gave me some pictures she drew, and one of the moms gave me chocolates for Valentine's Day.
Walking home I can dawdle and do some shopping.  Last time I picked up some interesting yarn to make a scarf.  But it turns out my crochet skills do not extend to yarn with furry pieces, so the scarf looks a bit like a dead cat.  Maybe I need to count stiches or something, but once I add numbers to an activity it ceases to be fun.
Saturday evening I go to yoga class from 6-7:30.  This is obviously not the ideal time for a yoga class, but I enjoy it.  So I either have a relaxing evening or go out for a late dinner.  I've skipped class a few times to go to the opera, but I've decided I'd rather be at yoga class.
Sundays are the only days without the annoying construction sounds, so I like to take advantage of the quiet by spending some time on my balcony reading a novel or studying Turkish.  It's also a good day for laundry (weather permitting, since the clothes need to dry on the rack outside) and there's always cleaning to be done. (Close friends and family insert wise-ass comment here.)
There are also monthly or occasional activities which supplement this schedule. Once a month on Sunday my book group meets. This is mostly made up of the women I see Wednesday evenings at Ayyas, but the group is so big on Wednesdays that we don't all get to talk to each other. We meet to talk about books at Carol's place, which is in a great downtown location, so I usually make a day of it and do some walking/visiting/exploring/shopping.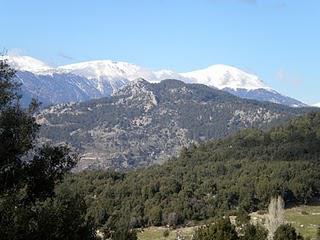 Last Sunday I went with my German friend Matthias on a drive up the mountains looking for the ski resort.  We never found it, and didn't get to make snowballs, but we got a closer look at the snow-capped mountains and some incredible views.  It was a nice get-away, with a completely different feel from Antalya's city.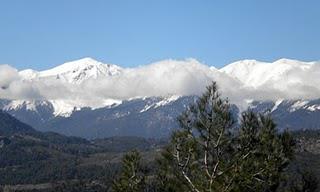 Matt also told me about a German/Turkish group that meets once a month, so I went to the most recent one. Matt cautioned me that it was more formal than the English group meeting. (Did he think I'd be uncomfortable anyplace more upscale than Ayyas? ) So I put on a skirt for the first time since the weather turned cold, and a pair of pantyhose for the first time since I've been here!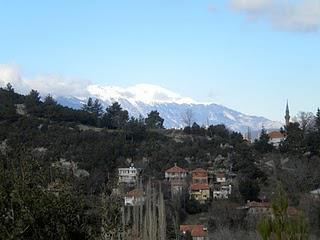 The toughest part of the evening (aside from having to wear pantyhose) was finding our way to the somewhat secluded horse club. I've written before about the difficulties regarding directions, and the lack of signs or streetlights didn't help. But we arrived before anything had started (the event apparently working on Turkish rather than German time).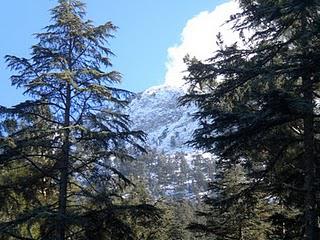 After drinks were served the club owner gave a slide presentation on equestrian history and such  (All l remember was something about horse riding starting in Anatolia and being copied by the Greeks and Romans; I was too hungry to focus at that point). The talk was followed by an acceptable dinner of kofte and chicken kabobs for 20 lira ($15).
The German/Turkish group is organized by a Turkish Akdeniz University professor who lived in Germany for many years. Several of his colleagues who came didn't speak German, but they all spoke some English, so it was a tri-lingual evening.  The woman sitting next to me was a law professor who had studied at Columbia.  Another Upper West Sider!  She thought I might be able to get some consulting work as a native English- speaking American-trained lawyer.  We'll keep in touch and see. I invited her to come to Ayyas on Wednesdays to keep up her English and she liked the idea.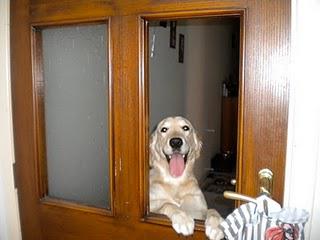 Sultan's dog, Maya, standing at the door asking to be let into the room with food.
Other unscheduled activities include shopping at Migros (I recently picked up a yoga mat there; the mats at the gym are pilates mats which are not conducive to standing poses), dropping in for tea with neighbors (I met a woman at the beach in November who speaks German and has a golden retriever), and even in the winter there are days here when the best thing to do is walk to the beach and sit in the sun.