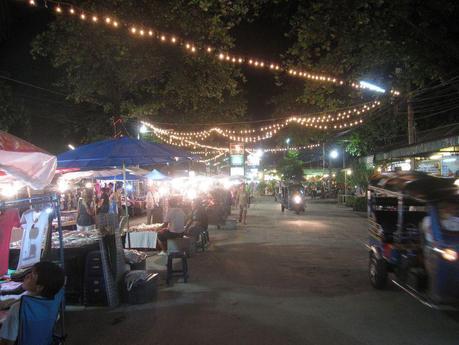 So it looks like we've found a (very temporary) home.
After a wonderful long weekend in Bangkok, which we absolutely loved and where I enjoyed a very nice 26th birthday celebration, we headed north to Chiang Mai via overnight train.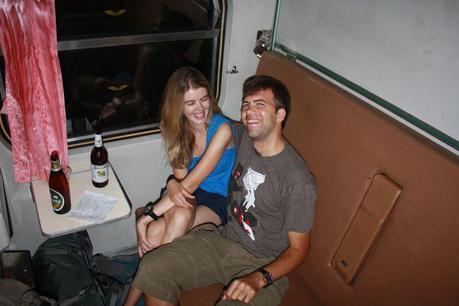 In general, trains are fantastic. We love them. They're cheaper than flying even when you choose a 1st class sleeper cabin, you get to see the countryside as your roll along, enjoy delicious Thai dinner and breakfast (why is everything in Thailand so mindblowingly tasty?), and for some reason especially in the age of $50 flights it just feels fun and a little bit more glamorous. Our 14 hour train ended up taking almost 20 due to flooding a few hours outside Chiang Mai and we had to be transferred to another train to finish the journey, but none the matter. We arrived, jumped into a nearby tuk tuk, and were on our way. 
So far, we're loving Chiang Mai. It's quite the change of pace from the intense traveling of the past month, and we're really enjoying the freedom of waking up every morning with no agenda. Do we head up in the mountains to explore a new temple? Spend the day reading in a cafe? Go to a museum? Spend a few hours just ambling around the street carts sampling all kinds of Thai deliciousness? After our two months in Bali and now having the opportunity to spend a solid amount of time here, I'm realizing that having the time to actually set down roots in a place is by far one of my favorite parts of long-term travel.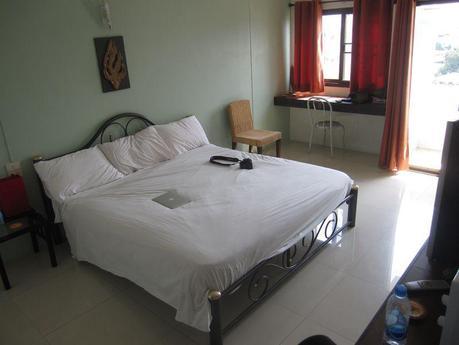 Not to mention the fact that Chiang Mai itself is a pretty wonderful place to stay for a while. We found a great little studio apartment for $300/month with a TV, regrigerator, microwave, teeny tiny balcony and rooftop pool (!) that's also a 2 minute walk from the Chiang Mai Gate night market, which is one of the best we've tried in the city.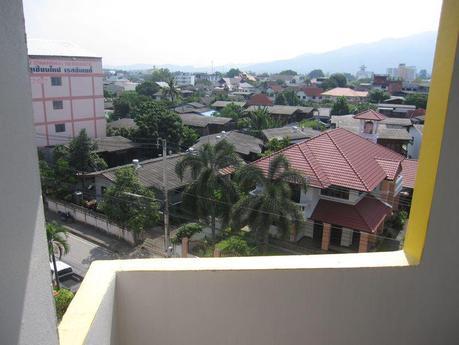 Every night around 7p we head down, trawl around the stalls picking up whatever we're in the mood for that night (papaya salad, pad see ew stir fry noodles, crispy pork, and mango with sweet coconut and sticky rice are all favorites), grab a mixed fruit drink from the best smoothie lady in town, and settle down at an outdoor table to nibble away and enjoy the warm night. 
All of this usually ends up costing around $1.50 per person and we always leave stuffed. Besides for the fact that very few of the stalls have any sort of English menu, which can make ordering something of a challenge and often relegates us to awkwardly pointing and nodding at nearby delicious looking dishes, I really can't think of a better (and more budget friendly) way to enjoy an evening meal. 
Not to mention the fact that the street food here is some of the best food I've ever eaten. Anywhere.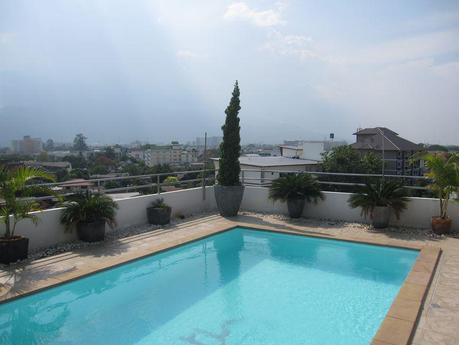 So, it looks like we're going to be in Chiang Mai for a little bit.
Enjoying the quiet life for a few weeks, eating amazing food and exploring this great new city. With endless temples, cooking and yoga classes, $5/hour Thai massages, elephant parks, museums and a wealth of gorgeous mountain countryside, I don't think we'll be lacking things to do and we're really appreciating this short "break" of sorts before hitting the road again in June.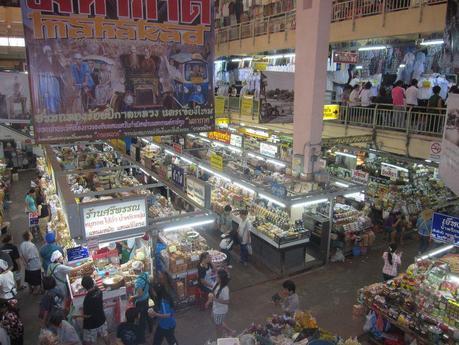 Any Chiang Mai tips?? Please, please leave them in the comments. 
We spend an absurd amount of our time here eating, so any fabulous restaurant or food cart recommendations are much appreciated. This should be obvious - but we're not terribly picky.