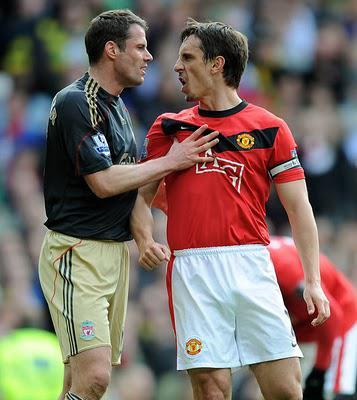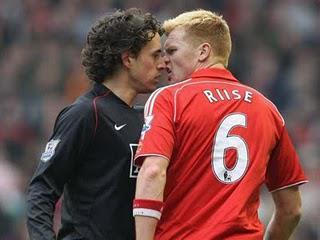 Liverpool will welcome United to Anfield on Sunday (Fox Soccer Channel, 8:30am) to avenge the 3-2 loss they suffered at Old Trafford earlier in the season.  
United striker, and current English Premier League goals leader, Dimitar Berbatov scored a beautiful hat trick in his side's victory earlier in the season.  Despite Berbs' dominance, Liverpool made a match of it at a time in which their form was as poor as it has ever been (they even dropped into the relegation zone for a spell).  Their season, however, has taken a turn for the better.  They are currently sitting in the sixth spot on the table, albeit 21 points behind their league-leading foe.
These teams are widely considered each other's biggest rivals.  Historically, they are the two most successful squads in the history of English football, each owning 18 league titles.  Manchester United leads the all-time series between the two with 71 wins, 60 losses, and 50 draws.  There hasn't been a tie in the series since March of 2000, over 10 years ago.  Even Ryan Giggs (and you know The Toast is a fan of Ryan Giggs; see
Ode to Ryan Giggs
) has been quoted as saying Liverpool v. United is "probably the most famous fixture in English football".  Liverpool owned English football in the 70s and 80s, while United has been the most successful club of the 90s and 2000s.  Liverpool boast that they have been more successful than their rivals in European competitions, while United fans counter that Liverpool haven't been best in the league in over 20 years (and counting).  
The two squads are not just rivals, they're enemies:
United manager Sir Alex Ferguson dodged a punch and striker Eric Cantona was spat on by Liverpool fans as United walked up the steps of Wembley to receive their FA Cup trophy after defeating Liverpool 1-0 in the 1996 final. (

Article Link

)

Liverpool fans attacked the ambulance of United's Alan Smith while being carted to the hospital after breaking his leg in a 2006 FA cup match between the two. (

Article Link

)

The two clubs have not dealt a transfer between each other since 1964.  

Current United striker Wayne Rooney, having grown up in Liverpool, is not shy about his feelings toward the Reds: "I grew up an Everton fan, my whole family are Everton fans and I grew up hating Liverpool -- and that hasn't changed."  

Current Liverpool playmaker Steven Gerrard, who has a collection of jerseys he has exchanged with other players after their matches, pointed out to a camera crew touring his home that there was not, nor would there ever be, a United jersey in his house.

Before 1989, Liverpool supporters frequently sang songs like the infamous "Who's that dying on the runway?" in reference to the Munich Air Disaster that claimed the lives of 23 Manchester United players, journalists, and fans. 

In an interview with The Guardian in 2002, Sir Alex let loose this gem of a quote: "My greatest challenge is not what's happening at the moment, my greatest challenge was knocking Liverpool right off their f******g perch.  And you can print that." 
So when your alarm clock goes off Sunday morning, which crest will you don?