Just as I'm slowly making my way back in to the workshop, it seems as though the list of kitchen items to make is on the agenda!
Through the power of YouTube and my Facebook Page combined (do not underestimate their power), I've picked up a commission for a few end-grain cutting boards and a pair of knife blocks too! You can be sure you'll get to read about all of that as and when it happens. If I have time, I'll even try to shoot some new video footage.
Yes, I initially did a three-part series on making similar boards from beech, which you can still find over on my channel. But, through watching many other videos and experimenting with my own recent efforts, I feel I've already learnt a lot about this 'art' of communication and sharing. People don't really want to watch you endlessly resawing wood and not everyone enjoys the music that you might like… Some prefer no music at all. People tune because they share an interest. Because they're keen to see and willing to learn. That's my impression and I'm happy to help however I can.
Back to the main prompt behind this evening's post…
Twenty-four hours late, my sister and I took our mother out for a Mother's Day evening meal. I somehow devoured an entire 12oz horseshoe-shaped gammon steak while my sister eventually met the challenge of a burger that could've swallowed her whole! (That photo will remain on my phone… And Facebook!) Anyway, the point is that mom saw this and now, probably wants me to make one at some point: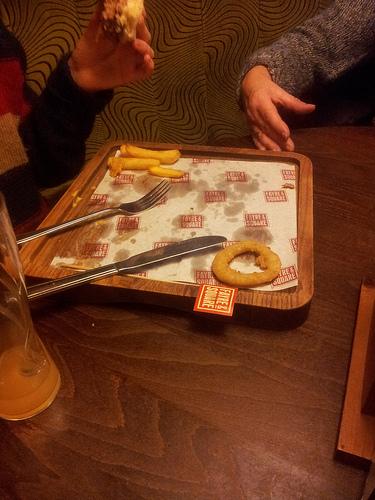 Wooden serving tray for a pub meal.
…Well, I did offer!!
For the second time in sequential visits, one of us has received our meal on one of these unique wooden trays, where the rest are left to scrape and squeak with breakable cutlery. I obviously like it and the design looks simple enough. I'm currently thinking about how I might create that large recess in the center and I welcome any suggestions you may have.
It looks to me as it it's made from oak (like many of the tables in this particular pub) which, to me, wouldn't be the most ideal of choices with its open-grain. Most woodworkers would prefer a tight-grained timber like maple, beech or sycamore. Oak is renown for its stability though.
It's an interesting one; the kind of job where I feel as if it wouldn't be worth making less than two at one time…