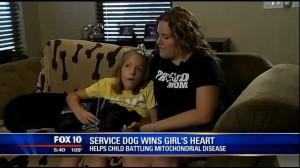 QUEEN CREEK, Ariz. -A Queen Creek girl is battling a rare condition called mitochondrial disease, but the whole scenario changed when a dog named Stasha walked into her life and stole the girl's heart!
9-year-old Kylie LaFlamme was diagnosed with a rare condition last year. She was losing her mobility and speech and ultimately needed a feeding tube.
"She can't do anything.. can't talk like us or walk like us," said Kylie's younger brother, Dylan.
Symptoms can include breathing problems, neurological troubles, even heart disease, but a gift this year changed everything in her life.
"She just has a sense of what Kylie needs at the right time.. it's amazing," said Kylie's mother Kelly.
Ryan, Kylie's father, adds, "The smile that she brings to her face and the love and companionship."
Kylie's new furry friend was a free gift from the non-profit group Canine Companions for Independence. They provide assistance dogs to people with disabilities.
This helpful canine named Stasha joined the family in February. That's when Kylie's entire demeanor changed.
"It has helped her with her speech, her confidence level has increased dramatically — she is not embarrassed to be in her wheelchair. She loves it when people come and ask her about her dog," said Kelly.
People now want to ask about Stasha instead of her illness.
Kylie is now learning to give her lovable buddy commands.
"Walks with us in public, she helps us get through doors, she helps us navigate," said Kelly.
"It also means Kylie now has someone to take care of now.
"She's very protective," said Kelly.
Kylie says she loves Stasha and her mother says they're a match made in heaven.
~ Courtesy of FOX Phoenix
Tags: Canine Companions for Independence, dog helps girl, mitochondrial disease, service dog