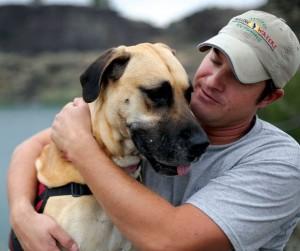 If angels take canine form, Bailey is one of them.
She predicts panic attacks, senses oncoming seizures, and greatly improves the life of a Buhl man suffering from war's psychological aftermath.
Combat veteran David Leavitt said Bailey has saved his life more than once, reducing symptoms of post-traumatic stress disorder caused by three deployments to Iraq and Afghanistan.
But the 4-year-old Great Dane and Rhodesian Ridgeback mix often is barred from parks, businesses and restaurants by people who don't understand that this service dog is essential to Leavitt's well-being.
Sufferers of PTSD commonly experience flashbacks to extreme trauma, experience panic attacks in crowded places and have nightmares that can manifest into night terrors.
The former Army infantry sergeant said Bailey is so synchronized with his condition that she detects symptoms before he can. She also wakes Leavitt up during nightmares and comforts him.
"I was in Florida at an Army Wounded Warrior symposium. There was a restaurant where they did jousting. We were in there, I was minding my own business, and all of a sudden all these people came in and she's tugging me to get out of there because she knew my anxiety was going to go through the roof. The second that I realized it, I went outside and was throwing up and was really bad off for a couple of days."
Bailey also can sense when someone else is in danger.
"She's very intuitive to the people around her. There was one incident where I was walking to a formation early in the morning. I was walking with a friend of mine, and all of a sudden Bailey started acting up, she didn't want to move or go anywhere and I thought, 'What's going on? I'm not having any issues.' All of a sudden my friend collapsed and went into a seizure. She picked up on that. I stayed right there with my friend and helped her, waited for the ambulance to show up."
Raising Awareness about Service Animals and Disability Discrimination
By law, a person with a service animal cannot be asked to present certification. That's considered disability discrimination. A dog becomes a service animal when a medical professional recommends it to ease a diagnosed condition. A service animal for PTSD is not to be confused with a seeing-eye dog, which requires certification, or a comfort animal, which solely provides emotional support.
Although most civilians and business owners recognize Bailey as a service dog, some don't know the rules. Lack of knowledge about the Americans with Disabilities Act causes a lot of problems for Leavitt. Not allowing a service animal into any public place, including any business open to the public, is illegal, according to the ADA.
When it's not obvious what service an animal provides, limited inquiries are allowed. Staff may ask two questions:
• Is the dog a service animal required because of a disability?
• What work or task has the dog been trained to perform?
Dierkes Lake
Leavitt was fishing last April in Dierkes Lake, a city park, when an employee confronted him and asked them to leave. Leavitt explained that Bailey is a service dog to help with a disability he sustained during combat in Afghanistan.
The man acknowledged Bailey as a service dog but said she needed to be on a leash. Leavitt explained that if Bailey were on a leash, she could not do her job. The man left but returned, saying the park ranger wanted to see identification for the dog — a request that is illegal under state and federal law.
The park employee asked Leavitt to meet the ranger in the parking lot. By then, Leavitt said, he was so upset that he simply left and went fishing elsewhere. Leavitt later emailed Parks and Recreation Director Dennis Bowyer. After several exchanges, Bowyer acknowledged that Leavitt was right and apologized for what had happened.
Bowyer wrote: "I would like to apologize for any inconvenience the incident caused you last Sunday. I have instructed my park ranger the correct interpretation of the law and will notify all of our park employees and lifeguards at Dierkes Lake about this. Again I would like to apologize for any inconvenience you may have incurred."
Despite being turned away sometimes, Leavitt said he gives people the benefit of the doubt and prefers to raise awareness about disability laws rather than take legal action.
He said he wants civilians to understand that people with invisible wounds may need assistance. "When it comes to the everyday person, they need to be cognizant to being understanding of individuals with a service animal."
Man's Best Friend and Guardian
Leavitt deployed to Iraq in 2003, fighting with the U.S. Army infantry at the start of Operation Iraqi Freedom. He returned later that year and joined the Army Reserves, where he trained with special operations.
In 2006, he was deployed again — this time to Afghanistan — and helped spread propaganda against insurgents through media and other "psychological operations." Leavitt said he was the target of multiple hits, and others in similar roles were killed.
A year later he returned to Twin Falls and, despite being diagnosed with PTSD, was set to deploy again as a military liaison. Months before Leavitt left for Afghanistan in 2009, he responded to a classified advertisement seeking a home for a 6-month-year-old Great Dane.
"The first thing I saw was a small kid, about a year and a half old, crawling around Bailey," Leavitt recalled said. "Bailey was about six months old at that time. The kid was crawling around, grabbing on her ears, and I thought, 'Wow, that's a great dog.' I took her home for three days, and we bonded instantly. We've been inseparable since."
What was initially a pet would become something much more.
Toward the end of his third and final deployment, Leavitt's PTSD got so bad that he was medevaced to Germany. The sergeant was retired from the military and sent to a warrior transition battalion in Fort Lewis, Wash., where he would spend nearly three years in rehabilitation.
When he learned about a program there to train service dogs, he was intrigued.
"I read everything I could get my hands on. I read books, watched videos and followed professional training material."
Leavitt trained Bailey and taught other veterans in the rehabilitation program how to train their dogs.
When he returned to the Magic Valley last December, Bailey had been transformed into a professionally trained service animal. The Great Dane mix not only became Leavitt's best friend, but also gave him a reason to live.
"I would be dead. She's been a huge part of my life. She's saved me from myself several times. I wouldn't be here. I'd be 6 feet under right now. It's the truth. There's always the stereotype of individuals like myself being weak, but the fact of the matter is, she's saved my life when I needed her the most."
~ Courtesy of Magic Valley
Tags: dog support, emotional support, PTSD, service dog, Wounded Warriors