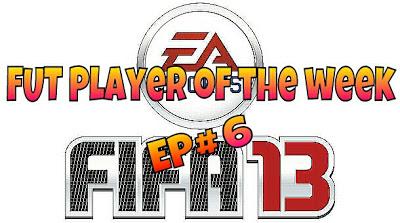 Luis Fuentes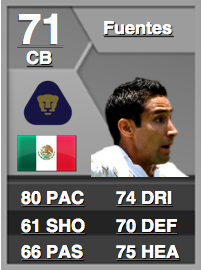 Club: U.N.A.M.League: Liga MX
Nation: Mexico
Position: CB
Height: 5'7"
Foot: Left
Weak Foot:
* * *
Skill Moves:
* * * 
Attacking Workrate: Medium
Defensive Workrate: Medium
Average Cost: 2,500-4,000
Card Type: Normal Silver
Base Stats:
Pace: 80
Shooting: 61
Passing: 66
Dribbling: 74
Defending: 70
Heading: 75
Why is he so good?
I was originally interested in Fuentes because he offered a great amount of pace and 3-star skills which, for a centre-back, is very good. Luckily I have found him to be absolutely awesome and a player I would definitely recommend for any silver squads or just any gamers after bad ass players.
His pace and defending kind of go hand in hand in how well he performs defensively, as while his interceptions aren't rated the highest (66 to be precise) his speed allows him to cut out passes and through balls with ease. What's more, he can get back fast. His actual pace, which has a base stat of 80, feels like more due to his low height and weight. He moves very rapidly and doesn't slow down the more he runs but actually speeds up.
He can zoom around the pitch quickly and his workrates don't ever cause him to be out of position either from an attacking standpoint or a defensive one.
While Fuentes's slide tackling can be a little bit lacklustre, his standing tackles are often very precise and he rarely loses the ball after making a challenge. In fact, most of the time he goes in for a tackle he comes out dribbling the ball and ready to pass it out, which is really great.
Surprisingly his shooting is actually above average for a centre-back. His longshots, while often lacking the power that better players possess, are regularly on target and at least trouble the goalkeeper. Meanwhile, his in-the-box finishing is good enough that he can put away chances that fall to him.
Passing wise Fuentes is good. He isn't really at the hub of attacks and when I did use him for passes he was accurate with them. His short and long passing, along with his vision is good enough that he can get them on target, but don't expect many technical bits of play from him.
He is actually the best centre-back I have used in Ultimate Team when it comes to dribbling. His touch is often a little bit heavy but on the ball he manoeuvres really well. This is largely due to his 91 rated agility that is ludicrously high for a player of his position. 
He turns really well, dribbles the ball well and, what's more, he has 3-star skills which allows for some of the best skill moves to be used (although, sadly, no rainbow flick).
His heading took me by surprise too. He can jump high and accurately head the ball. He won't be scoring any goals though, and if he is marking a Falcao or Ibrahimovic then he will be overpowered in this area, but he does a good enough job. 
Overall I really recommend him. I doesn't matter what you use him for as he will perform really well.