Just because Serena Williams will not be playing in the 2011 French Open doesn't mean we can't still talk about her. Because this is the year that nail polish manufacturer OPI decided to put out a collection of polishes focused on Serena and timed to roll out with each of the Grand Slams. Ha! I'm sure the OPI marketing geniuses are kicking themselves that THIS is the year they jumped on the Serena Williams band wagon.  A wagon that is currently going nowhere except maybe to the occasional fashion show and appearance on the Home Shopping Network.
Anyway, as you may recall, Serena didn't play in the 2011 Australian Open and OPI was stuck trying to convince the non-tennis-playing-freaky-nail-polish-wearing public to buy this interesting combo from Serena's Glam Slam collection: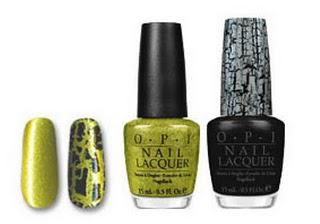 These are "Simply Smashing," a glowing, glittery green nail lacquer that might arguably be tennis ball-colored; and "Black Shatter," a quick-dry topcoat that, when applied to a dry undercoat, produces a shattered or leopard-print look. You can read all about this first set in this post: Serena's Glam Slam Collection Is Here - Even If She's Not.
The next two sets have just come out in time for the French Open. Here's "Rally Pretty Pink" and "Red Shatter":



I'm guessing that this would have been the French Open set because it would match the Nike outfit she would have worn at the French Open. Here's a shot of that: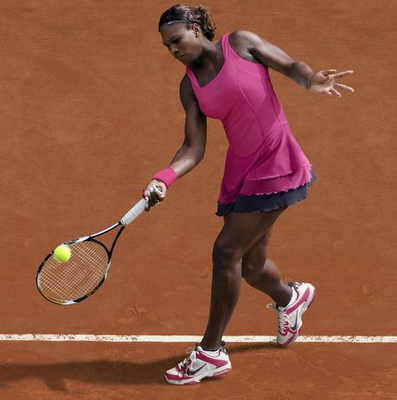 While I'm not into the pink and red nail color combo, the dress is great looking. Too bad she won't be out in the Paris clay wearing it.
The other set, which I'm guessing was supposed to roll out for Wimbledon based on its white color, is "Spark de Triomphe" and "White Shatter":



You can see with all three of these sets, there is a lot going on - a lot of sparkle, a lot of glitter, a lot of leopard-print shattering. While I'm not a nail polish-wearing tennis player, I do think having Serena sell this stuff based on her nail care proclivities, was pretty smart on OPI's part. How could they have foreseen that she would miss the first two Slams of the year? Hopefully, she'll be around when Wimbledon happens this summer. And hopefully, for OPI, she'll be sporting the Glam Slam collection on her nails.
DON'T FORGET: Leave a comment on this post to enter the Tennis Fixation Super Giveaway Extravaganza giveaway for a copy of the tennis instruction book Bring Your Racquet. Go to this post - Tennis For Kids Made Easy In Bring Your Racquet - for info on how to get more entries!