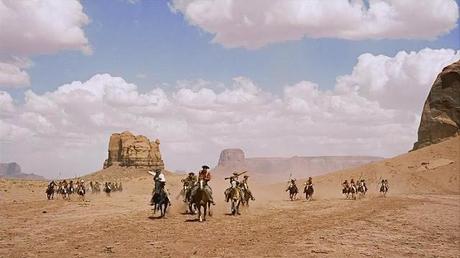 First and foremost, what makes this a Blind Spot movie? In other words, why is this film essential?
Probably the most well-known, most critically revered film of John Ford-John Wayne combo. Considered as one of the best Westerns by many including AFI and Entertainment Weekly, The Searchers(1956) has also been a frequent site in Sight and Sound lists and even went as high as no.7 in 2012's poll. Also the fact that I have heard so much about racism in it that I kind of felt compelled to give it a watch. Not that it needed any more but you know, as they say, sometimes any publicity is good publicity.
So, what is the story about?
Ethan Edwards is a Civil war veteran who fought for the confederate states. In one of the most legendary opening scenes, he comes home to his Brother's ranch 4 years after the end of war in hope of finding a family and settling down with them. However just a few days after his return, Comanche Indians raid their house, kill his brother, brother's wife and their son and kidnap two of young nieces. Rest of the film follows him looking for them for years to follow, initially with a group of Rangers and then with his 1/8th Indian nephew Martin. Most intriguing aspect of The Searchers to me was Racism involved in it. I know a lot of people hate the brazenness of John Wayne's character's hatred towards Indians. I am usually quite oblivious of such things but since I was aware of it beforehand, I definitely felt it too but maybe it is my Indian sentimentality where the whole system is based on the cast system, I am not sure if I feel the pang that deep.
Maybe it doesn't have to be Indians but his hatred of Debbie's abductors was essential to his character and to story. It added new dimensions to both Ethan's character and to the story which incidentally is what I loved the most about them both. Ethan is angry, revengeful and once his search gets in a full swing, there is a distinct feeling that he is more interested in avenging his brother's family than finding her. Maybe it is his deep hatred of Indians that fuels that revenge in him and drives his continual search for many years but
it was very much integral part of the story
Even the otherwise likable character like Laurie seems to support, if not participate, in his hatred which I think is because she accepts as a part of life. Maybe Ford wanted to show exactly how deep this was rooted in the everyday life of Americans then as his way of condoning racism.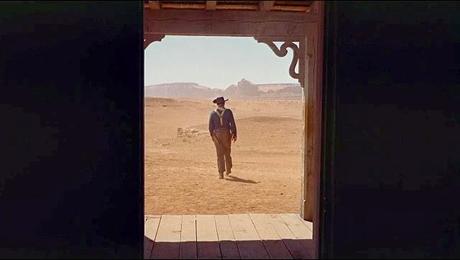 What did I think of it? What did I like the most about it and what didn't I like?
As I mentioned before, I had heard a lot about it's opening scene and I have to say that cinematographically, opening and the closing scene were both stunning. The ending worked really well even from the context of movie as well. By then we have seen Ethan as this loner, sullen, hard-boiled guy. He spends many years of his life tirelessly looking for his niece, Debbie but as more time passes and it becomes clear that she has spent that time with Indians, his deep hatred for Indians slowly seems to be seeping into his search. Second half of the story does a good job of giving this moral ambiguity to his search. It almost seems like he wants to find her so that he can kill her for being with Indians. But, in one of the most weird scenes I have ever seen (I have no idea what to make of the way he holds Natalie Wood high-up), he also proves his humane side
albeit ephemeral as the ending seems to suggest his relapse to his stoic nature.
As for the opening, I found it very distracting. Stunning to look at, especially the very first shot of camera looking from inside of house at the sprawling old west outside with John Wayne walking across the vast prairie towards the house, but unfortunately void of much else. everyone in his family, except his brother, felt way over the top like they are trying way too hard to impress and it wasn't just their acting, even the background score in the first 15-20 minutes felt was very forced, over dramatic. And on top of that, it introduced more characters that I downright hated in the movie throughout. Fortunately it got better as movie progressed; maybe because I got used to it a bit or maybe because Ford eased up on few things.
From the acting point of view, John Wayne was perfect for his role. Even though he was center of attraction for most of the film and even though I have seen him in similar roles before, his effortlessness in bringing all the transformations of his character to life was definitely praiseworthy. However, the character that impressed me the most was Vera Miles' Laurie. She did have a kind of flashy character but she actually lit up during her limited screen-time. Watching her do her thing was real treat for me. I was also excited to see Natalie Wood as I have never seen her in any movie before. And even though whole story revolves around her character, we only see her on-screen in about four scenes.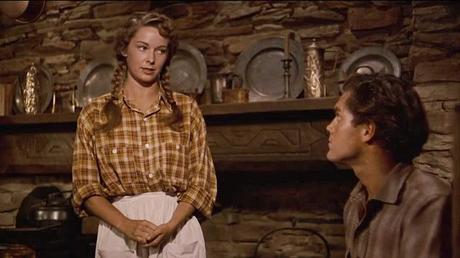 After having seen it, do I agree with its 'essential' status? And why?
The more Westerns I watch, the more confused I get as to what to make of them. I still haven't seen too many and I certainly haven't hated any of those I have seen; on the other hand I quite like many of them. So it certainly isn't like I don't like the genre. But for some reason, I don't go from one western to other eagerly either; the way I do for other genres, maybe for something like anime or noirs. Being touted as 'One of the Best'

, I was certainly hoping for The Searchers to help me form an opinion on westerns as Genre. Unfortunately, I am not quite sure as yet. On the outset, it certainly doesn't look like it drastically changed my opinion.
Once again, I don't dislike it. I haven't seen many John Ford films but looking through his filmography, it seems that he had a lot to say about period in which Indians(i.e. native Americans) and Americans fought incessantly. As a film I think it is still a good film but the only aspect of this film I think is legendary is cinematography. John Ford was no stranger to Monument Park in Utah which forms the old Texas in the film and yet again he captures the breathtaking beauty of those landscapes beautifully. But if someone asks me for a recommendation to watch a western, I will rather go with fist John Wayne - John Ford collaboration Stagecoach(1939) which incidentally was also shot in Monument Park and High Noon(1952) or if it counts, yet another Wayne - Ford combo The Man who Shot Liberty Valance(1962) and even Dollar Trilogy if spaghetti westerns count.
Does it open few new doors for me? Does this inspire to watch any other movies?
Once again, this wasn't much about opening new unventured avenues but about filling up certain gaps. There must be literally hundreds of lists that The Searchers is part of. It just felt weird that I still haven't seen it, every time I encountered that name. It was about time to check it off. I would love to say that I will like to watch more John Ford films(counting this, I have only seen four)
but the man has 144 directorial credits on his IMDb profile. That is Crazy! Though I will still try to watch some more of his Western, maybe the ones he did with John Wayne as 2 of the 3 films I noted above are, after all, films of this legendary combo. Just don't ask me When?