**Please note: I recently changed my blog URL, so if you want my future posts in your feed click the "follow" button again:) Thanks!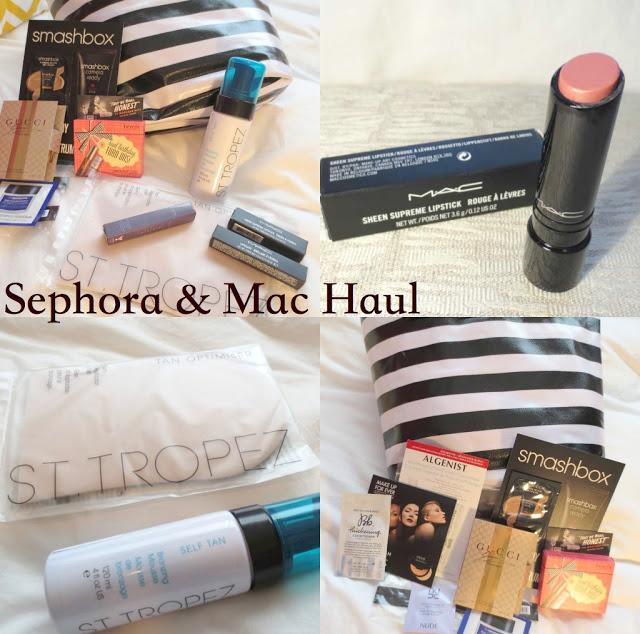 I went to Sephora last week while they were having their V.I.B sale which means you got an extra 15% off on anything. I believe a V.I.B status is when you've spent at least $350 within the year, and you get the status for the remainder of that year and one year after that (I could be wrong but it's around that). I've had a few things on my list so it was perfect timing for the sale. Also, another perk was that they were giving away a Sephora tote bag (black & white striped bag in the photos) filled with tons of samples. Most of the samples I've tried and they are all great. I also picked up my free birthday gift which is "They're Real" Mascara & the "Watt's Up" highlighter (both sample products). I got a ton of freebies that day which is always exciting! Now on with the stuff I purchased...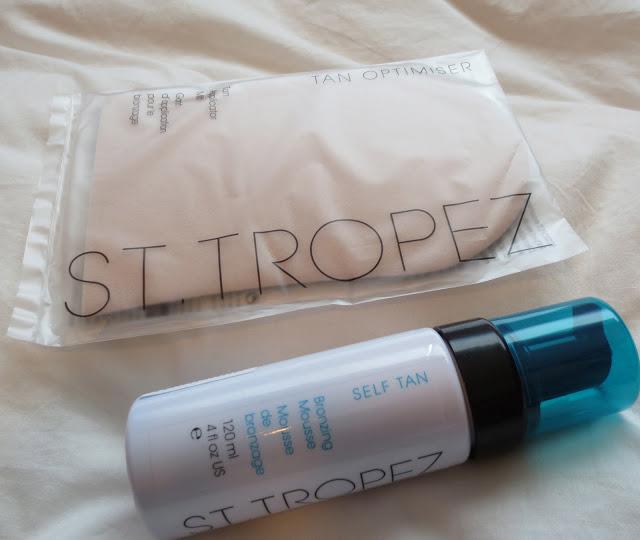 I've had my eye on the St.Tropez Bronzing Mousse ($38) but was uncertain how I would like it and also I just want a little bit of a tan, nothing too crazy! But after watching a few YouTube videos and reading some reviews I think I am going to like it. I also purchased the application mitt ($8) just to be safe. I will keep you guys updated once I start using the product. If anyone has suggestions or tips, definitely leave me comment!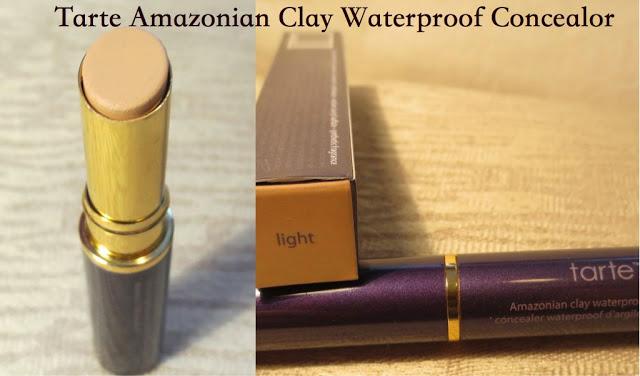 I've also been seeing a lot of good reviews on the Tarte Amazonian Clay Waterproof Concealor. I thought this would be a good product to get for the summer since it will be very humid and I am traveling to even warmer places than where I live this summer. I love how creamy the product is and the color "light" matches my skin ton very well.

Left: Sheen Supreme Lipstick in Supreme Style; Centre Top: Supreme Style Bottom swatch: Pink Lemonade; Right: Pink Lemonade Lipglass
I made an online purchase through Mac Cosmetics because I wanted to get some basic no-need-for-a-mirror but still give some good colour, lip products! I decided to go with the Sheen Supreme lipstick in Supreme Style ($19.50) and the ever so popular, Pink Lemonade Lipglass($18). These colours are super pretty and are going to be perfect to throw in my purse and use on the go. 
Thank you so much for reading!
Please leave a comment and follow me through Twitter and I'll follow back!