Recently, Sephora VIBs received a discount code for 15% off their orders which only means one thing – time to stock up! I did place quite a hefty order – check out what I purchased: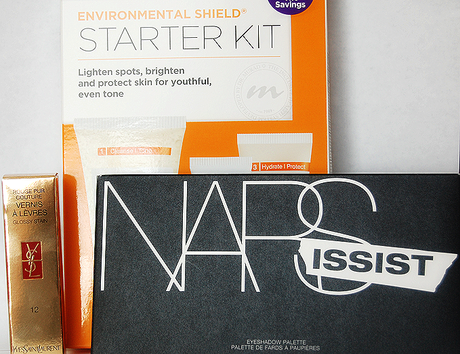 Yves Saint Laurent ROUGE PUR COUTURE Vernis À Lèvres Glossy Stain I was loving my YSL lipstick, so I thought it was about time to check out their line of lipglosses. It was really hard to settle on one considering they have SO many shades, but I settled on Coril Fauve. So far, so good. Expect a full review soon!
NARS The NARSissist Eyeshadow PaletteThere is something about an eyeshadow palette that pulls me in. And when I saw this in-store, I couldn't walk away…a few swatches later and I knew I had to have it. I am very excited to see what I can come up with using this palette!
Murad Radiant Skin Renewal KitI am so, so, excited to try this set from Murad! I have always struggled with dark spots on the sides of my face from who knows what and I have been on the hunt to try to find something, anything that will lighten them to a point where I feel I no longer need to use foundation. I did some research and read up on a ton of reviews and this seemed like my best pick. I'm usually one to think if it ain't broke don't fix it, but I think its about time I switch up some things in my skincare routine if I want to see some changes!