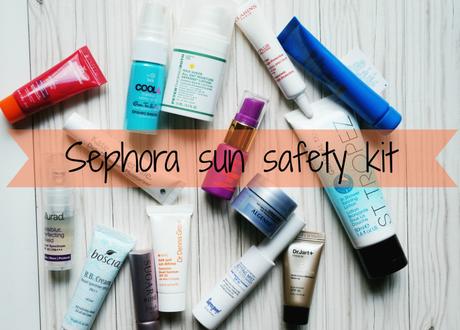 Summer is just living its last days, and I want to share this sun safety kit with you guys that I've used all throughout these summer months.
Sephora launches a sun care kit every year, it is a limited edition kit, only available in summer till stocks last.  I was super excited since I first saw it, and seeing my excitement my roommate gifted it to me !😀
The kit has 15 Sephora Favorites products plus the very cute transparent case in which they're housed.  All are good to use in summer for protection from sun. It has stuff from basic sunscreens to makeup items with spf to tanning lotion to lip balms! They've got you covered for summer! These are all travel sized products so till now I've had a couple of uses from them n couple more uses left.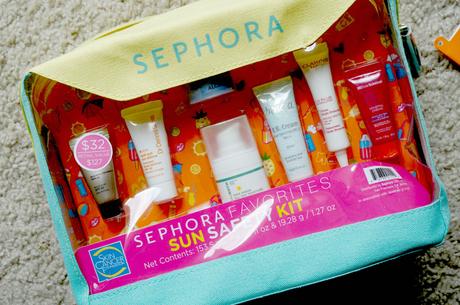 The kit itself is so functional, it would be so perfect for a travel makeup case or just in general great for packing in medicines or other tidbits.
These are the products individually, starting from the top row.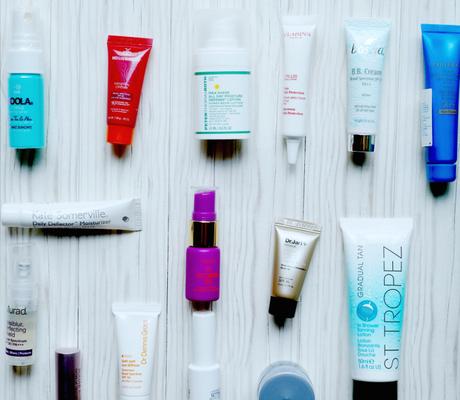 Coola Makeup Setting Spray SPF30 – I like that this spray can be used on top of your makeup for that extra dose of sunscreen during the day. Although it has aloe and cucumber and is supposed to be soothing on the skin, I found its smell very unpleasant and I badly wait for it to dry out so the smell fades. Past the first 20 seconds of being irritated with it, I quite like it. It does improve the longevity of makeup alongwith sun protection. It's also 70% organic and 100% cruelty free. Yayy for that😀 Like it
MDSolarSciences Mineral Crème Broad Spectrum SPF 50 UVA-UVB Sunscreen –  this is my favorite sunscreen from the lot. It gives awesome protection; I didn't feel sunburnt at all while using this. And its texture is light, it does take a little long to blend in but it doesn't leave any white cast after that. Love it❤
Peter Thomas Roth Max Sheer All Day Moisture Defense Lotion SPF 30 Sunscreen Lotion – this is a good sized sunscreen. It says in its name that it's a moisture lotion, so it would be great for dry to normal skin types. For me it went on to be quite greasy. Definitely a no for the summer months but I am looking forward to using this as a daily moisturizer in winters as it would be hydrating enough as well give enough protection then. For now- dislike  :(
Clarins Sunscreen Multi-Protection Broad Spectrum SPF 50 – I have used this before as well, and I quite like it. Its not greasy or too white and gives really good protection. Like it
Boscia B.B. Cream Broad Spectrum SPF 27 PA++ – this is a very sheer cream, also slightly watery. But after application it gives a very smooth clear look to skin. Like it
Shiseido Ultimate Sun Protection Cream Broad Spectrum SPF 50+ Wetforce For Face – this is quite a thick waterproof sunscreen. It has really good protection and I love using it at the pool or the beach. It does have a white cast but nothing too uncomfortable. Love it
Kate Somerville Daily Deflector™ Moisturizer Broad Spectrum SPF 50+ – this has a very good SPF in it and I have used almost the entire tube now. I feel it does a good job in protecting skin from the sun. But it looks very white on the face and takes a long time blending in. Dislike😦
Tarte Tarteguard 30 Sunscreen Lotion Broad Spectrum SPF30 – I have tried this one too before. It's a regular sunscreen lotion. Its not greasy and not too matte either. It's a good option for a daily sunscreen. I love that they made the travel sized bottle just as pretty as the bigger size :D  Like it
Jart+ Premium Beauty Balm SPF 45 – I loveeeed this. I don't use any foundation on a daily basis. Most days I use a concealer as needed and top it with powder. This BB cream is so good, gives such an even finish to my face and looks very natural. I just need to top it with powder in the middle of the day, and it stays put. It suits my combination skin perfectly, and it would suit dry to oily skin types too. Love it❤
Murad Invisiblur Perfecting Shield Broad Spectrum SPF 30 PA+++ : I have tried a sample of this previously as well. It's got a really smooth texture like a primer. Its super easy to apply and gives skin a soft matte look. A very good option to apply sunscreen under makeup. Love it❤
Fresh Sugar Rose Tinted Lip Treatment Sunscreen SPF 15 – my absolute favorite lip balm currently. It's very hydrating. It's quite tinted for a regular lip balm, and this shade too is perfect for a very 'my lips but better' look. It gives such a soft fresh pink tint. And the texture of this lip balm is so perfect too, it's really soft. But also, it's too soft that it melts often when I take it outdoors. So be careful about that. Otherwise its awesome, and has spf too. I'm finishing it at such a speed I'm gonna need a new one soon😀 Love it❤
Tweet me what is your favorite lip balm? I would also love to know more lip balms which have SPF.😀
Dennis Gross Skincare Dark Spot Sun Defense Broad Spectrum SPF 50 – this size wasn't enough to judge if it actually reduces spots or improves skin. It definitely gives good protection but for my skin, it got really greasy and left me sweating a lot. Dislike😦
Supergoop! Defense Refresh Setting Mist SPF 50 – I was quite excited about trying this out, but I think they took the 'refresh' aspect too far. It is too minty and cool on the face. That's coming from someone who loves mint! I wish it were it a little less minty. But I do use it often when I'm out just to add an extra dose of sun protection. And the size is great for carrying around in your bag. Like it
Algenist Sublime Defense Anti-Aging Blurring Moisturizer SPF 30 – this has a great texture for my kindof combination to oily skin. It is very light and gets absorbed fast. It looks very smooth after application. Like it
Tropez Tanning Essentials In Shower Gradual Tan – I haven't yet tried this but I plan to try it in slightly colder months. I'm getting a lot of tan anyway right now.
The whole kit retails for $32, and is limited edition. I have seen it being sold at Amazon.com though. You can find individual products on Sephora website or on their respective sites, if you want to try them out. I would recommend trying the lip balm for sure and both the BB creams.
It's a great kit for trying out various products and also for gifting. Totally worth the money. Do check it out, or keep a lookout for it next year, I surely will😀
Also, some amount from each purchase(I forgot how much, I think $20) goes to charity! Another reason to try it!
What's your favorite sun-protection product ?