Hi everyone,
Sephora Australia has released a list of brands that will be exclusive to their store and I have to admit that I am unfamiliar with quite a few of them but having said that, I'm so excited to try these new brands! I already have a few items on my wishlist and these include the Formula X Nail Polishes, Marc Jacobs Lolita Palette, IT Cosmetics Bye Bye Under Eye  and some BITE Beauty lip products!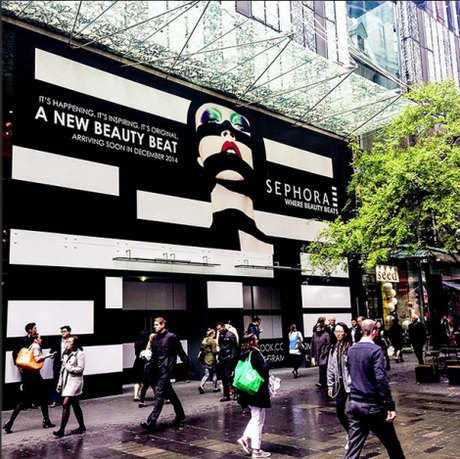 Image taken from the Sephora Australia Facebook Page.
The first Sephora Australia store will open on DECEMBER 8TH, 2014 on Pitt St, in Sydney and I can only imagine how crazy it will be the first few weeks so I think I'll be sitting it out until all the hype dies down a little bit as I dont want to be crushed by the enormous crowds (it surely will be CRAZY on Boxing Day!).
Below are the list of brands Sephora Australia has confirmed for the store:
Alterna
Andrea Fulerton
Antonym
Arcona
Aspar
BECCA
BITE
Clean
Cover FX
Crème Simon
Dr.Jart
Elizabeth and James
Estelle & Thild
Etat Libre d'Orange
For Beloved One
Formula X
Givenchy Colour
Hello Kitty
IT Cosmetics
Kat Von D
Leif
LQD
MAKE UP FOREVER
Marc Jacobs Beauty
Nee'mah
Obsessive Compulsive Cosmetics
Ole Henriksen
Patricks
Percy & Reed
Perfekt
Sephora Collection
Shiffa
Skin Inc.
Tarte
In my last Sephora Australia Updates post, I compiled some answers to the most popular questions regarding Urban Decay, an Online Store and Loyalty Cards.
Are you excited about the brands coming to Sephora Australia?


| Bloglovin' | Facebook | Twitter | Instagram |