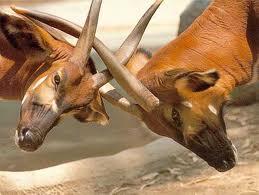 When I was a child, I used to fight with my friends. At that time I had tried to use my physical forces. But, time has not remained same; when I entered in this blogging earth then I try to use my best SEO ideas to fight my competitor bloggers. We know that everyone want to be first and nobody want to be second. However, it is not possible for everyone to reach at the top list due to certain criteria. We have to meet specific criteria to reach the number one position.  You are fighting with me and I'm fighting with you along others competitors. We have to use six mindset to defeat our every rival in the crow of billions blogs and websites.

Be a First 
Who is your competitor? Do you know? Have you ever analyze your position in the ranking of Google? Have you ever used Google 
Analytic
 Tools? Have you ever checked your position on Google and Alexa ranking? First of all I want to know the answers of all above queries. A war cannot possible to win without knowing your opponent. Therefore, you have to research the weak point of your competitors and strengthen to your sites. It will assist to reach near about your competitors and defeats them. Just check your position on Google and Alexa Ranking; use Google Analytical Tools to check the behavior your visitors to your sites and sign in Google Webmaster tools to know the where link to your site and what are most search keywords in your sites. To know Google PageRank and Alexa Rank, open Google Chrome Browser, install PageRank Checker plugin in to top right hand side of your Google Chrome Browser and click on icon. You will get all the historical data and use to compare position with your competitors then try to use the benefits as being a first. If you are in the second, third or fourth position, then you needs to improve your quality. It is a continuous process to get top ranking. Google never compromised with quality, So that if you have a quality contents or if you have a best solution for a queries then Google always take it at the top ranking. When we search any keyword to get solution then we will find best solution at first and others may be second, thirds or fourth position. You may click at the first link in the search engines. Likewise, your every content to your site will get top most ranking, if you have one of the best solutions of the visitor's queries. Without any precious or worthy content, Google will not get prioritize them. Therefore quality content is the strong point to your site.
Why do you want to fight with your competitors?
Who do not like victory? Or who do not like to get top ranking in the Search Engines. We know that there are more than 90 percent traffics drives through search engines referral and billions of queries raises in a single day. Thus, your blogs contents should be SEO friendly. Victory will be possible, if you have best SEO strategic ideas. SEO for blogger is the great mantra (method), which is use as a sword on the battlefield. If your competitors have the great power of SEO then you will be back. Therefore you have to learn the best SEO practices to get victory over your rival. If you get victory then you will get tons of traffics to your site. You can analyze your visitor's behaviors: where they click; from where they enter to your site? What they search the queries to reach your site? And which contents they most love to read. All these activities should be closely observe by you and you can get information by checking your Google Analytical Tools. If you don't have Google Analytical Account, it's easy to create. If you have a Gmail account then just one step process to reach Analytical account. Another account you need to create is Google Webmaster Tools, it is the same process to create accounts like as Google 
Analytic
.
How to fight:
 It is the challenging task to downsize your competitors. You need to analyze your whole body structure to your site. If you are a newbie then you might require a longtime practice but as an existence knowledge holders or SEO novices, it will be easy to quick understand. Thus, creative and constructive ideas may help to create a beautiful drawing map to your SEO strategy; therefore you need a SWOT (Strengthen, Weakness, Threat and Opportunity) analysis to your sites. I would like to explain one by one as below:
Strengthen:
Strengthen is the positive tolls to your site. It will definitely help to defeat to your competitors. What are strengthening features lies to your sites? Like high Google PageRank compare with your opponent, high PR backlink to your site, your site link too many sites. Downward number of Alexa and increasing number of public reputation in Alexa ranking, high quality content to your sites, all contents are SEO friendly, used best and most searchable keyword in your web contents.
Weakness:
Weakness is the negative part to your sit. So that you have to find out your negative aspect and what are the weakness point to your competitors? And what need to improve your quality? Or where is lacks in your sites? In others words, need to observe the drawbacks to your sites. This analysis helps to get the actual position to your site and also know about your opponent's weakness factors. After getting weakness factors to your sites, you need to improve where you have a lacks. These might be some weakness features to your sites: low Google and Alexa Rank, low traffic rates, poor quality contents, not social interaction with your site, less backlinks to your sites etc. all these weakness points are major painful to fight with your opponents.
Opportunities:
If you are in a front line of search engines, then it is an opportunities to reach billions of audience globally. You can use your all resources to get your achievement by using your positive factors. Opportunity never comes from your front doors; it may come from window or from roof of the building? But it may go from anywhere so that you have known the opportunity at the right time and use at the right time. River, time and opportunities never return back. Thus, you have to use the optimum level of resources to get your achievement. Become a top ranker is a big opportunity in this virtual world. While you reach at the top level then you need to see your back. Your audiences (clients or customers) many follows you because of your quality.
Threaten:
It is a very sensitive part of your SEO task. You might faces many threaten while running your business but don't go back, defeat everyone and go ahead. If you do not analyze your weakness and do not improve them, definitely you must face with threaten to your opponent. When you go in a battlefield, you must show your sharpen swords to your opponent. Therefore, before going to a battlefield, thy know yourself and Thy know your opponent. It will help to victory over your opponent. What kinds of threaten you must face by your sites: low traffics, fluctuation rate, spammer, hackers, weak contents, low quality links, low public profile etc. you can improve your position by analyzing all these factors.
In conclusion,
you have to get victory over your opponent by analyzing your position in the search engines and ranking. While you reach at top most level then it will be easy to defeat everyone opponent to your site and reach billions of audiences globally. When your visitors love your site then you can sell everything and make benefits. It is possible but need continuous SEO strategies and regular updates your site. Your visitors might expect from your sites, so that try to know them and know their feelings. Every time you must respect to your visitors and opponent. Because your opponents are also a visitor to your sites, they may be observing your behavior. So that, you must be closely watch your visitor's behavior.