Seo Bok has a quite unique character setup, instead of using the usual hero-villain relation, Seo Bok use double-protagonist setup and both are on the same side, despite their contradiction on views and beliefs.
The story centered on Ki Hun (Gong Yoo) who is a former intelligence agent and Seo Bok (Park Bo Gum) who is the first human clone. Ki Hun has a cancer and just counting his days, he also has a drug addiction especially for painkiller for him to fall asleep. One day he got an interesting offer that his disease will be cured if he can accompany Seo Bok to be transferred.
Meanwhile Seo Bok has the ability of eternal life and has power to move objects with his mind as well as psychic power. Seo Bok is believed to have cells that can cure any disease including cancer. Ki Hun has to keep Seo Bok safe until their destination for him to be cured with Seo Bok power.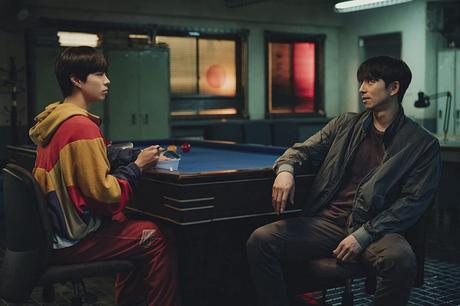 pic: CJ Entertainment
During their trip, we got to see the contradiction between the two protagonists. Ki Hun is afraid of dying and he work hard to keep Seo Bok alive from any attack, he also has a deep scar inside his heart that he let his partner died in the past. He feels that he deserves to die yet he wants to live.
Meanwhile Seo Bok, despite he is a human clone, he can think and feel like human does. He keeps asking about the meaning of live and die to Ki Hun. But unlike Ki Hun, Seo Bok is wishing to die as he is afraid of the idea of living forever.
The contrast between Ki Hun and Seo Bok are comes from human agony yet the movie is packed with sci-fi action genre, which is quite common concept in Hollywood. But to adapt those mixture in a Korean movie is quite innovative as how usually Korean movies centered on 'lingering emotion and relationship' of human relation usually between family, close friends, or lovers.
This Korean touch if it is not applied carefully, it might just prolong and over-dramatize the movie as it is rare to see sci-fi action with this Korean element. But Seo Bok successfully mix both of them into a brotherly heartwarming sci-fi action.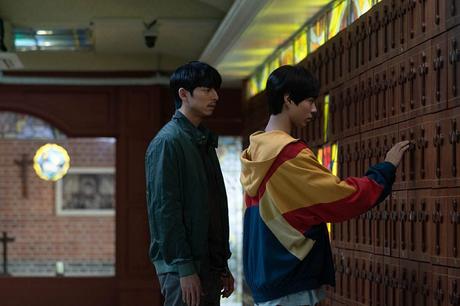 pic: CJ Entertainment
Seo Bok is definitely well-executed, it shows us the standard sci-fi action without losing the Korean elements in it. Despite their contradiction, Ki Hun and Seo Bok successfully build a brotherly relationship that drawn us into their realistic and innocent portrayal of human agony.
Double protagonist is definitely a unique and interesting premise, but on the other hand it has a fatal weakness that usually the plot is quite obvious unless there are some interesting or clever twist. But unfortunately, the movie doesn't have one. It is maybe due to give focus more on the relationship between characters and their own personal problems and development.
Yes, it does give a lingering emotion with strong characteristic development. Ki Hun and Seo Bok shows an outstanding and interesting partnership, the movie also offers us a good standard action sequence with noir visual.
Our Score (8/10)
Title   : Seo Bok
Production    : Studio 101, CJ Entertainment
Director   : Lee Yong Ju
Writer   : Lee Yong Ju
Casts   : Gong Yoo, Park Bo Gum, Jo Woo Jin
---
Putu Radar Bahurekso
t : @puturadar | ig : putu.radar
---
The post
Seo Bok, Exploring Human Agony Through Sci-Fi
first appeared on
cksr review
.