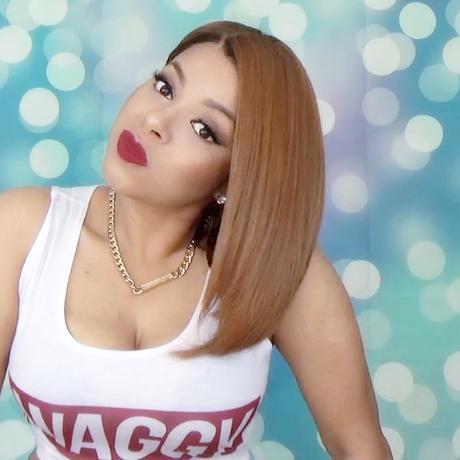 It's bob season thus enters… Sensationnel Rihanna Wig. An amazing, everyday bob style lace front wig. This wig is super easy to style. It has decent parting and the cap is constructed to stay in place. It does shed a lot – which is the only con I had for the Rihanna wig. There are so many bob style wigs available now. So definitely stay tuned for more reviews on those. Also check out my full review on Sensationnel Rihanna below. I did style her a little different.
SENSATIONNEL RIHANNA WIG REVIEW

WIG SPECS:
BRAND:
Sensationnel
NAME:
Synthetic Hair Empress L Part Lace Front Wig RIHANNA
COLOR SHOWN HERE:
DX2733
MATERIAL:
Synthetic – Heat resistant fiber
TYPE:
Lace Front Wig
LENGTH:
Bob style, 6 – 10 inches
PARTING:
3.5-inch Lace Part
HEAT SAFE:
Yes – Up to 400ºF / Heat resistant fiber
WIG CAP:
Comfortable size with 5 frontal combs and 1 in back; adjustable straps.
RATING:
3.5 stars by GirlRatesWorld
TIPS FOR STYLING:
– darken roots with a marker or mascara for a realistic hairline
– keep all heating tools below 400 degrees when styling
– tweeze parting for a more natural look if needed
– add a cream concealer or foundation powder to parting
– apply hairspray (lightly) to lock style in place

I'M SOCIAL!
I hope you found this review helpful. I have dozens of wig reviews posted on this site. Stay up-to-date by following @GirlRatesWorld on your social media sites. YouTube | Pinterest | Instagram | Facebook. I appreciate the support and share my blog with anyone who loves ♥︎ hair

You May Like
Hair for Work! Sensationnel Lace Front Wig AMELIA
The Wig Brazilian Blend Invisible Part Lace Front ...
Freetress Sweet Blossom Synthetic Lace Front Wig
Sensationnel Custom Cap Italian Curl Wig
Sensationnel Empress Ashanti Lace Front Wig
Yikes! Model Model Synthetic Lace Front Wig Echo
Zury Sis Chia Wig – Royal Swiss Lace Front w...

About GirlRatesWorld
Beauty and style lover with an addiction to wigs, pups, french toast and neon polish. Hundreds of reviews under my belt with new ones added weekly. Be sure to swing by often ♥︎.