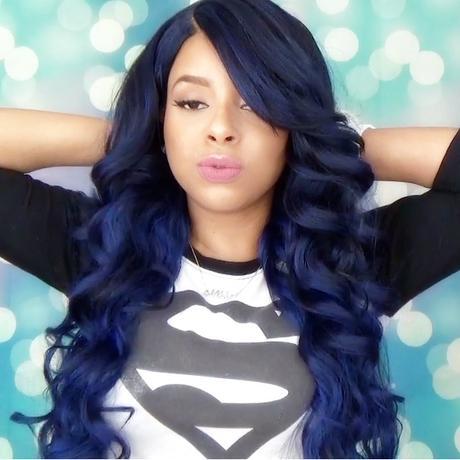 Glamoholics will love Sensationnel Ashanti Wig. Inches and inches of curls, flips and layers. This lace front wig is full of glamour. This is definitely a style for special occasions. Would not recommend for an everyday unit. Because of the length and texture, it does tangle. The parting on Ashanti is superstar. Very natural looking and easy to blend. Check below for a video review starring this unit. Also enjoy 10% OFF this unit at sistawigs. Use code NICOLE after registering with their site.
SENSATIONNEL ASHANTI WIG REVIEW

WIG SPECS:
BRAND:
Sensationnel
NAME:
Empress Natural Curved Part Lace Front Wig – Ashanti
COLOR SHOWN HERE:
SOMDKBL
MATERIAL:
Synthetic – Heat resistant fiber
TYPE:
Lace Front Wig
LENGTH:
Long, layered 24 – 26 inches
PARTING:
4-inch Curved Lace Part
HEAT SAFE:
Yes – Up to 400ºF / Heat resistant fiber
WIG CAP:
Average size with 2 combs at temples and 1 in back; adjustable straps.
RATING:
3.5 stars by GirlRatesWorld
TIPS FOR STYLING:
– add some dry shampoo to remove excess shine – I use Oscar Blandi dry shampoo
– add a cream concealer or foundation powder to parting
– use bobby pins or wig grips to keep in place all day
– detangle hair gently with a wide tooth comb or tangle teezer
– store unit in wig bag or on a wig stand to keep tangle free
– apply hairspray (lightly) to lock style in place

I'M SOCIAL!
I hope you found this review helpful. I have dozens of wig reviews posted on this site. Stay up-to-date by following @GirlRatesWorld on your social media sites. YouTube | Pinterest | Instagram | Facebook. I appreciate the support and share my blog with anyone you think will be interested. I also take wig review requests

You May Like
Sensationnel Empress Lace Front Wig PIPA
Sensationnel Inna Instant Fashion Couture Wig
Review: Freetress Equal Lace Front Wig Karissa
Model Model Lace Front DARICA Review
Sensationnel Liran Fashion Wig – The Modern ...
Jamaican Twist Ponytail – Quick Natural Hair...
Living Single 2015 – 5 Reasons You Need A Bo...

About GirlRatesWorld
Beauty and style lover with an addiction to wigs, pups, french toast and neon polish. Hundreds of reviews under my belt with new ones added weekly. Be sure to swing by often ♥︎.