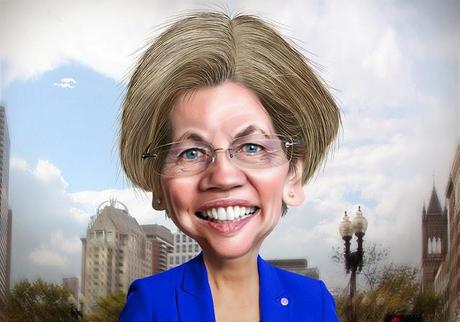 (This caricature of Senator Elizabeth Warren (D-Massachusetts) is by DonkeyHotey.)
Recently, some of the GOP hopefuls considering a run for the presidency have recognized the growing concern of a majority of Americans about the wealth/income gap in this country, and have stated this is a problem that needs to be addressed. Unfortunately, they have not offered any solution -- and like their GOP brothers, they continue to support more tax breaks for the rich and oppose raising the minimum wage. Here is what Senator Elizabeth Warren has to say about that:


So far in this new Congress, Republicans have spent weeks debating a pipeline that will mostly benefit a giant foreign oil company – and weeks more threatening a government shutdown of the Homeland Security Department. Meanwhile, millions of people who work hard and play by the rules are still getting squeezed to the breaking point.  




The Republicans prove once again how Washington works just fine for giant corporations, but not so much for working people.  


It's time to make different choices – to stand up to the armies of lobbyists and lawyers to begin to make the government work for the middle class once again. That's why this week, Rep. Elijah Cummings and I have launched the new Middle Class Prosperity Project: to push this new Congress to take action to help working people.


Recently, Republicans seem to have discovered the struggles of America's middle class. Out of nowhere, they're talking about this problem.




That's great, but talk is cheap. And when it comes to action, these Republicans seem to have amnesia about what 

they

 have actually done to hard-working Americans.




Republican trickle-down policies created tax breaks and loopholes for the wealthy while leaving working families to pick up the pieces. I'll believe Republicans care about what's happening to America's middle class when they stop blocking legislation that would require billionaires to pay taxes at the same rate as teachers and firefighters.




Republican trickle-down economics blocked increases in the minimum wage that would have lifted 14 million people out of poverty. I'll believe Republicans care about what's happening to America's working families when they stop blocking minimum wage increases and agree that no should work full time and still live in poverty.




Republican trickle-down economics squeezed billions of dollars of profit out of people who had to borrow money to go to college. I'll believe Republicans care about what's happening to America's future when they agree to refinance student loans.




I could go on, but the point is the same: talk is cheap.


We know how to build a strong middle class. We've done it. And we know that the policies we put together here in Washington can make a big difference. That's what our new Middle Class Prosperity Project is all about: bringing together leaders in Washington, economists and policy experts, and millions of voices of people across the country to get to work.


It's time for action that will strengthen middle class families and build a strong future. It's time to put up or shut up.