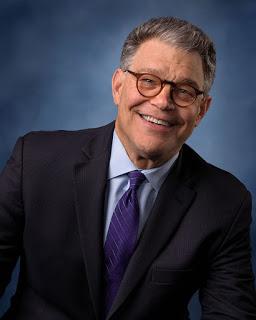 I'm sure you've heard by now about the accusations made against Senator Franken by right-wing broadcaster Leeann Tweeden. Franken (before being elected to the Senate) allowed a rather disgusting picture to be taken and is accused of forcing a kiss on Tweeden.
Perhaps the best commentary I've read about this comes from Ramona Grigg at Crooks and Liars -- and I agree with her. Here is part of what she has written:


Yes, I'll say it, and I hope it's not too late: Al Franken should not resign. He shouldn't be forced to resign, either by the Democrats who (rightly) can't abide double standards or the Republicans who would love to see a Democratic knock-down. I can agree that what he did to 

Leeann Tweeden

 was stupid, gross, and as close to sexual predation as it gets, and still want him to stay where he is. . . .




. . .how could I, flaming liberal feminist, active #MeToo member, wish for Al Franken to go on working in the Senate? I confess I've been torn over this, asking myself why I should accept Franken's admission and apology and still go after Roy Moore or Donald Trump for their ugly sexual transgressions.

Well, yes, they're lowlife scum and don't deserve my defense--I agree--but I want the punishment to fit the crime. Franken has plenty to apologize for--gross, sexist stupidity is finding its day in court and, after so many decades of unfettered applications, it can't come too soon--and he has apologized. Twice so far, without the usual equivocations. He is as disgusted with himself as we are. Leeann Tweeden accepted his apology. She said she doesn't want him to resign, adding that he does good things for the people of Minnesota while still acknowledging it was wrong and these things shouldn't be ignored.

She's right. They shouldn't be ignored. Spreading sunshine all over the place encourages women--and sometimes men--to come out of the shadows and tell their stories. We are at a crossroads now and we have to get it right. Sexual predators, no matter who they are, need to be exposed. We should, of course, look to punishment, but who gets to decide what form and how much?

Did Al Franken do something worthy of expulsion? There's the dilemma. I want women like Leeann Tweeden to be able to come forward without consequence to tell their stories. I want the men who abused them to feel their pain, to get it, to show us they've learned from these revelations and will work to put a stop to a culture that has for too long equated power with the freedom to use sex as a right.

I believe Franken gets it. I want him to stay in the Senate because his work is important. Too important to set aside. He does good work there. He asks relevant, sometimes burning questions, does his homework, and works for the disenfranchised, the underdogs, the people hungering for attention to their condition. The loss would be painful.

I want him to work for us, against the Trump administration and the GOP majority, against any hateful agents who try to diminish or harm those of us without power. I want him where he can do the most good. I want him in the Senate.