Evening one and all,
While browsing through my workstation, I briefly see many charts of local counters that look bearish. I reiterate my general bearish stance on most first-tier counters. The two weeks or so of trading have seen markets pushing higher but it looks more like a retracement from selling pressure to me. Property stocks were not left behind as they rallied a little. The more charts I look at, the more tempted I am to pull the trigger on the short side. I feel a little strange, to be honest, since the general mood I get from the media is not that bearish; so, I swiped out charts of international indices. True enough, the picture is not bad at all for stock indices of the western world – in fact, they look as healthy as ever. So, for whatever reasons there may be out there, the local bourse is not taking cue from global indices.
This is Sembmarine, S51.SI. After recovering from the US Debt downgrade crisis in 2011, Sembmarine traded with quite a lot of volatility. The price swings, in 2012, only managed lower highs while support was clear at the $4.20 region. From the start of 2012 until the start of this year, Sembmarine formed a very large descending triangle. A sharp drop in January of this year signalled a downward breakout from the huge triangle. Overall, the chart of Sembmarine looks very bearish. I will be looking at short set-ups based on the general downtrend and large pattern.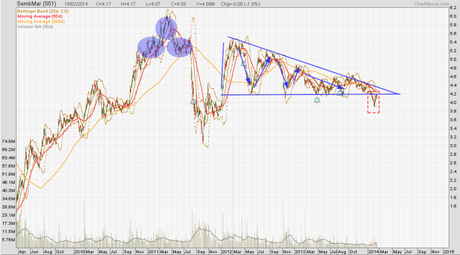 All analyses, recommendations, discussions and other information herein are published for general information. Readers should not rely solely on the information published on this blog and should seek independent financial advice prior to making any investment decision. The publisher accepts no liability for any loss whatsoever arising from any use of the information published herein.