You've been on Etsy or another online market. You've sold to friends and family-probably at a discount. Now you want to try an art or craft fair, farmers' market, or a big time (read "expensive") specialty retail show. How do you get started?
I've been writing posts about my prep for my first sewing and quilting show. I'm not starting from scratch, though. I have nearly 10 years experience selling hypertufa garden art with my son. Here are some of our lessons learned.
1.) First, and financially most important, research the event. It took us a year to find the right places to show our wares and we lost money big time in the process.
We started with home, garden and patio shows. We thought it made sense. After all, we were selling things for the yard and garden. Turns out, these kinds of shows are mostly "kick the tires" shows. Get some ideas. See what's new. Gather brochures to dream over. They are not carry-it-out-the-door retail shows, unless you're selling those miracle brooms with a mile a minute spiel.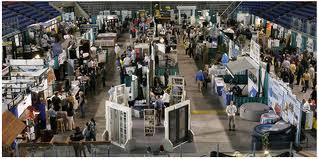 Looking back, we should have known this. We've been to many home shows. If I had thought about what I did as a show visitor, we could have saved all of those hefty fees: all I ever bought was cinnamon roasted almonds.
Where did we end up? Master Gardener conferences, antique and garden shows and a select number of art shows, not Fine Art shows but a step up from craft shows.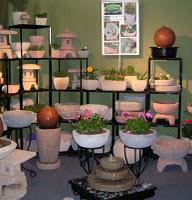 So go to shows and check out the other vendors. Chat with them when they don't have potential customers nearby and get a feel for what they think of the show. If they know you are considering vending in the future, most will give you a heads up. And pay attention to what people are buying. If no one is carrying things around, this may not be the place for you.
2.) Have posters or signs in your booth that describe your process, materials and the benefits of your product. We had several weather proof banners like the one in the photo above. One shows planting ideas for the planters, another listed a description and the advantages of hypertufa and a third showed photos of my son making pieces. This allows customers to get some basic information before you chat. You can then engage in a conversation with the customer, finding out about what they want and how you can meet their needs.
3.) Be sure you can afford to lose all of the money you spend to do the show. Until you find your niche, you may not sell a thing no matter how wonderful your items are. Sometimes you luck out and have a great first event. But often, especially if you sell something unique, people need to see you a couple of times before they buy.
4.) If you make expensive items, avoid craft shows. Always. High schools, churches, community groups all sponsor craft shows. These shows do not draw your ideal customer. They can be great if you make low cost, high volume items. They also work if you love to crochet and don't really care if you only cover the cost of materials.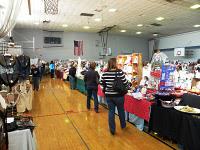 5.) Plan your booth before you go. You don't have to spend a lot of money. It's fine to take a couple of folding tables to your first events. But don't just throw that old plastic tablecloth on it. Think about the image you want to convey and have your table covering enhance that image, not distract from your items. And be sure the covering goes all the way to the floor. You don't want your empty bins and boxes stealing the spotlight. If your product and venue allow, sometimes no table covering will work even better.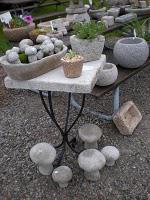 6.) Plan your appearance before you go. If you sell soaps and lotions, dirty fingernails and rough hands will not encourage sales. Whatever you sell, think about your appearance. Your customer will judge the quality of your materials and workmanship on what they notice about you as well as your product.
7.) Whatever show you start with, be friendly with the competition. Chances are they have some experience and can give you ideas on other shows to consider. You can also make some great friends. That said, every event has its difficult vendors. Don't get involved in the drama.
I usually love doing shows. You can meet some wonderful people and get the best possible marketing ideas just by talking with them. And if you have a bad show, try to look at it as a learning experience. You'll discover what you could do differently next time. At the very least, you've gotten your name out there and we call that advertising!
Oh, and my son is still selling hypertufa garden art at FarmbrookDesigns.com and at some really good shows.