TAKEAWAY: It's where the masses congregate, so if you want to sell your stuff while it is hot, or before it melts, go there, and seduce the audience to read you.The Guardian's Facebookpage is a textbook example of how to do it.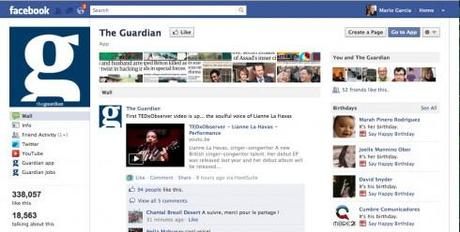 They are coming to the Central Square.  A good thing, and much needed and highly recommended.
The Central Square is my phrase for Facebook, Twitter and other social media networks.  There is where the people congregate, so, as I often tell publishers, if you want to sell your churros while they are still hot, and your coconut glace before it melts, then you must go there, where the millions are gathering, and where you can strut your stuff to the masses: your best stories, the questions of the day, your best photos and videos.
The Guardian's Facebook page is one of the best out there: inviting, provoking and, obviously, quite successful.  The Guardian claims that five million people have already installed the Guardian's Facebook app, which has added audio, video and photo galleries, as well as an updated homepage design since its debut in September 2011.
According to a Guardian story on the Facebook page:
"The updated homepage places a bigger emphasis on the social reading experience than before, and showcases the new articles, videos and galleries that have received the most attention in Facebook over the last few hours. We think this gives a vibrant and different take on the content that we publish, highlighting the stories that have caught the eye of Facebook users. Of course the editorially chosen news headlines are still there, as well as a space for our latest comment pieces."
Other notables coming to the Central Square to sell their wares are El Pais, of Spain, The Daily, The Wall Street Journal and The Washington Post, all of which provoke and seduce with stories that lend themselves to interaction with the readers, usually posing a question of the day.
TheMarioBlog post #971