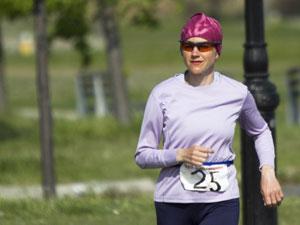 Kaneenika Janakova Photo by Prabhakar
The Self-Transcendence 6 and 10 Day Races 2012 are both underway and Day two results of the 6 day race have been posted on the Sri Chinmoy Races website. 23 men and 14 women began the race.
Galya Balatskyy leads the race after running 100 miles on Day one and a massive 90 miles on day 2.
Galya ran in the 2010 Self-Transcendence 3100 mile race finishing second in 46 days behind Asprihanal Aalto after winning the mens 6 day in April 2010 with 422 miles.
Asprihanal who is taking a year off from the 3100 is coming into the race in good shape was 9 miles behind and three miles in front of Scotland's William Sichel who is running according to a pre arranged schedule to try and best the Scottish 6 day record.
Already these three runners have opened up a marathon sized gap over the equally impressive Jesper Olsen who has taken a week off from his 40,000 km World Run to take part in this race – amazing endurance levels.
In the womens Six day Dipali Cunningham posted 102 miles on the first day and has a cushion over second placed Jayasalini Abramovskikh at the end of day two. Daria Lashina is close behind in third place.
In the 10 day mens race Yuri Trostenyuk still leads Vasu Duzhiy on 451 miles by a mere 4 miles after 6 days. Third place is Ananda-Lahari, the another experienced 3100 mile runner with 382 miles.
The ladies race results for the 10 day are not available at this time.
Links to the results are available at this link: Sri Chinmoy Races.org