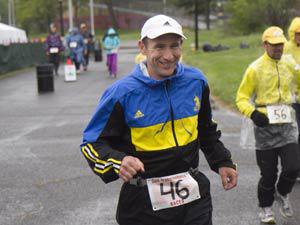 Galya Balatskyy Photo by Prabhakar
These are the interim results from the Self-Transcendence 6 & 10 day races 2012 in Flushing Meadow Park, New York. After dropping into second place after lower mileage days on days 3 and 4, Asprihanal Aalto clocked 85 miles on day 5 to bring himself back into contention. Starting day 6 with a 17 mile cushion William Sichel dug deep to try and secure second place but Asprihanal was building up a head of steam that saw him narrow the gap and draw level before pulling away in the final hours to complete 91 miles for the final day.
In the ladies Six day Dipali Cunningham maintained her unbeaten reign as Queen of the Six Day and coming fourth overall.
In the womens 10 day race after being level at the 9 day mark with Kaneenika Janakova, Sarah Barnett eased into first place by running 74 miles to Kaneenika's 69 miles on the final day to secure the win.
In the mens 10 day Yuri Trostenyuk also finished the race with a 70+ mule day to average over 73 miles a day for 10 days. The scoreboard for the top three was unchanged after the fourth day. Early leader Vasu Duzihy held a firm grip on second place and Ananda-Lahari Zuscin took third spot.
Men 10 Day
1 Yuri Trostenyuk 731 miles
2 Vasu Duzhiy 713 miles
3 Ananda-Lahari Zuscin 610 miles
Women 10 Day
1 Sarah Barnett 697 miles
2 Kaneenika Janakova 692 miles
3 Nidhruvi Zimmermann 607 miles
Men 6 Day
1. Galya Balatskyy 481 miles
2 Asprihanal Aalto 470 miles
3 William Sichel 461 miles
Women 6 Day
1 Dipali Cunningham 438 miles
2 Jayasalini Abramovskikh 407 miles
3 Daria Iashina 371 miles
Links
Race website: us.srichinmoyraces.org/
Utpal's daily interviews: Perfection Journey.org
William Sichel's blog updates: www.williamsichel.co.uk/blog/