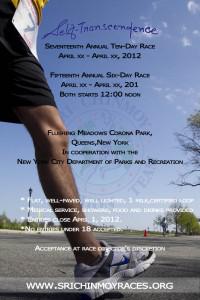 Posted on the Ultralist: The Self-Transcendence 10 Day Race
Date: Tue, 17 Apr 2012 23:08:36 -0600
From: Mark Dorion
Subject: Bigtime Multiday Racing in the Big Apple
Wherever in the world you are, whatever you are doing on Wednesday April 18th, take a moment to think about the historic journey 80+ runners embark upon at noon E.D.T. in Flushing Meadows-Corona Park, New York City.
The Self-Transcendence 10 day runners will circle a fast, scenic 1+ mile loop along the shores of Meadow Lake (the full distance around the lake is +-2.4 miles, the longer loop being the site of Don Ritchie's 1978 11:51 100 mile). For 240 consecutive hours the course is open. The competitors try to squeeze in some sleep (generally on narrow cots or in their own camping tents), eat wonderful home-cooked meals on the go, and get in as many miles as possible each day.
Last year's overall winner and women's race record holder (724 miles), USA-resident Kaneenika Janakova, defends her title against world class Australian Sarah Barnett (winner of multidays in Monaco, Sweden, South Africa, etc. in the past few years) and a host of talented Russian/Ukrainian women and men.
The 6 day starts four days later and will see a deep, fast men's field led by one of the greatest multiday runners of all time, Finland's Asprihanal Pekka Aalto. Coach Aalto is an 11 (yes, eleven) time finisher of the world's longest certified race, the New York 3100 mile (5000Km), with a race PR of 44 days there, while he has done 505 miles in 6 days in one of his several Self-Trans 6 day wins in New York. Trail ultra runners may be interested in knowing he has hiked the Appalachian and Pacific Crest Trails, completed multiday cross country skiing races, and won ultras on various surfaces across Europe.
Asprihanal will be challenged by Scottish multiday record holder William Sichel, Denmark's Trans-Global runner Jesper Olsen, Ukrainian-American Vladimir "Galya" Balatskyy, and top U.S runners Michael Arnstein (who has run a 2:39:01 marathon four days after finishing top ten at the Leadville 100 mile) and Alex Swenson (+-7:00 100Km times, member of various US teams at World Ultra Championships).
These and other top international men in the 6 day will feel the pressure from 53 years young women's 6 day road world record holder Dipali Cunningham (514 miles) and rising young ultra star Jayaslini Olga of Moscow (Russia, not Idaho).
These international races were conceived many years ago by Sri Chinmoy, whose spirit continues to inspire racers and race workers alike.
Speaking of race workers, if you have volunteered at or directed (of if you haven't) a 50 mile/ 100Km/ 100 mile or other "shorter" ultra, imagine the fatigue involved with keeping hot meals being served around the clock, offering massages and medical treatment for days on end, and maintaining all the restrooms, microwaves, P.A. systems, giant scoreboards, finish line video cameras, permanent park lights on the bike paths, etc., etc. One of the most unsung running technical crews in America (just my feeling) is headed up by race co-director Bipin Larkin and longtime assistants Asankita Hayden Bell, Rajpal Nick File, and too many others to name here. My hat is off to Bipin's crew and to all the runners as super-longtime Race Coordinator Sahishnu Szczesiul gives the famous command, "10 day runners ready– GO!" at high noon Wednesday.
(as I am retired from ultras, I plan to be at these races to help out as needed, which sometimes includes things like jogging along the course in a full wolf suit, singing Frank Sinatra and Tom Waits songs to the runners, making extra-strong coffee, or running all manner of errands for runner-requested items as diverse as new shoes, new socks, razor blades, ice cream cones, sleeping pads, and the list goes on …)
Best wishes to all ultrarunners around the world,
Mark D
Follow the Self-Transcendence 10 Day Race at: http://us.srichinmoyraces.org/events/10-day-race