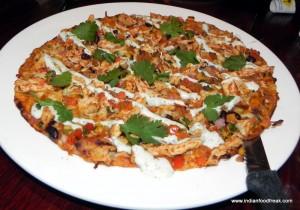 California Pizza Kitchen is running Hollywood menu between 24thFebruary and 16thMarch. On asking the staff and the PR person "why Hollywood" all I got an answer was that since CPK started there we decided to come up with the theme. It's a sad one when a theme is conceived with no follow up. I was even looking forward to the George Clooney designed Tequila cocktail Casamigos. Unfortunately that was not on the Hollywood or common menu.
So with that little information, we started our evening. The specially designed menu also included the cocktails: Men in Black, Long Beach and Hurricane. The Men in Black, a cherry red concoction of cranberry, grape, lime, passion fruit and vodka had nothing manly or blackish or MIB in it. It was just plain fruity drink with a stingy hand at Vodka. Then there was the Long Beach; an orange, cranberry, raspberry, passion fruit, Vodka mix –I wish they had left the raspberry and the passion fruit out. My fellow blogger ordered the Hurricane; orange, lime, sugar syrup, passion fruit, grenadine and Vodka mix. I thought I was drinking a fruit punch and that too not a very well spiked one.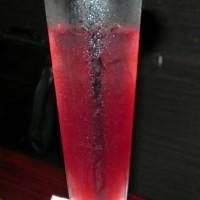 Since there wasn't anything Hollywood to the menu I decided to give my own characters to the dishes hoping for an all stars night. We started with the Jamaican Jerk Chicken pizza. The menu said it had a specific Jerk chicken like spicy sweet Caribbean sauce but all I could taste was some bland chicken and bell peppers. So true to our Godfather characters, this one could be the mean eyed bulky guy who stands next to the Godfather without saying anything in the entire film.
The next one was Spicy Sonora pizza. This one had spicy only in its name – no spiciness. The vegetarian version with paneer just did not go well with the black bean salsa sauce. The chicken one was a tad better but no spiciness again! This one could be the sultry diva who sits next to the don and has nothing else to do but look beautiful and the only place she shows sauciness is when she gets him a drink.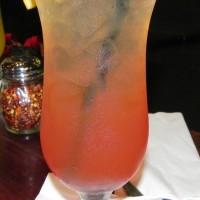 Then there were the country cousins, dressed in their finest and yet falling short to match with the rich Italians. That was our Rustica pizza. It was supposed to be an Italian classic of grilled Zucchini, mushrooms, olives and capers. There was nothing Italian or rustic about it except that the cheese scrapings were just crudely sprinkled. There was also the Hawaian pizza which has nothing special to write about. The Hawaian was just usual good soul satisfying pizza. This made up the long suffering matriarchal wife.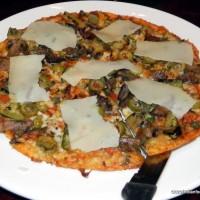 By this time I was finding my made up Hollywood saga more interesting than what was put before me until the Deli Style Bistro pizza came up. With a Pesto marinara sauce base, Italian sausages, capiola ham and Canadian bacon finished with rocket and bocconcini (mozzarella), this one was like the Godfather's spirited daughter's wedding! I wish a similar thought had gone into the rest of the pizzas.
Now that my taste buds had perked a bit I was more optimistic of the evening yet. The Spaghetti Carretierra made with shrimps and chicken with a tangy creamy chicken stock sauce did not disappoint at all. This could be the young upstart who is trying to impress the Don and making all the right moves. And so we came to the lilting Mediterranean roasted mushroom Spaghettini; a blend of roasted mushrooms, garlic, onions, herbs, nothing great but definitely eye worthy like the pretty bridesmaids.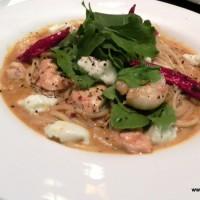 We were served the California Peri Peri chicken. But isn't it supposed to be hot, spicy? The CPK one isn't.  The next dish is Spinach and Paneer Malfati with Milan sauce, tender gnocchi dumplings in creamy caramelised sauce. I wish they hadn't tried to Indianize it.
By this time I am exhausted, jaded, cynical – ready to go to the mattresses. Drumrolls! The dessert comes fourth. The California Delight is a trio of chocolate, strawberry and dark chocolate mousse with cranberries and almond praline. It was like the Godfather almost saying "I am going to make an offer so good she can't refuse" and refuse I certainly didn't. It was one of the best mousse I had and the cranberries and praline lent it a different nuance.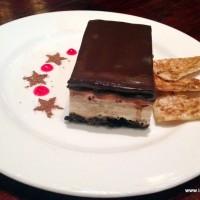 I suggest out of the menu go for the Deli Style pizza, the Spaghetti Carretierra and the dessert. Your Godfather movie can turn into a romantic love story!
Ratings out of 5
Food: 2.5 | Ambiance: 3 | Service: 2.5 |Overall: 2.5
Meal for Two without Alcohol: Rs. 1300 Approximately plus taxes| Alcohol: Yes | Credit Card: Yes
Timing: 12 noon to 12 pm
Address: Infiniti Mall 2, Link Road, Malad West, Mumbai
Telephone :+91 22 66366636 / 65848888