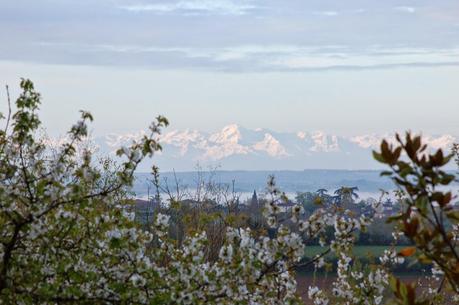 A garden with a view
A key aspect of our downshifting plan has always been to have a nice garden. A garden is work right? Nice to look at after hours of toil. Who has the time to invest in it though?
It is sad to see so many gardens being made "Low maintenance". Grass is now stones, borders are covered in that horrible black plastic to prevent the weeds from growing. As for growing your own veg. Forget it, too much work, and the supermarket is around the corner.
Where is the joy in any of that - changing gardens into a sterilised form of the office?
Our piece of happiness.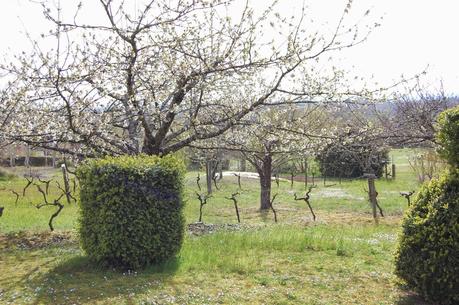 Fruit trees in blossom and vines waking up from the winter
We are currently renting our house but still take care in the garden. It is huge 4000m2 in comparison to our London pebble garden of 20m2.
We have lots of fruit trees ranging from fig, cherry, apple, plum and apricot. They are now in full bloom and a joy to look at
Our Kids Happiness
Good weather - check, space - check, outdoor activities - check, kids demanding to go outside and play - check.
In London our kids really enjoyed the park and playing in pebble garden. Thinking back on this they did ask to go regularly. Some days the weather was bad, usually cold or they would just point to the idiot box in the corner of the room (it did not make it to France).
Now they demand to be outside all the time and love it! They play for hours digging, biking, looking after a frog or lizard, picking flowers and making meals out of mud and grass.
A pirate ship was made all on their own out of some old crates, a plank and a flag created out of a construction sign showing risk of death!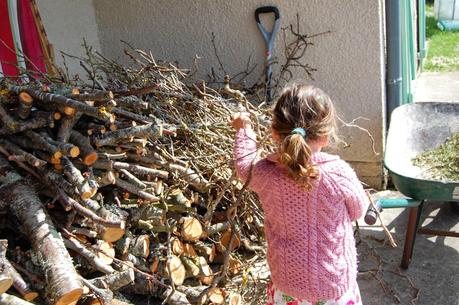 Sticks Daddy, Me help Daddy!
They even help out with the chores such as collecting and stacking sticks
We feel they are happier, free to roam without anxious parents worried by traffic or child nappers! They play together and on their own. No adult input needed - bliss.
Growing our own food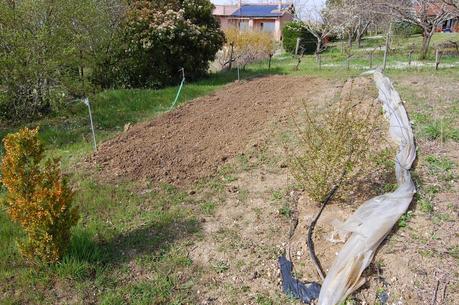 Barron and soon to come to life veg patch
We have been planting seeds in our little greenhouse with our kids. Hours of messy play and learning. They had a great time.
We have been working our vegetable patch, planting potatoes and onions. Hard work to dig over but hopefully worth the wait.
Back to the Land
We come from and live in nature. It has chaotic splendor, dramatic weather, songbirds and delicous fruits.
We feel happy and content away from it all smelling the sweet air and feeling the radiance of the sun on our skin. What better way to experience this than in the garden. Learning where our food comes from, watching the dazzling display of the trees and flowers.
Everyone should have access to a garden and the time to connect to and embrace it. Perhaps if we all grew some of our own food at the same time we would be happier for it whilst saving money and the environment!
Peace, prosperity, happiness and
gardeningCoNTeNDeRWelcome New Readers!
Please take a look around.
Click here
to find out more about
THE.TriBe
and the blog is or perhaps browse the
all posts list
, Please feel free to play with the planning tools and checklists. You can also follow the blog in the following ways:                                   




Do you like this post if so please spare a few seconds to share it >>