All summer Master M had been talking about The Statue of Liberty.  I'm not exactly sure when it started, or where he even heard about the statue, but he had the trip all planned out.  He talked about taking the train and climbing up the steps inside the statue.  It was a little weird at first, but he didn't stop talking about it.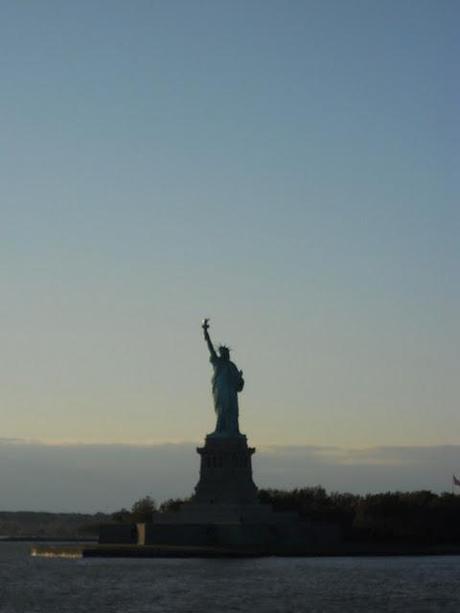 Every few days, he came up with another elaborate plan of how we would get to New York City to see the Statue of Liberty.  We made several plans during the summer months, but there were earthquakes and hurricanes that kept us from going through with our plans.
It wasn't until late October that we were able to load up the car and take the ride up I-95. 
Our first stop?  Why, Staten Island of course.  
With kids so young, the last thing you want to do is pay $13 a head to get to Ellis Island and into the Statue of Liberty.  They're just not going to last.  Hell, we won't last climbing all those stairs, so why bother.  Wait until they're old enough to climb by themselves while you wait at the bottom for them to come back down.
So, we took the easy way out.  
The Staten Island ferry runs back and forth from Manhattan to Staten Island several times a day and from the ferry you can get a clear view of the statue. For my boys, I knew that would be enough.  Not to mention, they get to ride in a big a$$ boat.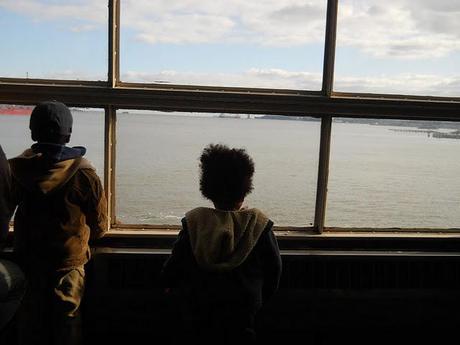 To be fair, it was my first time on the ferry too and it was a pretty cool trip.  So what if I grew up in the city and never rode the ferry. 
This was NYC fo' real.  People taking quick naps as they commuted, lots of tourists (um, like us), and beer (not for the kids though).  
On the way from SI we rode in the cabin and had a pretty tough time keeping the boys in check.  Luckily, on the way back we got to on the outside deck, which was much better for my little rugrats.
We had a great view of the Brooklyn Bridge and the port at Water Street.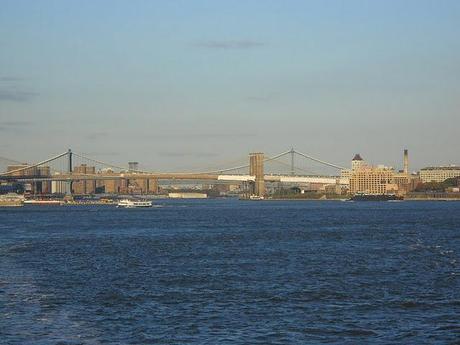 The boys were able to move around a bit more freely and the railings were a very safe design.