I've found this not so amusing post on Maryann Johanson's blog Flick Filosopher, its title is "Winnie the Pooh: slayer of feminist fantasies". I was intrigued of course although I suspected it had something to do with the Smurfette Principle we've already talked about here a while ago.
Maryann explains how she finds "insidious" that all characters of children animation Winnie the Pooh are all male but Kanga, the kangaroo mother who can only be defined by her gender, while the other characters, all male, gather many other defining characteristics: clumsy, smart, daring… And as I read along the rise of Maryann's anger towards the male gender being the default, the neutral aspect, when even animals that could be male or female are always seen as male like Toy Story's Rex or Slinky for example, I was amazed to see the precautions one has to take when criticising this kind of entertainment.
We almost have to apologize for criticising these overly famous movies for fear of being accused of seeing the devil everywhere. But people need to understand that when we point out this kind of problem, it's not literally about Winnie the Pooh, for all I know he's a decent bear cub, it's about us living in a male-dominated society where women, as succesful as they might be, always end up being judged, not for their intelligence or other quality, but for their gender.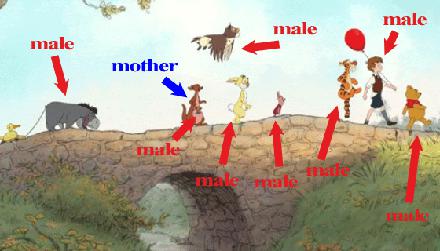 That's how we end up reading articles in the media such as the Guardian's piece about Christine Lagarde, first woman to lead the IMF, with the following title: "Is this the world's sexiest woman?". Now, I don't think this is seeing the devil everywhere.Why do women automatically need to be defined in relation to men? being their fantasy, their mother, their girlfriend…
Anyway, talking about smurfs, it is also sad to see that the remake is about the hit the screens and to confirm that mainstream cinema has nothing new to offer. They're even making a remake of Spiderman's remake…