Tibetan Mastiff featured with vendors on stage | AFP




How much are you willing to pay for a DOG? With the recent showings of the famous Westminster and Crufts dog show you might wonder what can possibly top that? Well, look no further, China has raised the stakes with the world's most expensive DOG. And you won't believe how much they're going for!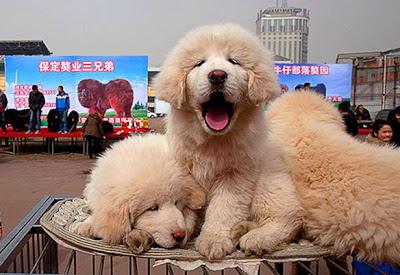 On sale Tibetan Mastiff pups | AFP
"This is the greatest dog in China," said Yao Yi a dog breeder who is selling a year-old Tibetan Mastiff for five million Chinese Yuan ($800,000 USD/£500,000) at this Saturday's dog show in Baoding, Hebei province, 
China, a town that is a few hours drive that is south of Beijing, according to AFP. 
The Tibetan Mastiff has been a prized dog of epic proportions by wealthy Chinese who have in recent years have driven the demand and price because they are considered status symbols of the rich. In 2011, a Mastiff named "Big Splash" was reportedly sold for a record 10 million yuan ($1.5 million USD/
£15 million) from a coal baron from Northern China, according to a AFP report.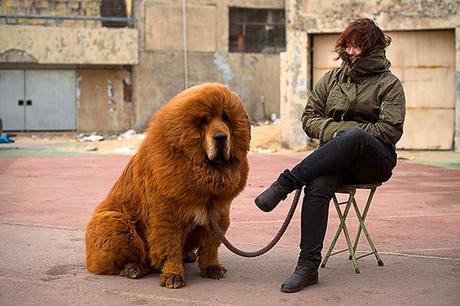 Tibetan Mastiff featured for sale with breeder | AFP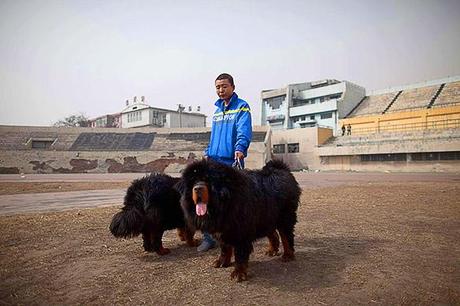 Two Tibetan Mastiffs being walked with owner at Mastiff show in Baoding, Hebei province | AFP


THE BREED
The Tibetan Mastiff are known sometimes to be ferocious featuring a lions mane and are massive in size ranging from 105 lb (47.6272 kg) to 180 lb (82 kg). Loyal and protective, they are known to owners as descendants of dogs used for the purpose of hunting by Nomadic Tribes in Central Asia and Tibet.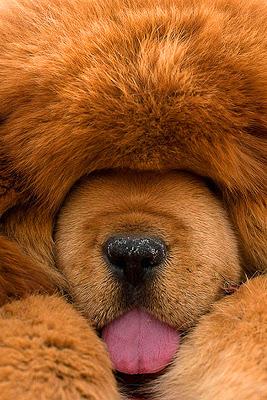 Tibetan Mastiff looking like a big Teddy Bear,
Baoding, Hebei Province | AFP 
Breeders have taken to the Himalayan Plateau to collect the young pups. "It takes over a month to drive back from Tibetan areas with the dogs," said Wang Fei, a Beijing-based mastiff breeder. The price of the journey is quite high as a majority of the pups cannot adjust to the low altitudes and die during the journey back. "The success rate is not very high," added Wang Fei.
With risks so high, other breeders have opted to raise these dogs closer to their clientele in the eastern provinces where the China's wealthy reside.  
HIGH STAKES
Because of the high prices the Tibetan Mastiff is fetching, fraud is also on the rise as crossbred dogs show up on the market, fake hair extensions made from dog fur. There have even been reports of inbred Mastiffs and sellers injecting glucose into the dog's legs to make them look stronger. 
Even sperm from the pure-bred Tibetan Mastiffs is also being offered for 50,000 yuan by Zhang Ming, a vendor at the Mastiff-dedicated expo.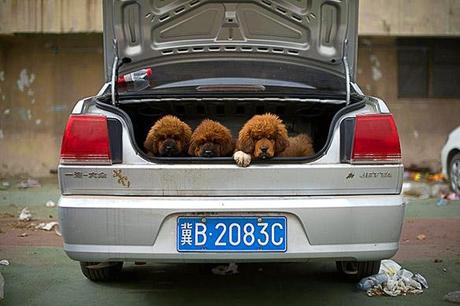 Tibetan Mastiff pups are fetching high prices in China | AFP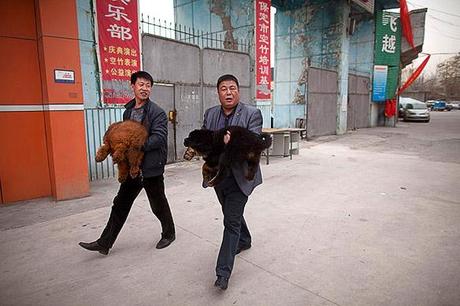 Two new owners of Tibetan Mastiffs | AFP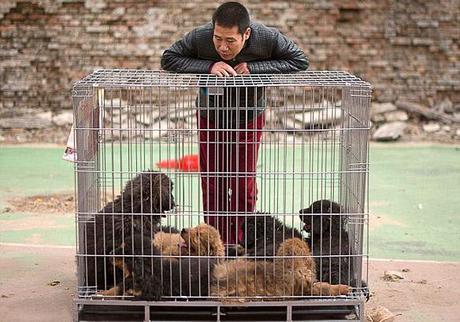 Tibetan Mastiff puppies for sale as a vendor looks over them | AFP
Too expensive for your taste? See our most recent post on The 10 Most EXPENSIVE DOG Breeds!
VIDEO: Watch these Tibetan Mastiffs offered for sale in China
SOURCE:  AFP | The Guardian | Wikipedia