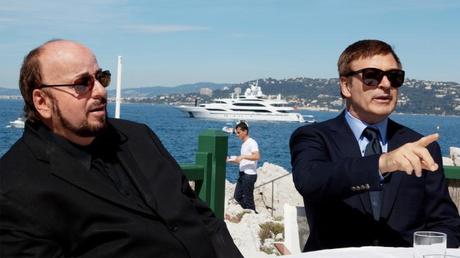 Starring: Alec Baldwin, James Toback, Martin Scorsese, Ryan Gosling, Jessica Chastain, Francis Ford Coppola, Diane Kruger, Roman Polanski, James Caan, Bernardo Bertolucci, Berenice Bejo
Directed by: James Toback
Synopsis: An exploration of several interconnected subjects: The Cannes Film Festival, cinema art, money, glamour and death.
Seduced and Abandoned is an HBO documentary about the near impossible task of getting funding for a movie. It is set during the Cannes film festival and features some impressive interviewees. It's an interesting documentary for anyone who is into film's and also a thoroughly depressing and predictable film for anyone who has tried to make a film or would like to.
Baldwin and Toback come up with an idea for a erotic romance set in Iraq starring Baldwin and, bizarrely, Neve Campbell. I presume this film is made up, which would mean Neve Campbell is in on the joke. If she wasn't, then I can only imagine she would be extremely hurt that this film exists, as it does nothing if not let the world know that Neve Campbell hasn't been in a decent movie in about fifteen years. Seriously, the amount of producers who are willing to invest their money plummets as soon as her name is mentioned.
Baldwin and Toback talk to old school directors like Scorsese, Polanski and Coppola about trying to get funding, and they all agree it is nigh on impossible now. Well, Scorsese seems to be doing OK, but the others, no chance. And these are guys who have made some of the best films of all time. The stereotypical money men cliche's such as 'it needs more guns, it needs more car chases, it needs more sex" are all present and correct. At one point Baldwin is asked if they could perhaps put a submarine in the movie because he is associated with Hunt For Red October.
Baldwin and Toback have a riot trying to get these billionaires to part with their (not so) hard earned cash. All the time they get to carouse on luxury yachts, eat fine food and drink expensive champagne. It looks a lot of fun, and there are some good stories to be heard. Ryan Gosling is a particular highlight, as is Jessica Chastain who is genuinely cheerful. It is the old brigade like James Caan who appear to be most tired, bitter and hacked off with the industry and it's limited use for older actors.
Whether Seduced or Abandoned was ever intended as anything more than a mockumentary I have no idea, but it's certainly an interesting look behind the scenes at film festivals and film financing. That coupled with some big name contributors and you have a film that should appeal to most movie fans.