Have you noticed that there hasn't been much new to say about the stock market and its drivers lately? Bears are weary from calling tops that don't follow through, and bulls are hesitant to inject more cash until they have a more inspiring catalyst. So, we're pretty much left to wonder whether the overworked mantra "Sell in May and go away" will be a self-fulfilling prophecy…or a contrarian catalyst for the bulls to get busy again.
The Dow, Nasdaq, and S&P 500 are all holding above round-number support levels at 13,000, 3,000, and 1400, respectively. On Tuesday, the Dow hit its highest levels since December 2007, following a strong ISM Manufacturing Index and strength in China's manufacturing sector, but it petered out before the day's end. Riskier small caps actually finished in the red as investors were worried about maintaining the "risk-on" trade. Then Wednesday's ADP disappointed, but the riskier Nasdaq, mid caps, and small caps were the leaders while large caps languished. Financial and Energy led on Tuesday, but lagged badly on Wednesday.
Yes, there's a lot of confusion during this period of technical consolidation, so investors are grasping for any sort of sign, omen, or directional catalyst. Now they await Friday's Government Employment Situation report. Bulls are hoping for a green light to renew the surge…or at least a reason to continue holding the line until the next catalyst.
Speaking of holding the line, the SPY is still getting reliable support at the convergence of its 50-day simple moving average and the uptrend line shown on the chart. SPY closed Wednesday at 140.33. RSI, MACD, and Slow Stochastic are showing higher lows and bullish divergences.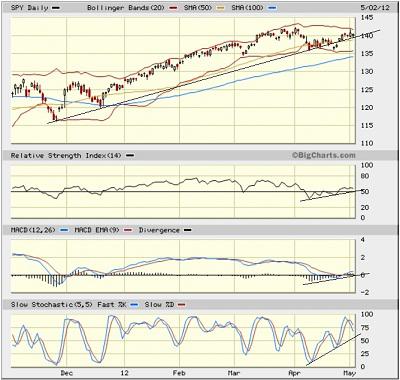 If you also pull up the weekly chart (not shown), SPY remains in a persistent uptrend since the October double bottom, with strong support from the uptrend line and a bullish crossover of Slow Stochastic.
Although unemployment, GDP growth, and consumer confidence have been loath to improve, the market has held its ground, bolstered primarily by corporate earnings reports that have been quite good – led by the likes of juggernaut Apple (AAPL).
Despite the preponderance of earnings beats, many companies with negative ratings on Gradient Analytics' active coverage list have been the ones to tumble in the wake of lackluster earnings reports. Accretive Health (AH) is the poster child, falling more than 50%. Others include PAREXEL International (PRXL), Alere (ALR), Magellan Health Services (MGLN), Iconix Brand Group (ICON), Netflix (NFLX), Silicon Laboratories (SLAB), Wipro Ltd (WIT), Rockwell Collins (COL), and Gentex (GNTX). Among the handful of stocks getting positive grades from Gradient, Six Flags Entertainment (SIX) and Aspen Technology (AZPN) have given strong reports. This demonstrates the value in an expert team of forensic accountants like Gradient's.
Green Mountain Coffee Roasters (GMCR) is another getting slammed after a disappointing earnings report. It was down over 40% in afterhours trading on Wednesday. Starbucks (SBUX) previously jilted GMCR's K-cups in favor of privately-held Krueger. Now the chairman says he can't predict sales effectively. He also reported falling margins, rising coffee prices, and reduced guidance. Gradient Analytics has been pounding the table about accounting and earnings quality issues at GMCR for quite some time. The stock rose to near $116 last year, but Gradient was warning that insiders were dumping shares in a big way. It's now trading back below $30.
The VIX (CBOE Market Volatility Index—a.k.a. "fear gauge") closed Wednesday at 16.88. It seems to be comfortable in this 16-18 range. The TED spread (indicator of credit risk in the general economy, measuring the difference between the 3-month T-bill and 3-month LIBOR interest rates) closed Wednesday at 39 bps, where it has flat-lined since mid-February. Both readings are positive for stock bulls.
As a reminder, China is the subject of this month's edition of The MacroReport, which is a new monthly co-publication of Sabrient Systems and MacroRisk Analytics, providing an in-depth analysis of the macroeconomic trends in focus territories and their impact on the U.S. economy. The MacroReport offers a unique combination of global market commentary and analysis with specific actionable ideas.
The April issue considers three scenarios driven by a combination of circumstances and events in China, and concludes with a series of economic factor-based ETF portfolios and "Quick Response" U.S. stock choices intended to capitalize on each scenario. Complimentary access to all of this is temporarily available on our web site through MacroReport InterActive. Next month's subject will be oil prices.
Latest rankings: The table ranks each of the ten U.S. industrial sector iShares (ETFs) by Sabrient's proprietary Outlook Score, which employs a forward-looking, fundamentals-based, quantitative algorithm to create a bottom-up composite profile of the constituent stocks within the ETF. In addition, the table also shows Sabrient's proprietary Bull Score and Bear Score for each ETF.
High Bull score indicates that stocks within the ETF have tended recently toward relative outperformance during particularly strong market periods, while a high Bear score indicates that stocks within the ETF have tended to hold up relatively well during particularly weak market periods. Bull and Bear are backward-looking indicators of recent sentiment trend.
As a group, these three scores can be quite helpful for positioning a portfolio for a given set of anticipated market conditions.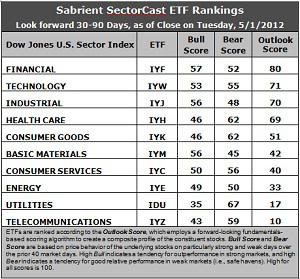 Observations:
1. Financial (IYF) stays at the top of the Outlook rankings with a 80, and Technology (IYW) continues in second place with a 71, although Industrial (IYJ) and Healthcare (IYH) are in hot pursuit at 70 and 69. IYF still has one of the lowest (best) forward P/Es, and it retains support among analysts as the banks re-emerge. IYW remains strong in its return ratios as margins are high for tech products. IYJ has been climbing on the strength of analyst earnings upgrades.
2. Energy (IYE) and Materials (IYM) continue to be beaten down by analyst downgrades of earnings estimates, yet they still reflect the lowest (best) forward P/Es. IYE in particular has been falling precipitously in the rankings.
3. Telecom (IYZ) remains at the bottom of the rankings with an Outlook score of 10. It is saddled with the worst return ratios and the highest forward P/E. It is again joined in the bottom two by Utilities (IDU) with an Outlook score of 17. IDU has low long-term growth projections and a high forward P/E, as well as renewed earnings downgrades among Wall Street analysts.
4. Looking at the Bull scores, Financial (IYF) has been the leader on strong market days scoring 57, followed closely by Materials (IYM) and Industrial (IYJ) at 56 and Technology (IYW) at 53. Utilities (IDU) is by far the weakest on strong days, scoring a lowly 35.
5. Looking at the Bear scores, Utilities (IDU) remains the investor favorite "safe haven" on weak market days, scoring a strong 67, followed by Consumer Goods (IYK) and Healthcare (IYH) at 62. Materials (IYM) shows the lowest Bear score of 45, followed by Industrial (IYJ) at 48, indicating that Materials and Industrial stocks have tended to sell off the most when the market is pulling back. But both scores continue to move higher each week, which is a bullish trend. And Energy (IYE) has risen to a 50.
6. Overall, IYF still shows the best all-weather combination of Outlook/Bull/Bear scores. Adding up the three scores gives a total of 189. IYW is next at 179. IYZ is the worst at 112. IYF shows the best combination of Bull/Bear with a total score of 109, followed closely by IYW, IYK, and IYH. Energy (IYE) displays the worst combination with a 99, as investors have avoided the sector under all market conditions.
These scores represent the view that the Financial and Technology sectors may be relatively undervalued overall, while Telecom and Utilities sectors may be relatively overvalued based on our 1-3 month forward look.
Top-ranked stocks within Financial and Technology sectors include VMware (VMW), Innodata Isogen (INOD), Discover Financial Service (DFS), and Citizens Republic Bancorp (CRBC).
Disclosure: Author has no positions in stocks or ETFs mentioned.
About SectorCast: Rankings are based on Sabrient's SectorCast model, which builds a composite profile of each equity ETF based on bottom-up scoring of the constituent stocks. The Outlook Score employs a fundamentals-based multi-factor approach considering forward valuation, earnings growth prospects, Wall Street analysts' consensus revisions, accounting practices, and various return ratios. It has tested to be highly predictive for identifying the best (most undervalued) and worst (most overvalued) sectors, with a one-month forward look.
Bull Score and Bear Score are based on the price behavior of the underlying stocks on particularly strong and weak days during the prior 40 market days. They reflect investor sentiment toward the stocks (on a relative basis) as either aggressive plays or safe havens. So, a high Bull score indicates that stocks within the ETF have tended recently toward relative outperformance during particularly strong market periods, while a high Bear score indicates that stocks within the ETF have tended to hold up relatively well during particularly weak market periods.
Thus, ETFs with high Bull scores generally perform better when the market is hot, ETFs with high Bear scores generally perform better when the market is weak, and ETFs with high Outlook scores generally perform well over time in various market conditions.
Of course, each ETF has a unique set of constituent stocks, so the sectors represented will score differently depending upon which set of ETFs is used. For Sector Detector, I use ten iShares ETFs representing the major U.S. business sectors.
About Trading Strategies: There are various ways to trade these rankings. First, you might run a sector rotation strategy in which you buy long the top 2-4 ETFs from SectorCast-ETF, rebalancing either on a fixed schedule (e.g., monthly or quarterly) or when the rankings change significantly. Another alternative is to enhance a position in the SPDR Trust exchange-traded fund (SPY) depending upon your market bias. If you are bullish on the broad market, you can go long the SPY and enhance it with additional long positions in the top-ranked sector ETFs. Conversely, if you are bearish and short (or buy puts on) the SPY, you could also consider shorting the two lowest-ranked sector ETFs to enhance your short bias.
However, if you prefer not to bet on market direction, you could try a market-neutral, long/short trade—that is, go long (or buy call options on) the top-ranked ETFs and short (or buy put options on) the lowest-ranked ETFs. And here's a more aggressive strategy to consider: You might trade some of the highest and lowest ranked stocks from within those top and bottom-ranked ETFs, such as the ones I identify above.