The U.S. stock markets have been itching to rally, but unpredictable statements from governments both domestic and abroad keep traders on edge. Last week I reported that the SPY finally broke out of the 10-week trading range that saw multiple successful tests of support and resistance between 112 and 122. All systems were go as the EU appeared to have a strategy to address its debt crisis, starting with Greece.
But lo and behold, it turns out that Greece isn't ready to make it quite so easy. Knuckling under to public anger and violent protests, Greece Prime Minister George Papandreou has called for a public referendum on the plan, which likely won't occur until December 4. So, the global economy is essentially being held hostage until then. France President Sarkozy said the next $11 billion installment of Greek rescue loans, which was due to be paid in November, will not be issued until after the referendum passes.
German Chancellor Angela Merkel said at a news conference, "The referendum…is about nothing else but the question, does Greece want to stay in the eurozone – yes or no?" A No-vote could take Greece into default, leading to the fall of several European banks and a possible break up the eurozone, and would likely put us back on the path to global recession. Merkel and Sarkozy is holding emergency talks with Papandreou in Cannes.
In effect, it appears that the future of Europe and the direction of the global economy rest in the hands of angry Greek voters. They must be thinking, "Hey, if the U.S. can get out of its economic mess without the sting of austerity, then why can't we?" Now don't get me wrong, I'm all for democracy and all, but Greece needs some leadership right now from its elected officials. If Papandreou doesn't have the cojones to let this rescue plan get going immediately, then I fear for the future of Greece no matter how much bailing out they get in the near term. They just can't get out of their own way, even to save themselves.
The G20 summit has started, but Greece's referendum has cast a shadow over it. By the way, after a quick fall below 160% after the first announcement of a deal to save Greece, the Greece 1-year bond is now yielding a whopping 225% and the 10-year yield remains at 25.5%. The European Central Bank (ECB) is scheduled to put out a policy statement Thursday morning.
No surprise, the FOMC in their policy statement kept the target interest rate at 0-0.25%. They also stated that the Fed remains prepared to employ its tools to promote economic recovery and indicated that given the right conditions, the purchase of mortgage-backed securities would be considered. Although still positive, revised growth forecasts indicate slower growth than previously expected.
Materials, Financials, Industrials and Energy sectors have been leading the bullish charge, but they also fall the fastest on the weak days. Surprisingly, Technology has been less volatile.
The SPY closed Wednesday at 123.99. Last Wednesday's bearish "hanging man" candlestick formation confirmed. After briefly eclipsing resistance at the 200-day simple moving average last week, price fell hard on Monday and Tuesday this week, but resistance-turned-support at 122 held, and Wednesday showed a nice bounce. The Bollinger Bands (two standard deviations above and below the 20-day moving average) are converging again while MACD and Slow Stochastic have been reverting to the mean from overbought territory.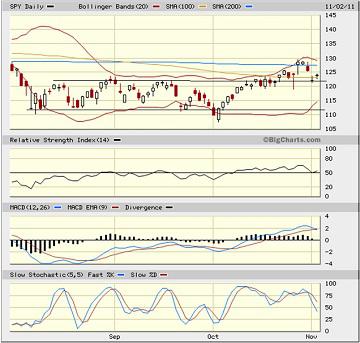 Overall, the chart still looks good for supporting a continuation of the rally. We just need the angry Greek voters to do the right thing. Scary thought, huh?
The VIX (CBOE Market Volatility Index – a.k.a. "fear gauge") closed Wednesday at 32.74, which is back above the important 30 mark, signaling some elevated fear. The TED spread (indicator of credit risk in the general economy, measuring the difference between the 3-month T-bill and 3-month LIBOR interest rates) continues to be elevated, as it closed Wednesday at 43.30, which is still near its 52-week high. Although not nearly so high as it was during the 2008 financial crisis, it nevertheless indicates elevated investor worry about bank liquidity and a preference for the safety of Treasuries bonds over corporate bonds.
Latest rankings: The table ranks each of the ten U.S. industrial sector iShares (ETFs) by Sabrient's proprietary Outlook Score, which employs a forward-looking, fundamentals-based, quantitative algorithm to create a bottom-up composite profile of the constituent stocks within the ETF. In addition, the table also shows Sabrient's proprietary Bull Score and Bear Score for each ETF.
High Bull score indicates that stocks within the ETF have tended recently toward relative outperformance during particularly strong market periods, while a high Bear score indicates that stocks within the ETF have tended to hold up relatively well during particularly weak market periods. Bull and Bear are backward-looking indicators of recent sentiment trend.
As a group, these three scores can be quite helpful for positioning a portfolio for a given set of anticipated market conditions.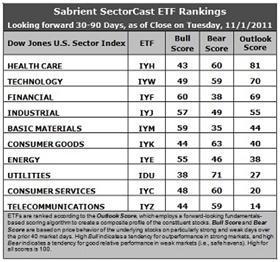 Here are some observations about Sabrient's latest SectorCast ETF scores.
1.  Healthcare (IYH) and Technology (IYW) iShares continue to hold the top two spots, with unchanged Outlook scores of 81 and 70, respectively.
2.   The big change this week is in Financial (IYF) closing the gap to challenge IYW for second place, scoring 69, after scoring 45 last week. The 24 point jump is due to analyst finally stopping the bleeding on earnings downgrades, and actually showing a positive now on net revisors. This is a bullish sign. IYF also shows the lowest (best) aggregate projected P/E – it is the only one still below 10.
3.   Materials (IYM) and Telecom (IYZ) are still getting the bulk of the downward revisions. However, IYZ still shows a relatively high aggregate projected P/E, while IYM shows a low (desirable) projected P/E. So, although the analysts have been reducing earnings projections, the fall in price among stocks within IYM seems to be out of proportion to the magnitude of the earnings revisions.
4.   Consumer Services (IYC) is back in the bottom two, along with perennial bottom-dweller Telecom (IYZ). Stocks within IYC and IYZ are saddled with high projected P/Es and low analyst support.
5.   Overall, I would say that the Outlook rankings are leaning bullish, although not by much. I say this because economically-sensitive iShares like IYW, IYF, IYJ, and IYM rank higher than IYK and IDU. Only consumer-oriented IYC continues to lack relative fundamental support.
6.   Looking at the Bull scores, IYF has been the leader on strong market days, scoring 60, followed by IYM. IDU is by far the weakest with a 38.
7.    As for the Bear scores, IDU is the clear investor favorite "safe haven" on weak market days with a score of 71. IYK is a distant second at 63. IYM carries by far the lowest Bear score of 35 which is the lowest score I can recall. It seems that no one wants to hold a Materials stock when the market sells off.
Overall, IYH displays the best combination of Outlook/Bull/Bear scores. Adding up the three scores gives a total score of 184. IDU displays the best combination of Bull/Bear with a total score of 109, followed closely by IYW and IYC at 108.
Top ranked stocks in Healthcare and Technology include Intuitive Surgical (ISRG), Humana (HUM), Constant Contact (CTCT), and Spreadtrum (SPRD).
Low ranked stocks in Consumer Services and Telecom include Christopher & Banks (CBK), M.D.C. Holdings (MDC), SBA Communications (SBAC), and Meru Networks (MERU).
These scores represent the view that the Healthcare and Technology sectors may be relatively undervalued overall, while Consumer Services and Telecom sectors may be relatively overvalued, based on our 1-3 month forward look.
Disclosure:
Author has no positions in stocks or ETFs mentioned.
About SectorCast: Rankings are based on Sabrient's SectorCast model, which builds a composite profile of each equity ETF based on bottom-up scoring of the constituent stocks. The Outlook Score employs a fundamentals-based multi-factor approach considering forward valuation, earnings growth prospects, Wall Street analysts' consensus revisions, accounting practices, and various return ratios. It has tested to be highly predictive for identifying the best (most undervalued) and worst (most overvalued) sectors, with a one-month forward look.
Bull Score and Bear Score are based on the price behavior of the underlying stocks on particularly strong and weak days during the prior 40 market days. They reflect investor sentiment toward the stocks (on a relative basis) as either aggressive plays or safe havens. So, a high Bull score indicates that stocks within the ETF have tended recently toward relative outperformance during particularly strong market periods, while a high Bear score indicates that stocks within the ETF have tended to hold up relatively well during particularly weak market periods.
Thus, ETFs with high Bull scores generally perform better when the market is hot, ETFs with high Bear scores generally perform better when the market is weak, and ETFs with high Outlook scores generally perform well over time in various market conditions.
Of course, each ETF has a unique set of constituent stocks, so the sectors represented will score differently depending upon which set of ETFs is used. For Sector Detector, I use ten iShares ETFs representing the major U.S. business sectors.
About Trading Strategies: There are various ways to trade these rankings. First, you might run a sector rotation strategy in which you buy long the top 2-4 ETFs from SectorCast-ETF, rebalancing either on a fixed schedule (e.g., monthly or quarterly) or when the rankings change significantly. Another alternative is to enhance a position in the SPDR Trust exchange-traded fund (SPY) depending upon your market bias. If you are bullish on the broad market, you can go long the SPY and enhance it with additional long positions in the top-ranked sector ETFs. Conversely, if you are bearish and short (or buy puts on) the SPY, you could also consider shorting the two lowest-ranked sector ETFs to enhance your short bias.
However, if you prefer not to bet on market direction, you could try a market-neutral, long/short trade—that is, go long (or buy call options on) the top-ranked ETFs and short (or buy put options on) the lowest-ranked ETFs. And here's a more aggressive strategy to consider: You might trade some of the highest and lowest ranked stocks from within those top and bottom-ranked ETFs, such as the ones I identify above.