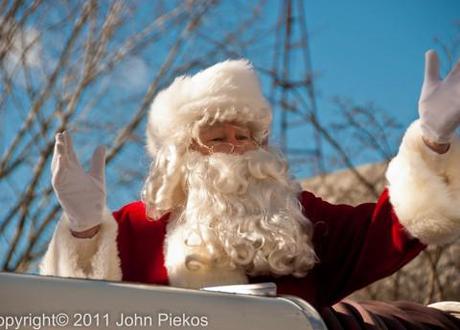 Santa Claus, coming to a K-Mart near you! Photo credit: John Piekos, http://www.flickr.com/photos/jpiekos/5288424280/
There's a new trend sweeping the US in these desperate economic times and for once, it's a good thing: Anonymous donors are paying off the layaway accounts of strangers at stores across America.
Local newspapers and stations from California to Nevada, Florida to Delaware, Michigan to Iowa, are reporting that at K-Marts and WalMarts, and other similar stores, mysterious secret Santas are paying off most of the balances of layaway accounts of struggling strangers, usually a people who have, say, purchased a bunch of toys for their kids this Christmas (layaway, for our British readers, is putting a deposit down on an item or group of items to secure it and paying off the balance over time). When the account holder goes to make a payment towards their purchase, they are informed that only a small amount remains, thanks to a Secret Santa who has paid the majority. And voila! A Christmas miracle!

The trend evidently began in Grand Rapids, Michigan, when a woman walked into the local K-Mart and asked if she could pay off someone's layaway balance, specifically one in which toys had been reserved. She ultimately paid off around $500 in three accounts, leaving a balance of $10 and a note reading "Happy Holidays from a friend" in each. Since then, layaway Santas, perhaps inspired by the Michigan woman, are making Christmas miracles everywhere: At one K-Mart in Langhorne, Penn., secret Santas paid off more than $3,000 in layaway bills for 15 families facing hard times. Melissa LaBadie, working behind the counter the day the lucky layawayers came in to find out the good news, told local ABC affiliate station, "The look on their faces, the tears in their eyes, just fills your heart with joy." At an Indiana K-Mart, one woman paid off the bills of 50 accounts and reportedly asked only that the recipients pay it forward and help someone else in need.
The stories are warming the hearts of people everywhere, offering a much-needed counterpoint to chronic bad news. Even the typically jaundiced eye of gossip site Gawker welled up a bit on the story: "If this story doesn't make you at least momentarily contemplate running out and paying off a needy stranger's layaway balance, you have not been listening to all the things that Santa talked about in the Bible. Of course, it could be an incredibly effective (and cheap!) PR stunt by K-Mart; but if it helps to encourage a nationwide outpouring of Christmas charity, well, we're willing to overlook it. Merry Christmas, everyone. May kindness redeem us all." (K-Mart, incidentally, swears it has nothing to do with the spontaneous outpouring of Christmas kindness.)
That still doesn't mean layaway is a good idea, however, warned Brad Tuttle at TIME's Moneyland blog: "Despite the feel-good tale, layaway remains a less-than-ideal solution for shoppers. One business professor argued it's better to pay with a credit card and deal with APRs rather than buying goods via layaway."