Hi everyone,
I know it's been a while since I posted.   I'm also getting lots of my Youtube subscribers yelling at me for not posting a video in a while either.   I could blame it on the fact that I'm old and so slowing down.  As of this last summer I could collect social security! (I wish they'd left some money in the Social Security Trust Fund!)  I assure you it's not because I haven't been doing anything.  It's just that the thing I've been doing is taking way longer and has turned out to be way more work than I expected.  Surprise surprise.  I have mentioned this project in a couple of places on this blog.  I am working very hard on a video project.  It is one of those projects that has been in my mind for a few years.  It just wouldn't go away.  I've known the story line and have had the piece of music picked out for quite a while.   No "royalty free" music this time.   In fact it took me two years to get permission from the music label to use this piece of music.   No, I'm not going to tell you what it is because it's a SECRET.   I hate leaving this blog unattended for so long.  So even though I'd hoped to present this video as sort of a surprise, I think I can give away a bit of it to my faithful blog followers.  I won't give away too much, not enough to spoil the fun.  I still want to basically surprise you.  If you don't want to know anything, don't look at the next few posts.   Okay? 
Here goes.   My video involves three characters....all marionettes.   One of them is a dragon.  (again, surprise, surprise).   I'm going to show you the build of this little dragon marionette, but not the other two characters.  I'd like to have the final reveal of this dragon marionette  correspond to the publishing of the video.
So this is the pile of crumpled body parts I started with in June.   Of course I paper mached them all (yes, I know "mached" is a made up word.  "Mache" is a noun and isn't supposed to be used to make a verb.   You don't need to tell me anymore.   I heard you  (you know who you are).  I'm just ignoring you.)(Remember, I was a math major, not a language major.).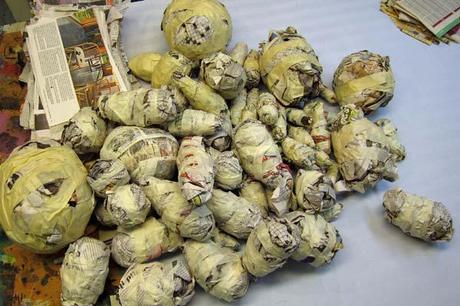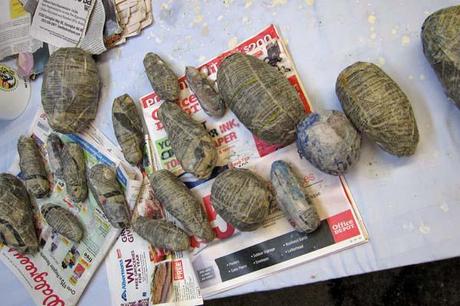 Out of the pile, here are the pieces I used for the dragon.  I'm sure you recognized the dragon pieces in the pile.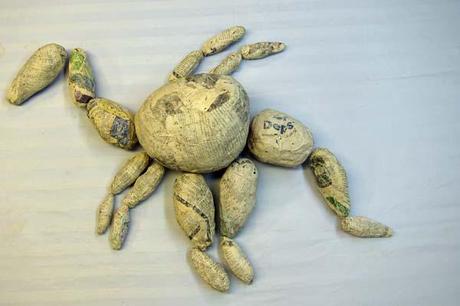 At this point I must point out that I am not a puppeteer.  I did make a couple of marionettes for my "Paper Mache Dragon Marionette" video, so I learned a few things.  Articulation is everything.   Duh!   Puppets have to move well or they don't work.  I used pieces of wire clothes hangers to hold the various parts and appendages together.   The first thing I did was punch in the ends of the paper mache balls to create cavities (photo on the left).  This ball was the dragon's torso.   It's hard to explain, so just look at the shape I bent the wire into.    I punched the bent ends of the wire into the balls and used masking tape to hold them in place.  Once I cloth mached (yep, did it again) the parts, these wire pieces stayed put.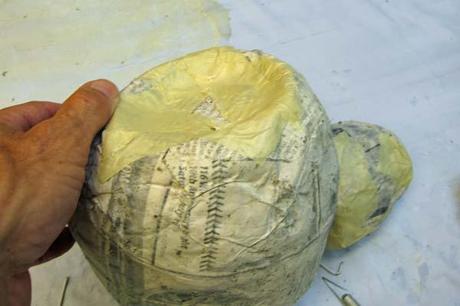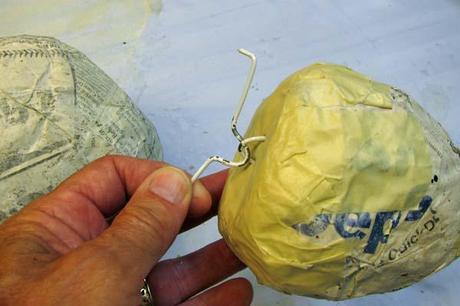 The rounded end of one piece of the body fit nicely into the cavity of the other.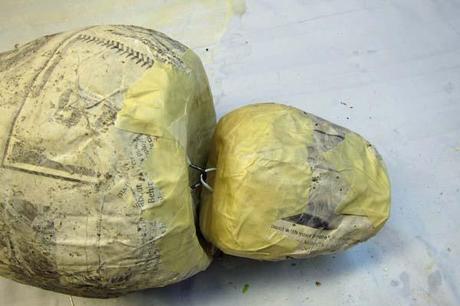 Here is the tail.  I'd wiggle it if this was video.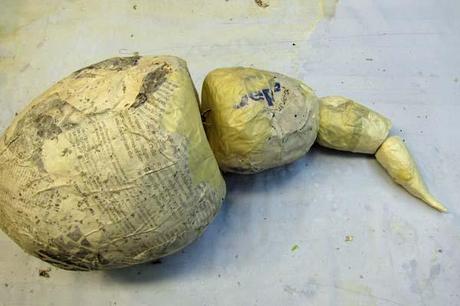 I'm gonna stop here and get back to working on the video.  Thank you for your patience.  I sure hope you think it's worth the wait.
Take care