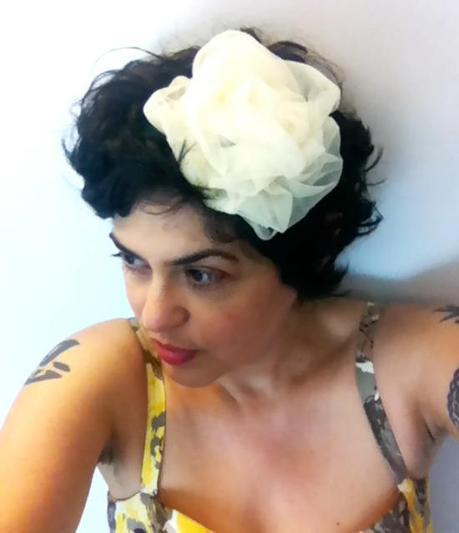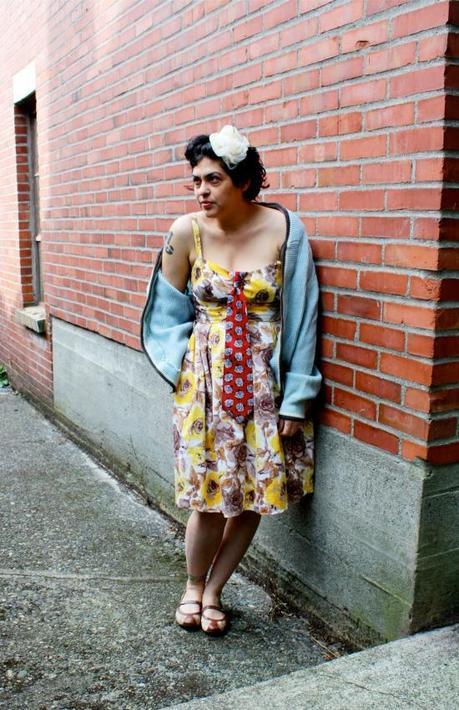 #SECONDHANDFIRST: A Melange a Trois- enjoying a little rose on rose action.
A BEAUTIFUL FIND: One major score recently was this mid century 1950s wool mens cardigan sweater- the label, a classic Penguin, as in Seattle Knitting Mills. I've heard of the brand Penguin before, but didn't realize it was from the Pac NW: pretty cool! Bought for the boyfriend, who was keen on it, except it's too big. So it's now listed in the shop, waiting for its Mr. or Mrs. Right to take it home. BUY NOW.
SECONDHAND FIRST: My rose-infused outfit today is 100% thrifted. The dress, a new, retro flavored Maggie London, was a big splurge at the Goodwill last summer, clocking in at over $20, but it's a gorgeous print, fully lined, and made from a beautiful heavy weight cotton. Fits like a glove. Pity the zipper recently decided to break- what I hate about nylon zippers, and it kind of illustrates the cliche: they don't make 'em like they use to. Still, Maggy London is a fairly fancy brand, and the dress if purchased brand new in a retail shop would have set me back well over $120.  Similar can be purchased here. The headband, was handmade and gifted to me in my early fashion blogger days, and the tie, well, it's a vintage 1970s clip-on tie with rosebuds on it. I SHOULD list it to sell, but at the moment I'm having fun sticking it on various dresses and shirts and wearing it around town. The shoes are now officially "these old things." I just realized that I bought them over a decade ago. They were expensive then, and they were very well made, just only recently showing signs of wear and tear. Good job, Coach!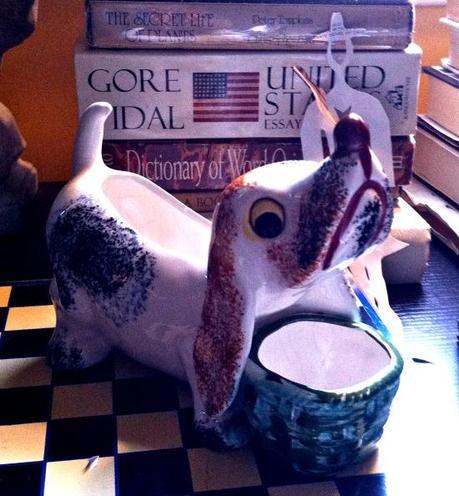 PUPPY IN THE WINDOW: is looking for a good home! We've been working on revamping a vintage home decor/kitchy cat lady collectable shop, christened Westminster Spinster, and this little pup was the first listing. Check it out here, more is soon to come!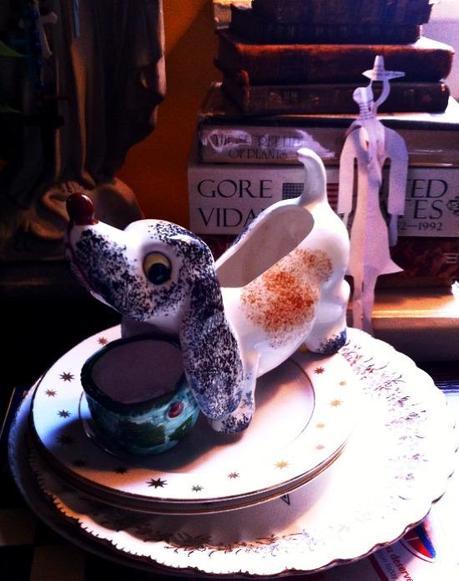 Now, it's YOUR turn to SHARE! You don't need to be a blogger to join in, just someone with a great secondhand find, and a mind to link-up. All you need is a photo and its url, you can use an Instagram pic, a photo from Facebook, Flickr, Tumblr, whatever floats your boat! Of course, if you did manage to write a blog post regarding your fabulously secondhanded treasures, by all means link that post up! Our weekly #SECONDHANDFIRST link-up party happens every Friday (unless noted) and is open until Tuesday.
An InLinkz Link-up